Fix iPhone Notifications Not Working after iOS 17/16 Update
by Jenefey Aaron Updated on 2023-10-25 / Update for iOS 11
Anyone having trouble with iphone 14 pro app notifications not sounding? I see notifications coming up in notification center but not making any sound. any suggestiot to troubleshoot this.
Many people have reported iPhone notifications issues after iOS update, such as iPhone not showing notifications, iPhone 15/14 notification sounds not working, notifications light not working, iOS 16/17 iMessage notifications not working. When these iOS 17 notifications not working errors occur, your iPhone won't neither get a pop-up nor light up the screen when you receive messages. Your life and work will be disturbed so much since you cannot check your messages in time.
This article will introduce top 8 tips on how to fix not getting notifications on iPhone or iPad Pro/Air/Mini after iOS 17/16 update.
Tip 1. Check the Ring/Silent Button
When you find iPhone notification sounds not working, the first thing you need to do is to check the check the position of the Ring/Silent button to see if you've turned on the Silent mode. There will be no sound if your iPhone is in Silent mode. To turn off the mute mode, simple flip the switch so that the orange line would be visible on the side.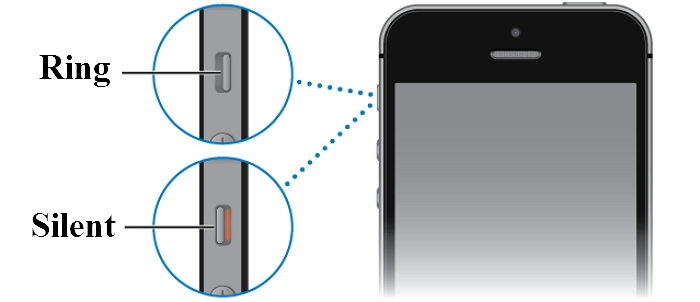 Now your iPhone is in Ring mode and you can check if you hear the app notification sounds on your iPhone.
Tip 2. Disable Do Not Disturb Mode
As we know, when Do Not Disturb is enabled, calls and alerts arrive when locked will be silenced. If you've turned on this feature, there will be a moon icon in the status bar. And you will find notification sound doesn't work on iOS 16/17. To turn it off, go to Settings > Do not Disturb to toggle it off. If your iPhone is running iOS 16/17, you need to open Settings > Focus > Do Not Disturb.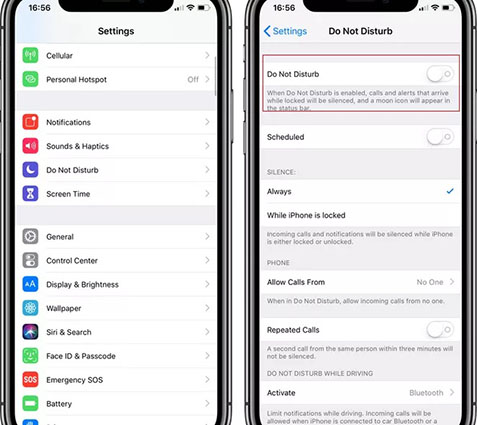 When you disable the Do Not Disturb mode, the iPhone push notifications not working issue should be fixed.
Tip 3. Allow Notifications for Apps
If the issue of notifictaions not working on iPhone is only present in several applications,say, WhatsApp, Facebook, or mail notifications are not working on iOS 16/17 but other app notifications work fine, then you can try checking whether you have enabled "Allow Notifications" for the affected app.
To check the notification preferences:
Go to Settings > Notifications.

Make sure the "Show Previes" option is set to "Always".

Now,locate the app that you're not getting notifications from, toggle on the option for "Allow Notifications".
Once notifications are turned on, you should receive notifications from the apps on your iPhone.
Tip 4. Delete and Reinstall a Specific App
In case you've already allowed notifications for a specific app but still, the app notifications stopped working on iphone, then chances are that the app is outdated or the developers have accidentally rolled out a buggy update. In such cases, you can try deleting the app that are facing the 16/17 no notifications bug and reinstalling it from the App Store.
Here's how to fix notifications not working on iphone by uninstalling and reinstalling apps.
Press and hold the icon of the app you're not receiving notification from until all of the icons on the screen start to wiggle.
Press and hold the app you wish to delete until a menu appears.

Tap on Remove App and then select Delete App.

Go to App Store, search for the app you've deleted and tap "Get" to download it to your iPhone.
Once installed, you need to configure notifications inside the app.
Tip 5. Check Network Connection
If your iPhone is not connected to a Wi-Fi or cellular network, or there isn't a stable network connection, your will not getting notifications on iPhone. So re-connect to Wi-Fi or cellular data to make sure your iPhone is in good network condition.
Tip 6. Restart You Device
Sometimes, the casue for "iPhone notifications not working iOS 16/17" is due to a minor software glitch on iPhone. When you come across various iPhone error, restating iPhone is a frequently-used solution. To restart your iPhone, press and hold the Side button and the Volume down button until "slide to power off" appears on the display. Then power off your iPhone by swiping the power icon from left to right. Wait for a minute or two, power on your iPhone to see if the "iOS 17 notifications not working" problem is solved.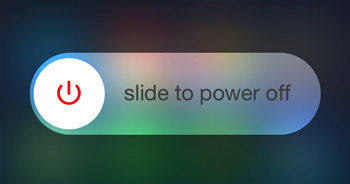 Tip 7. Reset All Settings
Resetting all settings on iPhone is another effort to fix iPhone notifications not working on iPhone. This reset will set all of your iPhone's customized settings to its factory defaults, but your personal data won't be affected so you don't have to worry about data loss.
Here's how to fix iOS 17 notifications not working by resetting all settings on iPhone.
Head to Settings > General > Transfer or Reset iPhone > Reset.
Select "Reset All Settings" and enter your iPhone passcode if asked.

Tap "Reset All Settings" to confirm your decision.

Allow several minutes for the iPhone to complete the reset and reboot processes.
Now connect to your WiFi or mobile network and check if the iPhone not getting notifications problem is resolved.
Tip 8. Fix iPhone Notifications Not Working with iOS System Recovery Tool
If all methods failed to fix "iOS 16/17 notifications not showing up" issue, the last solution you can try is to use a professional iOS system recovery tool - Tenorshare ReiBoot, to repair the iOS system of your iPhone. It can fix various iOS stuck/errors, such as iPhone quick reply not working, iPhone stuck at Apple logo/black screen with spinning wheel/boot loop etc. Of course, the iPhone notification not working issue after iOS 16/17 update can also be fixed with this tool.
Here's how to fix iOS 17 notifications not working on iPhone with ReiBoot.
Install Tenorshare ReiBoot and run it. Connect your iPhone to your computer. Click "Start" once your iPhone is detected.

Selecting "Standard Repair".

After selecting the "Standard Repair" button, it will guide you to download the latest iOS firmware. Simply click on Download.

After downloading and installing the latest iOS firmware, your iPhone will reboot and you will fix "notifications not working" without data loss.
Video Guide: Fix iPhone Notifications Not Working on iOS 17 with ReiBoot
Summary
If you're not getting notifications on iPhone, with the top 8 tricks introduced in this article, you can easily fix the iPhone notification not working after iOS 16/17 update/jailbreak issue. Also,you won't miss any calls or messages. If your have other problems with your iPhone after the iOS 16/17 update, feel free to use Tenorshare ReiBoot to get the iOS problems settled.