[Full Guide] What Does OEM Unlock Mean and How to Enable it
by Sophie Green Updated on 2020-11-30 / Update for Unlock Android
Do you know, the Android device has a lot of hidden potentials which is kept limited by the device manufacturer? Manufacturers use special software to put a limitation on the device's functionality. The limitation just prevents users from messing up with their devices. In this detailed guide, you'll find easy ways to perform OEM unlock.
Part 1: What's the OEM Unlock Meaning?
If you heard about the hidden potential of Android devices then you might be more eager to know about OEM unlock Samsung. Not to mention, OEM stands for Original Equipment Manufacturer which was introduced in Android devices after the Android Lollipop update. The OEM unlocking Android is important for you if you want to unlock your device's bootloader. After unlocking the device's bootloader, you can root it, and customer ROMs for better performance. Most importantly, the OEM unlock doesn't cause damage to your android phone.
Part 2: What's the Difference between Bootloader and OEM Unlock?
The Bootloader is an operating system that resides in storage and needs to be loaded into the memory before use. When your device starts, its memory does not have programs for accessing components such as I/O devices or storage.
On the other side, the Fastboot OEM unlock means turning on a special switch that helps you in unlocking the bootloader by using fastboot commands. The Bootloader and OEM unlock are inter-related as you need to perform the OEM unlock to unlock the device's bootloader. Without enabling OEM unlock, your device might not process the bootloader unlocking command. Most importantly, OEM unlock does not harm your android device. With bootloader unlock, you can enjoy additional features on your phone. Most importantly, you can add a custom ROM, kernel, and root your device for easy customization.
Part 3: Why You Need to Enable OEM Unlock
There are plenty of reasons, you might need to unlock OEM on your android device. Here's what you'll get after performing android OEM unlock.
Install Custom Recovery
Unlock Bootloader
Install Custom Roms
Root Device
Remove Bloatware
Install Custom Kernel
Modify system Partitions and file
Install Famous mods such as Viper4Android
Part 4: How to Enable OEM Unlock on Android
Before you enable OEM to unlock, you just need to take a backup of all your important data. It's to be noted that unlocking OEM is safe but when you unlock the bootloader, your important data will be erased.
To perform OEM unlock Samsung, you need to go to Settings > about Phone > Software Installation. Look for the Build Number and repeatedly tap the build number to turn on Developer Option.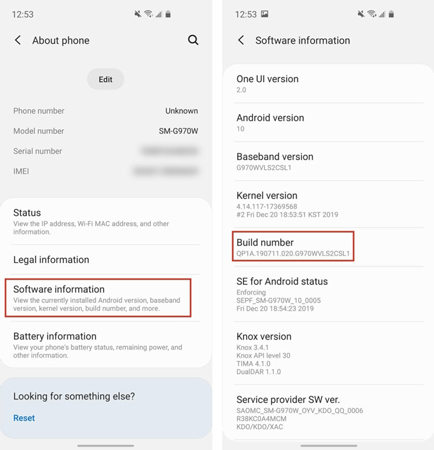 For Fastboot OEM unlock, you need to perform the following steps:
Go to Settings>System
Then Go To Developer Options and Scroll Down.
ook for the OEM unlocking.
Toggle on the "OEM Unlocking" feature.
In a prompt message, click on the "Enable" button.
Extra Tips: Forget Android PIN/Pattern Lock How to Do?
If you want to enable OEM to unlock then you need to enter your device's Pattern lock or PIN. If you forget your PIN or pattern unlock then Tenorshare 4uKey for Android will be helpful for you. Here's how it can help you.
After installing 4uKey for android on your computer, choose the feature "Remove Screen Lock".

Next, you will need to connect your Android device to computer with USB and click "Start".

4uKey for Android will start removing your lock screen.

Once the process done, follow the steps in interface to enter recovery mode.

In the end, your screen lock will be removed successfully.
Summary
Your Android device has a lot of hidden potentials. You can perform OEM unlock to unlock the real potential of your device. To unlock the bootloader, you first need to unlock OEM android. However, when you perform fastboot OEM unlock, you need to enter PIN, Password, or Pattern Lock to continue. If you forget it then you can use Tenorshare 4uKey for Android.
People Also Asked about OME Unlock
Q1: No OEM unlock in developer options Samsung?
Different branded phones have different settings interface. In some android phones, you can find OEM unlock in developer options in Settings. Otherwise, you can go to Settings>System>Developer Options.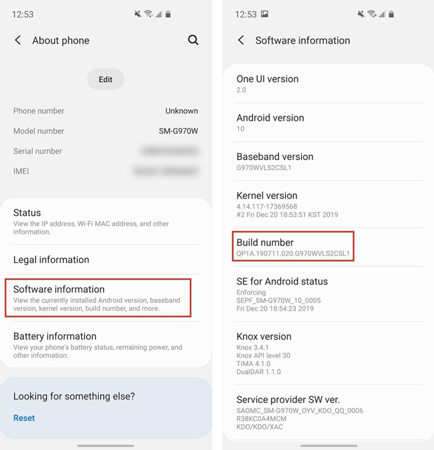 Q2: OEM unlock greyed out how to do?
OEM unlock greys out due to 3 different reasons; android OEM unlock is unavailable, your device is already bootloaded, or recently unlocked the bootloader. Depending on the reason, you can implement the above-mentioned steps.
Q3: OEM unlocks not showing how to do?
OEM unlock feature might not show up due to inappropriate Date and Time. You can turn on the Automatic Date and Time according to your current location.
Remove Android Screen Lock & Bypass Samsung FRP Lock
Bypass Google account verification on Samsung devices (Android 6-13)
Remove Android password, pattern, PIN, and fingerprint lock just one click away
Support removing screen lock and FRP on both Win & Mac