Common T-Mobile Texting Issues and Fixes
by Sophie Green Updated on 2021-10-30 / Update for Fix Android
If you are facing T-Mobile texts not sending issue in spite of having a great connection, then you're not alone. A lot of customers that are on this network have difficulty sending or receiving texts on T-mobile. Sometimes, the texts will fail to send and at other times you may get a T-Mobile message blocking is active error. Apart from this, customers have also complained that they are unable to receive text messages.
This can be quite bothersome as not receiving OTPs in text messages can lead to payment failures and other kind of disruptions. Therefore, it is a good idea to first check whether there is any issue on your end or on the device that you are using.
Problem 1. T-Mobile Texts Not Sending
"Text messages frequently fail to send, even when I have a solid connection."
The most common problem is the tmobile message not sent issue. And while this is understandable for an unstable network, many users have complained of this problem while having a solid connection on their end.
If you are facing such an issue, then have a close look at the following things:
1. Make sure the number was entered correctly
While this may sound trivial, it is one of most common causes behind such an issue. Phones have provided us with the ability to save contacts while taking away our ability to memorize phone numbers. This is why an error in the entered number often goes overlooked. To check if you have entered the number correctly, do the following:
Open your phone app and go to contacts.
Search for the contact whom your trying to send the text to or enter the contact name in the search bar.
Tap on the contact and verify the number.
If the number is incorrect then tap on Edit Contact and fill out the correct number and tap on Save. Try to send a text and see if it fixes the issue.
2. Check if the number is on your spam list or block list
Another possible reason behind T-mobile message not sent issue is that you have added the number to your blocked list or spam list. If you have already verified that the number is correct, then check your blocked contact list. To do this, follow the steps given below:
Open the phone app and click on the 3 dots beside the search bar.
Now tap Settings and look for Blocked Numbers or Blocked Contacts and tap on it.
Check to see if the concerned number is in this list.

If it is present on this list, then press the X next to it and confirm Unblock in the prompt.
3. Clear the Cache and Data of Messages app
Before going through this step, be sure to backup all data in the messaging app to avoid any loss. To clear the cache and data of your messages app, you can do the following:
Open the Settings menu on your Phone from the home screen.
In the settings menu, open Apps and Notifications.
The App Info screen opens up next. On this screen you will find the Storage and Cache option. Tap on it.

Perform a Clear Storage and Clear Cache by tapping the respective options.
4. Force stop Message app
You can force stop the Message app by following the below mentioned steps:
From the Settings menu go to Apps and Notifications.
Search for the Message App and tap on it to open the App Info screen.

Press the Force Stop option to forcefully stop the app and clear it out of memory.
5. Check your Data Plan with your Carrier
If all the other methods listed above fail, then the final measure would be to contact T-Mobile and verify your Data Plan. It could very well be the case that your Data Plan does not support texting.
Problem 2. T-Mobile Not Receiving Texts
"For the last couple of days, I've noticed that I have not been able to receive standard text messages on T-Mobile".
T mobile not receiving verification texts can be even more of a problem than failure to send texts. This is because it is difficult to be even aware of the problem in the first place. Also, you will not be able to use payment methods that include receiving OTPs. Have a look at the following fixes in case you are going through this problem:
1. Remove and insert the SIM
The most basic and easy fix would be to remove and reinsert the SIM card. If you have the newer smartphone models, chances are that it has comes with a needle to eject the SIM card slot. Remember to switch off your phone before removing the SIM to avoid any damage to the latter.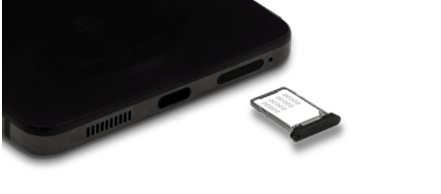 2. Check your signal bar
The next logical step would be to check the strength of the network signal. The signal strength is usually indicated at the top right corner of the home screen.
3. Clear old messages from your Message app
Open messages app. Tap and hold a conversation thread that you want to delete until it is selected. You can tap on as many threads as you want to delete. Tap on the Bin symbol at the top right corner to delete the selected threads.
4. Increasing the text message limit
In some phones, you are able to increase the limit for the number of stored messages. To do this, follow the steps elucidated below:
Go to the Messaging App.
Hit Settings from the 3 dots beside the search bar. Then, tap on "Text Message limit".

Now, you can increase the maximum value and then tap "Set" to save the changes.
5. Deactivating iMessage
If you have switched sides by moving to an Android, Widows or Blackberry device from an iPhone, then the tech gods may have cursed you by disabling your phone from receiving texts from an iPhone. To get rid of this, you have to reinsert your SIM back into the iPhone that you were using prior to this and disable iMessage and FaceTime on it to fix this issue.
Go to settings of the iPhone after inserting the SIM card.

Tap on iMessage and disable it.

Tap on Facetime from the settings menu and disable it.
Problem 3. T-Mobile Message Blocking
Another kind of issue commonly reported by T-Mobile users is the T-Mobile message blocking is active error. The T-mobile message blocking issue can be fixed by activating premium SMS. If failed, you can contact the Carrier support for help.
1. Enable the permission for premium SMS
To enable permission for premium SMS, follow the steps below:
Open the Settings Menu and navigate to Applications.
Click on the More and select Show system apps.
Search for Use SMS services option and tap on it.

Tap Send premium text message and then select Always allow so you can send text messages to a short number.
2. Contacting Carrier Support.
You can dial 611 from your T-Mobile phone or use the T-Mobile app to give us a call. Or send a message to your Team of Experts in the T-Mobile app.
Problem 4. T-Mobile Not Receiving Verification Texts
"I am not receiving verification texts. My bank requires verification and I never receive the texts I have to use email. How do fix this?" There are users complained that they cannot receive verification code.
1. Turn off Blocking Feature
The blocking feature might be blocking the verification messages. With this being said, you can call T-Mobile and ask them to switch off the blocking feature on your line.
2. Check your block list of contacts
Open Phone app and go to Settings > Blocked Numbers or Blocked Contacts and tap on it. Check to see if the concerned number is in this list.
Problem 5. T-Mobile Not Getting Text Notifications
"Recently, I've noticed that I do not get a notification when I get a new text message. I can specifically go to the text message app and it will show them there as unread." If your T-Mobile phone are not getting Text notifications, follow the fixes below.
1. Make sure Message notification is turned on
Check if the Message notification is turned, you can go to Settings> Apps > messaging app > Tap on Notifications.
2. Disable Do not disturb mode
If Do Not Disturb is active on your device, you won't be able to get notification about text messages coming to your device.
Tap Settings > Sound.

Find "Do Not Disturb" and switch of it.
3. Check if the issue occurs in Safe Mode
Boot your Android phone into safe mode and check if the T-Mobile issue still exits. If the problem didn't exit, try to uninstall the most recently installed apps.
Bonus Tips. How to Recover Lost Text Messages on Android?
Looking for a way to recover deleted messages on Android without rooting? Tenorshare UltData for Android will be the only software that will help you recover deleted files from Android phone memory without root. It can not only restore lost messages but also recover deleted contacts, photos, WhatsApp messages, etc without backup. To restore lost messages, follow the steps given below:
Launch Tenorshare UltData for Android after installing and connect your phone to the PC via USB.

Follow the onscreen interface to enable USB debugging on your Android phone.

Once your Android phone get detected, choose the file types that you want to recover and click on Start.

After scanning is complete, preview and select the files you want to recover and click on the Recover button to get them back.
Conclusion
Although web-based messaging services like WhatsApp etc. have taken a precedence over normal text messages, the importance of SMS has not reduced. There are a number of reasons why texting is still a valid form of communication – payment verification, subscriptions, premium SMS services, etc. to name a few. Therefore, it is imperative that any texting issue is resolved immediately to avoid inconvenience. If you have any data lost on Android phone, Tenorshare UltData for Android should be the best choice for you.