Verizon Text Problem Fix: Verizon Not Receiving or Sending Texts
by Sophie Green Updated on 2021-09-03 / Update for Fix Android
Verizon is one of the most popular networks out there. If you are on Verizon text problem is usually rare. But if you are among the unlucky few, you might still face some issues like verizon message sent but not delivered. If the verizon text message problems persist then there are some simple fixes that should get you going in no time.
One-click to Fix Verizon Not Receiving or Sending Texts by Android System Repair
In a large majority of cases, the verizon message+ not working or verizon not receiving texts problem starts after a software update. If you are unable to send or receive messages after a recent OS update, then the easiest solution would be to repair the OS on your Android device. Of course, this task is made infinitely simpler by OS repairing software like Tenorshare ReiBoot for Android.
Below is a detailed set of instructions to repair the Android OS on your device and fix the common Verizon text problems such as Verizon group text not working:
Install ReiBoot for Android and connect your Android device to a PC. Select "Repair Android System" from the main interface.

Once your device has been detected, click on "Repair Now" and select your device info to download the firmware package for repair.

ReiBoot will download the firmware from the concerned server. After that, click "Repair Now" to start Android system repair.

After the repair completes successfully, your Android device will boot up as normal and you can check to see if the error is gone.
ReiBoot for Android is an all-in-one Android OS repair software that will help you fix various of Android errors such as Android Free Msg Unable to Send Message, MMS Not Working on Android, Messages Has Stopped on Android Phone, etc.
Method 1. Contact Verizon to Check Your Cell Phone Plan
The first and the most obvious method would be to confirm your phone's data plan with Verizon itself. Because if your data plan does not support sending or receiving messages then no amount of fiddling would help fix the Verizon text messaging problems.
Method 2. Check If You Have Signal
Once you have cleared up any confusions regarding your data plan on Verizon, you should confirm whether the network signal strength being received by your phone is sufficiently strong. A weak or eve partially weak signal strength can lead to failure in sending and receiving messages.
Method 3. Set Messages is as the Default Texting App
There are a lot of third party messaging apps that are being used on smartphones. These apps provide a lot of features that the default messaging apps do not provide. However, they might often be incompatible with the OS version or have some internal bugs that may lead to issues such as the verizon not sending texts error.
You should set Messages as the default app on your Android device in case you face such issue. You can do this by following these steps:
Go to the Settings app on your phone.
Tap on Apps and Notifications option in the Settings menu.
Go to Advanced options and then to Default apps.

Look for the option SMS app on the next screen and tap on it and select the radio button next to Messages amongst all the options to change the default settings.
Method 4. Remove and Insert the SIM
When it is difficult to pin-point the root cause of the Verizon phone not receiving texts issue, the easiest way out is to remove the SIM card and insert it again. This helps force some settings to reset and might help fix the issue. For the newer smartphone models with a non-removable battery, you will require an eject pin to take the SIM card tray out. This kind of pin usually ships with the smartphone when it is purchased.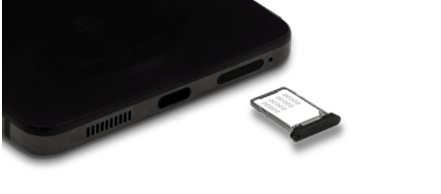 Method 5. Clear the Cache and Data of Messages App
Before you delete the cache and data of messages app, you should backup your data to avoid the loss of any important message. Once you have done this, go through the following steps:
Open the settings app
In the subsequent menu, hit the option named Apps and Notifications
On the App info screen look for the Storage and Data option

Tap on Clear Storage to clear the data and Clear Cache to clear the cache memory of the Messages app.
Method 6. Delete Useless Messages to Free Up Space
Having sufficient space in your phone's internal memory that has been dedicated for Messages is vital. When the inbox becomes full or nearly full, it may give rise to problems such as the Verizon wireless text message problems. To delete old messages from your SMS inbox, do the following:
Open the Messages app.
Tap and hold a conversation thread that you think can be deleted.
Once it is selected you can tap on any other threads to select them together.
Hit the dustbin-like symbol at the top and confirm on the prompt to delete the selected threads and all the messages contained in them.
Conclusion
Sending and receiving text messages is still very important in our lives. SMS is still widely used for a lot of purposes like confirmation, OTP and also communication. Therefore, any SMS related issues, like Verizon messages not sending, can be very frustrating. It is also difficult to know about such issues unless the other party involved informs us. Therefore, it is a good idea to get these issues fixed with Tenorshare ReiBoot for Android as soon as possible.