[Question] What Does The Green Dot Mean On Messenger 
by Anna Sherry Updated on 2022-01-20 / Update for Android Tips
On messenger what does the green dot mean? More and more people want to find the answer. They are aware that it shows a person's online status. This article has answered 4 common questions for you. Go and find what you need.
Q1: What Does The Green Dot Mean on Messenger
What does the green dot on Facebook messenger mean? The green dot on both apps has the same meaning on Facebook and Messenger. But it doesn't mean that a person is active on both at the same time.
Sometimes, people see a green dot on someone's messenger and think they are active on Messenger. But when they text them, they get no reply. It's because the user might be just browsing through Facebook feed and is not using the Facebook Messenger app. They may not be purposely ignoring you.
Q2: What Does Green Dot Under The Video Icon on Messenger Mean
You often see a small dot of green colour next to the camera in a conversation. You must be wondering what does green dot under the video icon on messenger mean. Simply, it depicts that the person you are chatting with has the facility to video chat.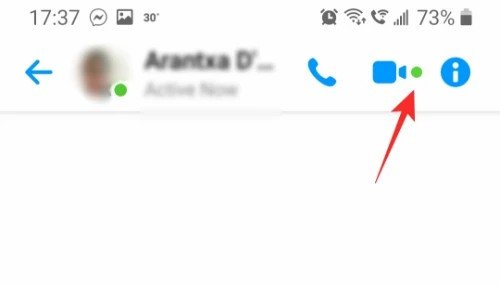 The green dot on Messenger means that the person is online on Facebook but it's not always accurate. On the other hand, it can also mean that they have active Facebook but currently not using it. If you want to have exact knowledge of whether a person is on his device or not, look for the green dot next to the video icon. 
Q3: How to Remove The Green Dot on Facebook Messenger App
Now you know the answer to "What does the green dot mean on Facebook messenger?" Facebook Messenger app has a default setting to show your active status by showing a green dot. You can see this sign so that you can contact your friends in real-time whenever they are available. 
But if you don't want to be bothered, you can change the settings to hide your active status. Follow the specific steps for "How to remove the green dot on Facebook Messenger app?"
Launch the Facebook Messenger app on your iPhone or Android, and tap your profile picture.

Find the 'Active Status' and turn it off. Now the green dot on the Facebook messenger app on your profile will disappear.
Q4: How to Change Status on My Facebook
Your Facebook status means the latest news/activity of you which you want to share with others. This green dot is showing your activity status. You can change this activity status but hiding it on a mobile device doesn't change it in windows. Read and know how to change status on my Facebook.
On Mobile Devices (iPhone):
Open the messenger app on your iPhone.

Click your profile picture and scroll down to reach "Active status" and tap it.

Toggle the button to hide your active status.
On PC:
Click the "Messanger" icon on Facebook and click the three-dot icon at the top.

And tap "Turn off active status". 

You can manage the contacts to share your active status. Then click "OK".
Bonus Tip: How to Fix Android System Issues Easily
If the Android is working efficiently it makes the day, but the time you find any problem it creates chaos. Tenorshare ReiBoot for Android can fix 50+ Android issues with one click and save you from the hassle of trying different methods with uncertain results. It is a professional repair software for Android systems.
Launch Tenorshare ReiBoot for Android to your computer. Connect your Android to your PC using a USB cable and tap "Repair Android System".

Click "Repair Now" on the interface to proceed.

Select the correct info of your device.

After the selection of your device, now the corresponding firmware package is being downloaded. It will take just a few minutes.

Once the downloading of the firmware package is completed, tap "Repair Now" to start the repair process.