[Full Guide]How to Remove FindForFun.Com Android Virus
by Jenefey Aaron Updated on 2020-08-27 / Update for Android Tips
FindForFun.com Android virus removal is the right option here if you want to keep away all bogus activities. Such a process can be carried manually or automatically. Because of the possibility that it might be hidden all over your device. You should incline on the help of software for investigating the entire Android phone.
If you have been searching some accurate steps that would help you to remove the FindForFun virus from your Android mobile phone device, this article can solve your problem.
Part 1: What You Need to Know about FindForFun Virus Android?
The growing number of android applications polluted with malware in Google's Play Store is about multiplied in the space of 2012 and 2014. For several reasons, we have acknowledged noticing the FindForFun android virus as a genuine online risk. Here is an introduction of FindForFun.Com Android virus.
What is FindForFun Android?
FindForFun virus is connected to the android malware category and intends to push fake reward claims while using Facebook, Google Play, and Snapchat platforms for the most part. According to users' complaints, this bogus adware program shows up on various cell-phones such as Sony Experian, Samsung S5, Samsung Galaxy 6.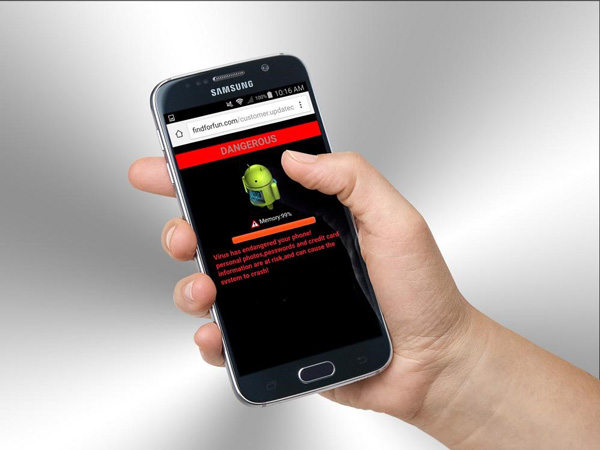 How does FindForFun Virus on Android Work?
FindForFun virus is mostly defined as adware or possibly undesirable program due to its dubious installation methods and activities promote
If the FindForFun virus gets very powerful, it might pop-up during each Google search and interrupt your browsing activities with meddling sidetracks and fake notifications that try to trick users in claiming non-existing prizes and rewards.
Part 2: Why Do Users Want to Delete the Android FindForFun Virus?
FindForFun virus can wreak havoc with your mobile. It can make applications crash and cause your phone to overheat. And, perhaps more alarmingly, Android viruses can cost you cash and personal information.
Left unchecked, malware can subscribe phones to track premium services, sending them messages and racking up tremendous bills.
FindForFun Android virus can also collect personal information such as bank data and utilize this to steal your money. It can even send hackers recordings of your private phone calls for blackmail.
Part 3: Guidelines of How to Get Rid of FindForFun Popup Android
After you know What is FindForFun Android and how does FindForFun Virus on Android work, and we will tell you methods of FindForFun virus removal for Android.
Method 1: Remove FindForFun from Android through Default "Internet" App
When you click action in Android, a particular application must open; that app is called the default. This can become into play when you have more than one app installed that serves the same purpose.
Firstly,go to "Settings".

Choose apps or app managers then select all or swipe to right for all.

Pick the browser, whichever is yours, or the internet app.
Click the app force stop.
Click clear cache/clear data then re-open your browser.
Method 2: Get Rid of FindForFun Virus Android via Chrome
You have effectively got rid of the adware part of FindForFun. Now let's eliminate the threat from your browser:
Open your devices settings menu and click on apps.

Find and tap on the Chrome app.

Click storage and under this click on manage storage button.
Click clear all data.
Finally, confirm by clicking "OK" button.
Method 3: FindForFun Virus Removal for Android with "Factory Reset"
When you didn't manage to get rid of the FindForFun virus, refactoring is your only choice. It will delete all your data. If you decide to proceed with it, this is what you have to do:
Go to Settings > Advanced Settings and tap on Backup & Reset.
Make sure back up my data is chosen. If it's not, enable it and wait for the backup will be created.

Scroll down and tap on Factory data reset.

Click on reset Phone to confirm.
Method 4: Delete Android FindForFun Virus Using Reboot for Android
FindForFun Virus on Android would cause various errors on your device. And in order to solve it, you need a professional and useful tool. ReiBoot for Android is what you are looking for! It can help you to repair the core Android system problems to make you get rid of Android errors. It is an excellent program that is easy to operate and guarantees success.
Download and install ReiBoot for Android on computer and then launch it. Choose 'Repair Android System' on the interface.

Then click on 'Repair Now'.

Now, you have to download the match firmware. Click 'Download'.

After the firmware is downloaded, click 'Repair Now' to fix the Android system effectively.
Conclusion
The FindForFun virus is packaged with many applications, a large portion of them are as yet present on Google Play Store. So what makes this infection so effective is its capacity to hijack your program.
If you became get redirects and want to get rid of the FindForFun virus, Tenorshare ReiBoot for Android is absolutely a superexcellent tool you want try it! And if you want to use it, just follow the steps below!
FAQ about Android FindForFun Virus
Q1: How do we know the phone has a FindForFun virus?
You have applications on your cell phone that you didn't download. Cell crashes routinely. Your battery depletes a lot quicker than normal and you get more pop-up ads than expected. Information utilization increases with no logical clarification. So you get extra messaging charges on your bill.
Q2: Does Android affect by viruses?
In the case of android phones, to date, we have not seen a virus that recreates itself like a PC virus, and specifically on Android, this doesn't exist. So technically there are no Android viruses. A great many people think about any malicious programming as a virus.