Android Free Msg Unable to Send Message? Here Are 5 Ways to Fix!
by Sophie Green Updated on 2021-04-28 / Update for Fix Android
Does "Android Free Message - Unable to Send Message" or  "message blocking is active" mean I have been blocked by the recipient?"
We came across this query while scrolling through the Quora feed. After some further scrutinizing, we also understood that the "message blocking is active" issue is faced by many Android users. While it may seem like the issue is faced after someone blocks your contact, that's not entirely true.
There is an array of reasons that can restrict you from sending text messages to others by prompting the said error message. So, in this article, we're going to explain what causes the "message blocking is active" error and how you can fix it with minimum hassle.
Part 1: Why Is My Phone Saying Unable to Send Message Message Blocking Is Active?
It's worth noting that this error message is usually encountered by people using a T-mobile connection. However, several reports have suggested that it can also occur in other cases. In any case, these are a few reasons that might restrict you from sending a message to the recipient and display "message blocking is active" instead.
Reason 1: Blocked by receiver (80% chance)
The most common reason why you may encounter this error is that the receiver has indeed blocked your number or he/she might be in your blocked list. In either case, you won't be able to send or receive messages unless the receiver has removed your contact from his/her blocked list and vice versa.
Reason 2: Service Outage
Apart from being on someone's blocked list, a temporary service outage may also restrict you from sending messages to others. In fact, this is the second most common reason why you may see the "message blocking is active Android".
Reason 3: Premium Message Access
Premium messaging is a dedicated Android feature that many messaging platforms use to send/receive messages. To use this feature, you'll have to give permission to the specific messaging app after installing it on your device. If the permission isn't granted, the app won't allow you to send/receive text messages at all.
Reason 4: Short Code Issue
The "shortcode" issue usually occurs on devices using a T-mobile connection. In this case, you'll see a specific code along with the error message. Being a technical fault, this issue can only be resolved by customer support at T-mobile.
Reason 5: Phone bill unpaid
Finally, if you haven't paid your phone bill in a while, there's a huge probability that the network service provider may have disabled all services on your connection temporarily and you receive unable to send message message blocking is active issue. You can resume these services by simply paying the bill.
Part 2: How to Fix Free Msg: Unable to Send Message - Message Blocking Is Active
So, now that you're familiar with the causes that may trigger the "unable to send messages - message blocking is active" error, let's quickly dive into the solutions that'll help you fix the issue and send/receive messages without any interruption.
Way 1: Enable the permission for premium SMS
As we mentioned earlier, some messaging apps will need premium SMS access. So, if you're using a third-party messaging app, make sure to grant it the premium SMS permission. Follow the below-mentioned steps to do this task.
Step 1: Go to the "Settings" window and scroll down to click on "Apps".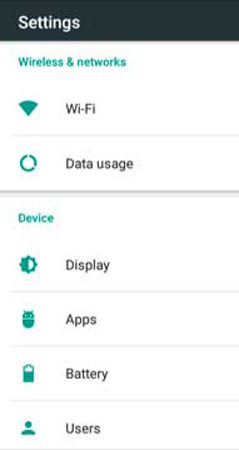 Step 2: Tap the "Menu" icon in the top-right corner and select "Special Access".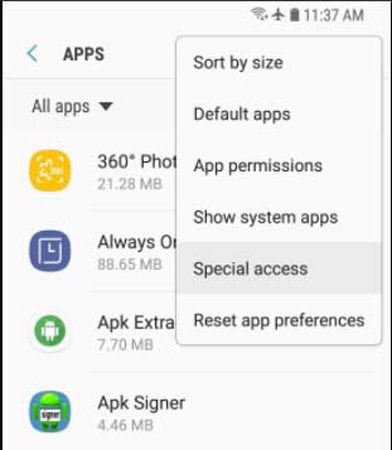 Step 3: Click "Premium SMS Access" and select the app that requires this permission.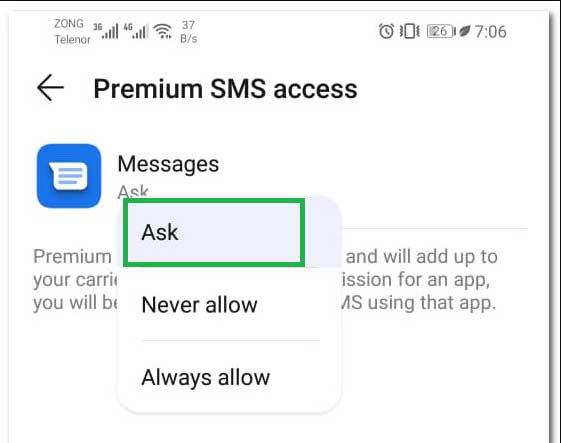 Way 2: Contacting official support
In case you're using a T-mobile connection, we recommend contacting the official customer support. The technician will either provide you with the step-by-step guide or remotely fix the error.
Way 3: Check if your phone number is active
In many cases, the users have reported encountering this error message after their number is deactivated permanently. If that's the case, you'll have to contact the customer support to re-activate your number.
Way 4: Confirm that text messaging services are enabled on your account
If you are still facing the same issue, there is a possibility that text messaging services might have been deactivated on your number. This usually happens when you haven't paid the phone bill or have reached the maximum text messaging limit.
Way 5: Try calling the number in question
Finally, if none of the above solutions work to fix message blocking is active, your number is most likely to be blocked by the recipient. You can check this by calling the number. If your number is blocked, you won't be able to make a call either.
Related Read: Why Is My MMS Not Working on Android, How to Fix?
Part 3: Know More about Using Message Blocking Facility
The message blocking feature is a great weapon for anyone who doesn't want to receive messages from a specific number. All you have to do is simply block the contact and they won't be able to send you text messages at all.
Let's see how to block a contact in your regular Messages app on any Android device.
Step 1: Open the Message app on your device.
Step 2: Tap and hold the specific thread that you want to block.
Step 3: Click "Menu" and tap "Block" to instantly block the contact.
Extra Tips: How to Clear Android Device Cache for free with ReiBoot for Android
It's worth noting that Android devices are prone to several issues like "Message Blocking is active" when you don't clear cache memory regularly. Cache files simply accumulate on each other and hamper the overall functionality of an Android device.
That's why it's always necessary to clear cache memory so that you can enjoy all the features without any interruption. You can use ReiBoot for Android for this task. It's a professional recovery tool that'll help you clear cache files with one tap. Here is how!
Download and install ReiBoot on your PC and connect your phone via USB. Make sure that USB debugging is enabled on your device.

Now, click "One-Click to Clear System Cache".

ReiBoot will automatically start cleaning the cache files. Wait for a couple of minutes as this process can take a while.
With 3 easy steps you can easily clear your Android device. To be honest, as a free tool. ReiBoot for Android definetily worth to try.
Conclusion
It can be pretty annoying to see" message blocking is active" when you're trying to send an important message to someone. While there's an 80% chance that the recipient has blocked your contact, you can still try the above-mentioned solutions as several other reasons can also trigger the same error.