[10 Fixes] Phone Not Registered on the Network
by Sophie Green Updated on 2020-12-15 / Update for Android Tips
Recently, many users reported, "My Samsung phone frequently shows 'Not registered on network'. What can I do about it?"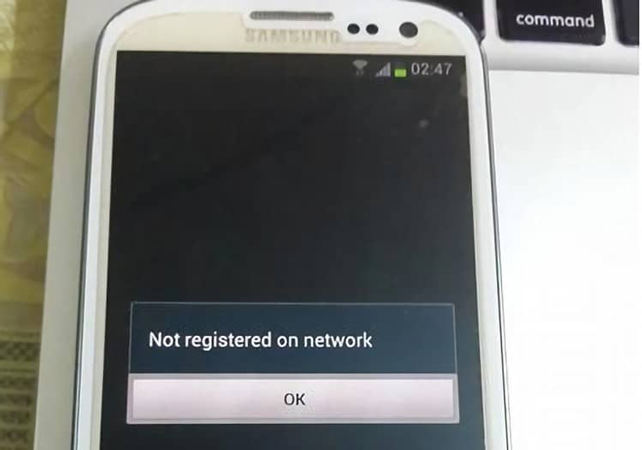 "My phone says not registered on the network", you might get this alert when you try to make a call without a network via your Samsung phone. In this guide, you'll be able to find out the reasons behind this error and how you can get this fixed. You'll surely encounter this problem if you're using any of the following Android phones:
Galaxy S7 Edge
Galaxy S7
Galaxy S6 Edge
Galaxy S6
Galaxy S5
Galaxy S4
Galaxy S3
Galaxy Note 5
Galaxy Note 4
Galaxy Note 3
Galaxy Note 2
Galaxy
Part 1: What Does Not Registered on Network Mean Phone?
Samsung phone not registered on network error occurs when your device's software or firmware isn't updated for so long. This happens when your phone is running an older software version. It's also a common android problem that occurs on Vodafone, T-Mobile, Airtel, AT&T, Virgin, Samsung, and other rooted devices.
Part 2: Why Does My Phone Say Not Registered on Network
Are you wondering, "Why does my phone say not registered on network?" then you must first know about the reason. The number one reason for this error message is outdated firmware or software. You might also face this error if you recently rooted your device. The third reason is that your phone is locked to a carrier.
Part 3: How to Fix T-mobile/Samsung Phone Not Registered on Network
As you already know, the best possible reasons you get your phone keeps saying not registered on network error. Now, it's time to find a solution to the problem. Here're the top 10 fixes you should consider:
Fix #1: Reseat your SIM Card
Sometimes, you may receive an error "not registered on network j7/j8" if your SIM card isn't fitted properly in the slot or SIM tray. The SIM card often loses its place if your phone is dropped or hasn't been placed correctly.
Fix #2: Remove Battery and SIM or Restart Your Phone
Turning your phone off and removing the battery sometimes resolves the phone not registered on network issue. Apart from this, remove the SIM card and insert it back. After inserting your phone's battery, turn on your phone.
Fix #3: Clean SIM
You need to check the SIM card condition if it's rusty, dirty, or dusty. Please ensure, all the gold blocks are cleaned. Clean the SIM card and connectors with a soft dry cloth.
Fix #4: Check SIM Tray
Check whether the SIM tray is damaged or broken. If it's broken, you need to replace it. Otherwise, you need to clean the SIM tray with a piece of foam. Reinsert the SIM and turn your phone on.
Fix #5: Turn On/Off Airplane Mode:
Toggling the Airplane Mode is another simplest method to get rid of Vodafone phone not registered on the network. This mode disables all cellular receptions when it's turned on. The airplane mode option is available in Quick Settings that can be accessed through a double swipe from the screen top.
Fix #6: Manually Select Network Mode
To select the network mode, you need to follow these steps:
Go to Settings > Mobile Networks > Network Mode

Set the Network mode to Automatic or WCDMA.
Fix #7: Update APN
To update the Access Point Name (APN), please follow these steps:
Go to Settings>Mobile Networks>Access Point Names

If APN is IPV6, change it to IPV4.
Fix #8: Change Frequencies/Bands
You can toggle between 2G, 3G, LTE, etc.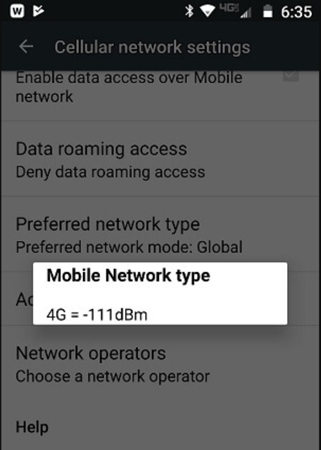 Fix #9: Reset Phone's dialer
To reset your phone's dialer, perform these steps:
Tap on Settings>Application Manager>All Apps
Locate the Phone/Dialer app.
Select the app, and clear its cache.
Fix #10: Restart Device in Safe Mode
Rebooting your device in Safe Mode helps your phone in using the default applications only. This means, T-mobile/Vodafone phone not registered on network problem will be fixed if it's due to any third-party application. Removing that app will fix this problem.
Extra: How to Bypass A Samsung Account?
If you buy a locked second-hand Samsung device and don't know the credentials or just forgot the Google account and password. No matter what reasons here, Tenorshare 4uKey for Android can help you implement Samsung FRP bypass within 5 minutes. Here's what you need to do:
After installing 4uKey for android on your computer, connect your Samsung device then choose the feature "Remove Google Lock (FRP)".

Now, you will jump to the next screen. Please check the note and click "Start Remove".

Tenorshare 4uKey for Android will send a notification to your Samsung device. Please don't disconnect your phone during the process.

Once you receive the notification, follow the tutriol on the main interface.

Last, you need to reboot your device and use the unlock pattern you just set to access your Samsung device.
Summary
If you're wondering "Why is my phone saying not registered on network", then it might be due to outdated software, SIM card, or any other problem. In this guide, we've shared 10 solutions to solve this problem. You can also use a free tool, Tenorshare 4ukey for Android, to deal with different kinds of problems related to your Android device.
Remove Android Screen Lock & Bypass Samsung FRP Lock
Bypass Google account verification on Samsung devices (Android 6-11)
Remove Android password, pattern, PIN, and fingerprint lock just one click away
Support removing screen lock and FRP on both Win & Mac