A simple tutorial to Root Android Phone with SuperOneClick
by Jenefey Aaron Updated on 2020-06-03 / Update for Android Data
Rooting your Android phone makes you have full access to system settings, and customize your phone the way you want. There are many Android root tools available, such as SuperOneClick. In this article, we are going to share a very simple tutorial to root your Android phone using SuperOneClick.
Part 1: Things to Do Before You Root Android
Check compatibility: check whether your phone is supported or not. Here is a list of non-supported or incompatible Android device: EVO 4G (HTC Supersonic), Droid Incredible (HTC Incredible), HTC Desire GSM, HTC Desire CDMA (HTC BravoC), HTC Aria, Droid Eris (HTC DesireC), HTC Wildfire (HTC Buzz).
Download Microsoft .NET Framework Version 2.0. SuperOneClick tool requires computers with Microsoft .NetFramework 2.0 installed on it.
Activate your phone's USB Debugging mode: Go to phone Settings>Application>Development and enable USB Debugging.
Install USB drive for your phone.
Verify that your SD card is not mounted: Tap Menu > SD Card & Phone Storage, and (if available) tap Unmount SD Card.
Backup your Android phone in case of data loss.
Go to official SuperOneClick page and download the latest version. SuperOneClick is a very simple and small utility (file size is about 1.83MB). The tool also has a Un-root option so that you can unroot your phone any time.
Part 2: Detailed Steps to Root Android Phone with SuperOneClick
Note: Rooting an Android phone will break the phone's warranty. In some countries, it will break the TOS with your mobile carrier, operator. So proceed only if you are 100% sure you want to root your Android device.
Step 1: Connect the Android phone with the computer by USB cable.
Step 2: Enable the USB debugging mode in your phone.
Step 3: Run the SuperOneClick. Click "Root" button to begin rooting your Android phone, as the following screen shot shows. Then, if prompt information of "Running a SU test…Success!" turns up, it indicates the rooting process is finished successfully.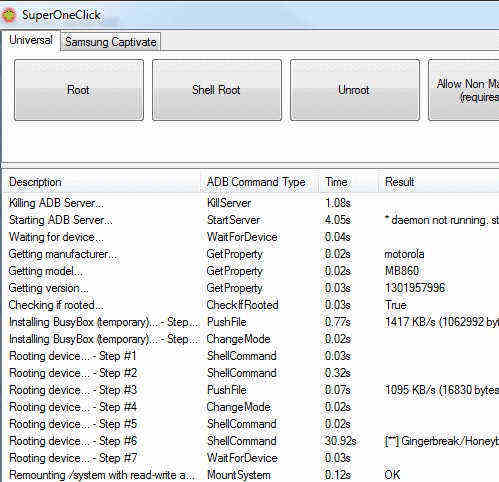 Step 4: Reboot the Android phone after rooting.
If the software fails to root the phone, you should make sure:
1. Android driver has been installed in your computer.
2. The SD card of your phone has been unmounted.
Now you have learned to root Android phone with SuperOneClick. Easy, isn't it? if you followed everything mentioned above, your Android phone is now rooted and you can enjoy all the benefit of a rooted Android phone. Then you can enjoy the top 6 apps for rooted Android phone to gain all its potential.