How to Unlock A Disabled iPhone without iTunes or iCloud or Computer
by Anna Sherry Updated on 2022-07-29 / Update for Unlock iPhone
Typically, unlocking your iPhone requires you to enter your password or Touch ID. However, after entering the wrong passcode a couple of times, your iPhone will become disabled.
Generally, you will be advised to use iCloud or iTunes with computers to unlock the device. However, what happens when you don't have access to your iTunes or iCloud account? What if you also don't have a computer at the time? Well, this post will show you how to unlock a disabled iPhone with iTunes or iCloud or computer.
Before Read: What Cause An iPhone or iPod to be Disabled
As we want to learn how to unlock your disabled iPhone 13/12/11/X etc, it is equally essential to consider the main factor that can make your iPhone or iPad disabled. They become disabled or unavailable when you enter the wrong password several times in a row. You will get a message that says "iPhone unavailable", "Security lockout" or "iPhone is disabled" and cannot use the device until you have unlocked it.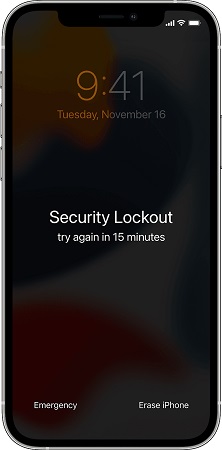 Situation 1. How to Unlock A Disabled iPhone without iTunes or iCloud or Computer (iOS 15.2)
The latest iOS 15.2 helps iPhone users unlock the device if they do not have a computer or do not want to use iTunes or iCloud Find My, though it still needs you have logged into Apple ID on your locked device and connected to network before it is unavailable. The steps about how to unlock a disabled iPhone with iTunes or iCloud or computer are very easy.
After many times of enterring wrong passwords, you will be locked out of your iPhone for a period of time like the picture above shows.
Tap on the Erase iPhone option on the right bottom.

Then confirming to erase iPhone and in the next page, enter the Apple ID password on your locked iPhone.

Your iPhone will be reset and the lock screen will be removed now.
Situation 2. How to Unlock A Disabled iPhone without iTunes or iCloud using 4uKey
If you have gotten the dreaded "iPhone is disabled" or "iPhone unavailable" message on your iPhone, and the above ways cannot solve your problem, don't be dismay because you can use Tenorshare 4uKey to unlock the device.Tenorshare 4uKey can be used for getting rid of any passcode, Face ID, as well as Touch ID on your iPad or iPhone.
Since 4uKey works with iOS 15.2 and below, it is almost certain that you can use it to unlock your iPhone. The steps involved in using this tool are easy and straightforward. So, let's see how to use it.
Foremost, you have to download Tenorshare 4uKey on your MAC or Windows PC. Now launch it and check out its easy-to-use interface. From there, click on Start to begin.

Using a USB cable, connect your iPhone to the computer. The iPhone should be detected automatically by the computer. Now, click Start to continue the process.

You will be prompted by the program to download the latest firmware file. Select a preferred save path and then hit Download to proceed.

Once you have downloaded the latest firmware file on your computer, tap the Start to Remove option. Then, the unlocking process will start.

At the end of the steps above, you have successfully unlocked your iPhone by removing any passcode that was previously on it.
Situation 3. How to Unlock A Disabled iPhone without iTunes or Computer using Find My
The method above has described how you can use your computer to unlock your disabled iPhone without iTunes or iCloud. However, if you have enabled the Find My iPhone feature on your iPhone, then you can open browser on any other mobile and visit the official iCloud website to erase your iPhone.
Here are the steps to unlocking a disabled iPhone without computer:
Firstly, use any device to visit www.icloud.com and use your Apple ID to sign in.

Click on Find My, and then look for the particular iPhone you would like to unlock from the list. After choosing it, hit the "erase iphone" icon.

To continue, you will be prompted to confirm your Apple ID password. Also, you need to answer your security questions.
When you are done with this, the disabled device will be unlocked without using any computer or iTunes account.
Although this specific method is straightforward and only requires a few actions, you must know the details of iCloud account. Otherwise you may need to refer back to Tenorshare 4uKey to unlock your disabled iPhone.
FAQs:
1. How do I force my iPhone to factory reset?
Press and hold the Volume Down and Wake/Sleep buttons at the same time for about 10 seconds. Don't release them until the Apple logo appears on your screen.
After some seconds, the device will boot and take you to the home screen
2. Can I unlock iPhone with Apple ID?
Yes, you can unlock a disabled iPhone with Apple ID. For this to be possible, your iPhone needs updating to iOS 15.2, or you need to visit the iCloud website, sign in with your Apple ID and unlock the disabled device.
Remove Any Password in Minutes
Remove Apple ID or iCloud account on iPhone/iPad without password
Remove screen time passcode in 3 simple steps
Fix disabled iPhone/iPad without iTunes or iCloud