How to Remove MDM from iPad? The Only Guide You Need to Read
by Anna Sherry Updated on 2020-10-17 / Update for iPad
If you have recently restored an iPad with a Remote Management profile, you will have to input the remote manager login information. So, if you don't have the information or you have forgotten it, you will be stuck on the MDM activation screen. Unfortunately, this means you cannot utilize your iPad for anything. This will definitely frustrate most users.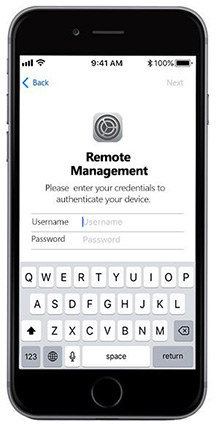 The good news is that there are a few things you can do to remove MDM from your iPad and start using the device optimally once again. As we proceed in this article, we will explain what you can do to get rid of MDM on your iPad.
Part 1. What Does Remote Management Do
Remote Management refers to a feature of smart devices that allows a predetermined administrator to do a wide range of things on an iPad or another iOS device remotely. Some of the things that the administrator can do on the device include setting up network accounts and emails, changing settings of the device, as well as installing and configuring certain apps.
However, despite the importance of Remote Management to organizations, there are times when you may stuck on the 'Remote Management' login screen iPad after you have restored it. If you find yourself in this situation, we have the best solutions for you below.
Part 2. How to Remove Remote Management from iPad after Restore
If you are ready to remove Remote Management from your iPad after restoring it, Tenorshare 4uKey is the top-quality tool you can count on to get the job done without much hassle. 4uKey has been developed to help you access your phone again even if you cannot remember the login information of the device. Without using any username or password, this tool will assist you by bypassing the Remote Management lock screen on your iPad.
For anyone ready to use Tenorshare 4uKey to bypass Remote Management, the step-by-step guide for doing so is described below.
Download and install Tenorshare 4uKey on your computer. Then, install and launch it to get started. On the home screen of the program, tap the "Bypass MDM" mode to start the process.

Connect your iPad to your computer.

When you are certain the connection has been established successfully, tap "Start to Bypass" to move to the next step.

At this point, the program will begin the process of bypassing the Remote Management lock on your iPad.

This process will only take some seconds. When the process is complete, you have successfully removed the Remote Management lock screen on your iPad.
Part 3. How to Check If iOS Device Is Supervised
Generally, Remote Management comes in different forms as you may be given an already configured device or asked to submit your device for configuration. Whatever the case may be, there are instances where you don't even know whether your device is being monitored or not. If you are suspecting that your iOS device is being supervised by any organization, you can check your device to be certain.
If you are using iOS 7 or a later version, here are the steps for checking if your iOS device is supervised or not.
Launch the "Settings" app on your iOS device.
Now, navigate to "General" and tap "About", if your device is being monitored, you will see the name of the organization that is monitoring it – "This device is supervised by …" as shown in the screenshot below.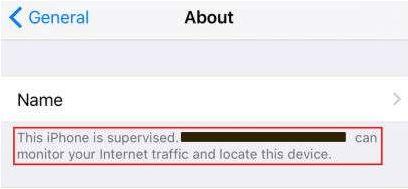 For those using iOS 6 or an earlier version, the process for checking supervision is described below.
Open the "Settings" app on your iPad.
Go to "General" and then check "Profiles". The profile of the organization supervising your iPad may appear here. However, it will not tell you specifically that you are being supervised. It will rather show as "Configurator Trust Certificate".
Conclusion
we hope that you have been able to fix the problem by following the steps described above. Again, we believe that Tenorshare 4uKey is the #1 program that you can use for removing Remote Management screen from your device. It works with almost all iOS devices, so you can rest assured that it will assist you to remove Remote Management without using any username and password. Also, this article has explained how you can check if your iOS device is supervised or not.
Remove Any Password in Minutes
Remove Apple ID or iCloud account on iPhone/iPad without password
Remove screen time passcode in 3 simple steps
Fix disabled iPhone/iPad without iTunes or iCloud
Find and view stored passwords on iPhone and iPad