3 Effective Methods to Factory Reset iPad without Passcode
by Jenefey Aaron Updated on 2022-03-14 / Update for iPad
If your device is disabled or you are locked out of the iPad, and you want to factory reset the device. Not a lot of people know how to Factory Reset an iOS device but the problem becomes even bigger if you have to factory reset iPad without passcode. Don't worry! 3 effective ways to Factory Reset your iPad are discussed below. These programs will help you Factory reset the device without even using the passcode.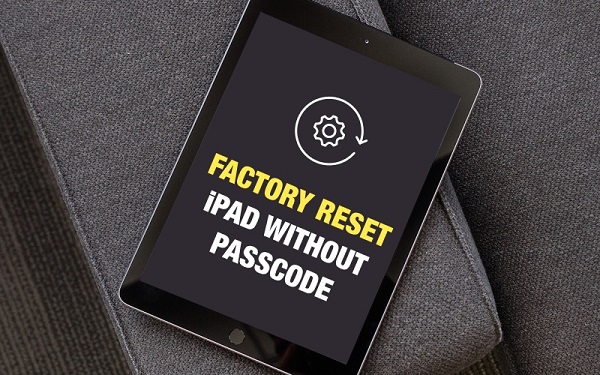 Way 1: Factory Reset iPad without Passcode using 4uKey

As usual, the official way to Factory Reset iPad without even using the passcode is to use iTunes and iCloud apps but there are certain mandatory conditions if you want to use these apps to reset iPad without passcode or else it is possible you wouldn't able to do it.

The problem associated with the iTunes is the connection, if you haven't connected your iOS device to the iTunes before then you won't be able to do it when the device is locked. It is the same with iCloud, you need to use the Find My iPad feature beforehand in order to use it during a crisis.

So, it looks like you won't be able to rely on such apps to recover your iOS device, this is why we recommend Tenorshare 4uKey -Disabled iPad Reset Tool, an exceptional third-party software that will factory reset your locked or disabled iPad within a blink of an eye. Here's how to factory reset iPad without passcode using Tenorshare 4uKey:

Step 1 Download and install the 4uKey software on your PC or Mac.

Step 2 Then, connect the iPad to your computer with a USB cable, the software will detect the device automatically.

Step 3 After that run the software and go to the main interface to click on "Start".

Step 4 Now, you will be prompted to download the firmware, select a download location and then click "Download" to proceed.

Step 5 After the firmware is downloaded, you can go to the Software window and click "Unlock Now".

After the procedure is complete, the passcode will be removed and you will be able to access the device. The procedure will completely wipe all the data from your device and it will be reset.

Way 2: Reset iPad to Factory Settings without Passcode Using iTunes

This is one of the official procedures implemented by Apple to Factory reset your iPad. It is effective and convenient but the only catch is that you need to connect the iPad to iTunes which is easier said than done. If you are unfamiliar with the term or simply don't know how to reset iPad without passcode or how to wipe an iPad without passcode, then read the steps below:

Step 1: You have to connect your iPad to your computer and then run the app on your computer.

Step 2: If you have synced iPad with iTunes, you can click the device icon and on the Summary page, click "Restore iPad" button. ITunes will then download the software to erase your device.

Step 3: Now, if iTunes won't recognize the device, you will need to put your iPad into recovery mode by pressing the Home button and On/Off button together. iTunes will then detect the device in Recovery mode and ask you to restore.

Step 4: Then a dialog box will appear on the screen to confirm whether you are sure to factory reset iPad. Click on "Restore".

Now, just wait patiently for iTunes to Factory Reset your iPad. But you must know that this particular procedure solely depends if you are able to connect your device to iTunes, for that to happen you need to connect to iTunes at least once before the Factory Reset and also keep the Find My iPad feature off. If you haven't done it then iTunes won't connect to your iPad. You can also try reset iPad factory settings without iTunes.

Way 3: Wipe iPad without Passcode using iCloud

You are going to use the iCloud app but the main feature that is going to help you to factory reset iPad without passcode or computer is "Find My iPad". It is an excellent feature implemented by Apple to locate your lost device and it can also remotely erase the device to protect all its data falling into the wrong hands. It is a very effective way to erase and reset your iPad but the catch is that you have to use it once before to be able to use it when the device is completely locked.

So, if you are asking how do I factory reset my iPad without passcode, then follow the steps below;

Step 1: Well, we said before that you won't need any help of your computer but you can still use it if you don't have any other iOS devices available.

Step 2: So, you have to go to the iCloud.com and log in to your iCloud account with your Apple ID.

Step 3: Then, inside the account click on "Find My iPad" and then click on "All Devices".

Step 4: Select your device from the list and then choose "Erase iPad" from the menu.

This procedure will completely wipe out the device sending it into the Factory Reset mode.

Conclusion

All these procedures are very effective if you want to Factory reset the device but in case of iCloud and iTunes, there are certain conditions to be met in order to use them effectively. But if you think about Tenorshare 4uKey, there are no such conditions, it is obviously the better option if you were unable to connect to iTunes or unable to activate "Find My iPad" feature. Highly recommended and thumbs up for this software!