5 Best Methods to Undisable an iPhone 14/13
by Jenefey Aaron Updated on 2022-09-22 / Update for Unlock iPhone
Every iPhone user always use a password to protect the important data in their device. But what if you put the wrong code and the iPhone gets disabled or due to some unforeseen glitch the password feature gets stuck? So "How to undisable an iPhone?"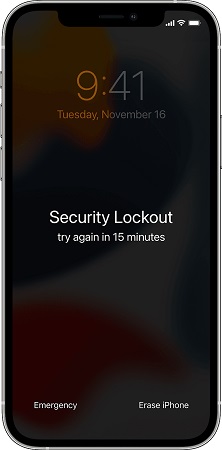 It may look like an impossible task and you will take the device to the nearest Apple store. As a responsible company, Apple has foreseen such problems and provided official solutions. And there are also quicker and more effective way to answer how to undisable an iPhone.
Quick Way: How to Undisable An iPhone in Just 3 Steps
If you are wondering how to undisable an iPhone, then Tenorshare 4uKey is the best choice. It is convenient, easy-to-use, and overall very effective as a well-designed unlocker tool for iOS devices. It supports the latest iPhone 13/14 series and compatible both Windows PC and Mac. Here's how to use it:
After installation, launch the 4uKey and then click Start to begin.

Connect your iPhone and computer with a USB cable, and click on Next.

After that, download the latest iOS 16 firmware package.

After the firmware has been downloaded, click on Start Remove to undisable your iPhone.
After the iPhone is undisabled, you can restore data from backup if you have any. Using Tenorshare 4uKey. Never worry about a disabled iPhone or iPad or how to unlock a disabled iPhone without iTunes.
3 Ways: How to Undisable An iPhone Recommended by Apple
If you are wondering how to undisable an iPhone using the official ways, then it would include using iTunes, iCloud and Apple ID. They were designed by Apple to provide undivided support to iOS users.
Way 1: Using iTunes to Undisable An iPhone
In such cases where your iPhone is disabled, the most popular option is to connect the device to iTunes. If the data of your iPhone has already been backed up then you will be able to easily fix the device.
So, here's how to undisable an iPhone if the iPhone can connect to iTunes:
Start the procedure by connecting the device to your computer using a USB cable and launch iTunes.
Tap the iPhone icon on the top. Then click on "Restore iPhone" option under Summary tab.

Finally click "Restore and Update" and iTunes will now download the software and restore your iPhone.
Now, your iPhone will be fixed. But if you were unable to connect to iTunes, then how to undisable an iPhone? Put your iPhone into recovery mode.
iPhone 6/6s and earlier: Power button and Home button together.
iPhone 7 and iPhone 7 Plus: Volume down button and Power button
iPhone 8 to iPhone 13/14: Quickly press Volume up button, then press the Volume down button. Long hold the Side button.
Then connect the device to your computer with a data cable and open iTunes.
After iTunes detection, you will see another prompt: "There is a problem with iPhone that requires it to be updated or restored". Click on Restore.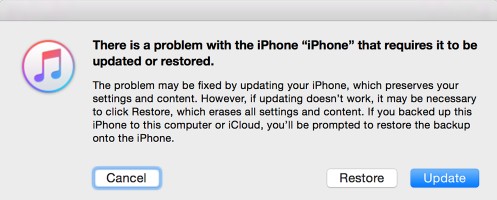 Way 2: Utilize iCloud to Unlock Disabled iPhone Remotely
How to undisable an iPhone without iTunes? Well, iCloud is an alternative to unlock iPhone without iTunes. If you remember your Apple ID and the login password, then you can visit iCloud.com to unlock your device remotly. Find My should be enabled. The steps are mentioned below:
Go to the official website of icloud.com. Then log in to your account.

Now, you need to go to options and select "Find My iPhone".

Click "All Devices" one the top of the window and choose your iPhone from the list.

After that click on "Erase iPhone", then all of your data and settings will be erased from the device.

This procedure will completely erase all the data on your device. So, you better save a backup beforehand so that you can restore after your device gets fixed.
Way 3: Using Apple ID to Undisable An iPhone
Using Apple ID is the only method by now for how to unlock disabled iPhone without computer, but it is limited to iPhone with iOS 15.2 and later. If you find your iPhone is unavailable or security lockout, you can erase the device and access your iPhone again.
Trick: Use Siri to Undisable An iPhone (iOS 10)
This solution is a bit experimental and tricky. It is only available to some iOS 10 devices, and there is a chance that it may not work every time. You can call this method more of a trick as you have to trick Siri to make this method effective and in the process you will not lose your iPhone data.
So, how to undisable an iPhone without iTunes using Siri, you will find the steps below,
First you have to activate the Siri on your iPhone. So, press and hold the Home button. After that Siri will be activated immediately and it will respond to your voice.
Ask Siri to open the clock of your iPhone.
Hit the "Clock" icon, to find the World Clock.

Now, click "+" sign to add another clock to the list.

Type anything on the search bar and then select all of it.

Select the "Share" option.

Select "Message" to open a new Message window.

Inside the message field, navigate to "To" and press and hold the "Paste" button to paste the copied message.

Now, tap on the Home button to reach the main screen of the device.
Finally, you will see that you can access your device without using the password. This simple trick will save you from going through all of the troubles to undisable your iPhone but remember that, this particular procedure may not work all the time.
Conclusion
How to undisable an iPhone? We can assure you that the official ways are strong enough to fix your disabled iPhone but there are drawbacks. So, if you want to get your iPhone back without facing terrible consequences, use Tenorshare 4uKey. It is simply the best and the most effective method. Highly recommended!
Remove Any Password in Minutes
Remove Apple ID or iCloud account on iPhone/iPad without password
Remove screen time passcode in 3 simple steps
Fix disabled iPhone/iPad without iTunes or iCloud