Considerably Easy to Fix 'This iPhone was Lost and Erased' Issue
by Jenefey Aaron Updated on 2020-08-29 / Update for Unlock iPhone
iPhone has countless users all over the world. Many people like iPhone because of its powerful functions. However, this does not mean that it is perfect. When one day, your mobile phone receives a notice "this iPhone was lost and erased", then why does this happen to your mobile phone and how to solve it?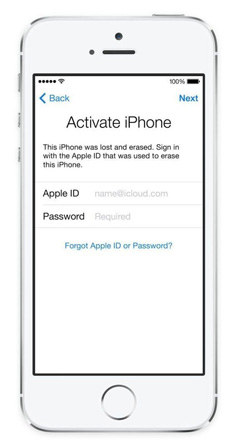 Part 1: The Possible Reasons of "iPhone was Lost and Erased" Issue
The following are the possible reasons why you're getting this notification on your iPhone:
Hackers hack into your iCloud account: If your iPhone was purchased from the Apple Store, when you receive iCloud notification "this iPhone was lost and erased" on your iPhone, it means someone has hacked into your iCloud account, deleted your device, and marked it as lost.
The iPhone is a stolen second-hand phone: If your iPhone is a second-hand phone, when you receive an iCloud notification that "this iPhone was lost and erased", it is likely that the iPhone was a stolen phone and the original owner has erased it and marked it as lost on his or her iCloud account.
Part 2: This iPhone was Lost and Erased Bypass with Passcode or Password
The simplest way exit this mode is simply entering your passcode via iCloud. Doing this will instantly make you have full access to your iPhone once again.
Open an internet browser and then turn to iCloud.com.
Use the same iCloud account on your iPhone to sign in. And you will receive a verification code on your iPhone, please enter it.

From the iCloud interface, choose "Find My iPhone" option.

Tap on "All Devices" at the top of the screen and select your iPhone.
Then click the Lost Mode icon on the next interface.
Last, choose "Stop Lost Mode" and you can use your iPhone normally.
Tips:
If your iPhone was purchased from Apple Store, although you forgot the password, you can find the password back.
Go to applied.apple.com.
Then, click on "Forgot ID or Password".
Type in your Apple ID and press "Next".

You have two ways to find your pass word:

Email Authentication: If you choose "Email Authentication", then you will receive an email from Apple. You can follow the email instruction to complete the process.
Answer Security Question: If you choose "Answer Security Question", then you need to enter the answers to the security question.

Enter your new password in both fields, and click "Reset Password".
Part 3: This iPhone was Lost and Erased Fix without Passcode or Password
If you really forget the password or your iPhone is a second hand phone, you completely find the right article which can help you. Forgot password but want to unlock the phone? Here are what you can do.
How to Fix This iPhone was Lost and Erased by Tenorshare 4MeKey
Tenorshare 4Mekey is a professional tool for removing iCloud activation lock without password/Apple ID. When you forgot password or bought a second hand iCloud locked iPhone, it will be your best helper. It will allow you to log into your App Store with a new Apple ID after bypassing the activation lock. But remember, before you remove iCloud acivation lock, you need to jailbreak your device first, and it has potential to brick your device.
Download and install the software on your device. Then launch it, you will see the interface below.

After that, you need to press the "Start" button to initiate the jailbreaking process.

After jailbreaking, the software will help you remove the iCloud activation lock. Once it's done, you can gain access to your phone.
iPhone was Lost and Erased Bypass via iCloud Lost Mode Bypass Provider
In addition to the above method, you can try to contact iCloud lost mode bypass provider, such as AppleiPhoneUnlock, and ask them to help you remove the activation lock. However, this method has many disadvantages.

Long Delivery Time: The success rate is very important. But the sad thing is most iCloud unlock providers with a low success rate.
High Service Price: Actually, most users want to use their phones quickly. So the delivery time is vital for them. However, if you choose iCloud unlock providers, they always need more than 2 days.
Low Success Rate: Many iCloud unlock providers' service prices always beyond 100 dollars. It's a little high.
Conclusion
Whether your mobile phone has been hacked into, or bought a stolen second-hand mobile phone, this is a pity. But fortunately, even though you receive "this iPhone was lost and erased" notification, you still have a way to solve it.
We sincerely recommend Tenorshare 4Mekey, because whether you remember the password or not and whether your mobile phone is in various states, it can help you solve this problem perfectly.
FAQ about iPad Stuck on Updating iCloud Settings
Q1: What happens when a lost iPhone is erased?
When your device was erased, all of your information (including credit, debit, or prepaid cards for Apple Pay) is deleted from the device.
Q2: Can you use an iPhone that has been reported lost?
If an iPhone has been reported lost, it cannot be activated and cannot be used with SIM Cards.
Q3: How do I reactivate my stolen iPhone?
Go to iCloud.com, then Settings and see if your device is listed there as lost. If so, go ahead and remove it for your account. Next, contact Sprint and let them know you want to use the phone, otherwise it won't activate.