How to Deal with iPhone Unavailable in 4 Ways [iOS 15.5]
by Anna Sherry Updated on 2022-07-06 / Update for Unlock iPhone
If your iPhone doesn't get unlocked with the passcode and displays iPhone Unavailable message on lock screen, you may be very concerned. But this problem is easy to figure out. This article discusses why your iPhone is unavailable and how to fix it, so you regain access to your device.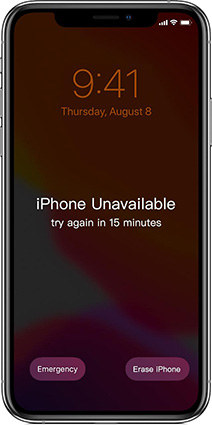 Part 1. What Does iPhone Unavailable Mean
After entering six wrong passcodes to unlock your iPhone, you will see iPhone unavailble try again in 1 minute message. And you'll be locked out for at least 5 minutes after you fail seven times. The more times you enter wrong passcodes, the longer you're locked up, like 15 minutes, and one hour.
Briefly, the passcode is a security feature on iPhone. If you do not enter the correct passcodes, and to protect your data security, iPhone will get locked, you will see iPhone Unavailble or Security Lockout completely.
Part 2. 4 Ways to Bypass iPhone Unavailable Screen
Now we know why iPhone is unavailable and stops you from trying other passcodes to get into it again. Below are the four most common methods to bypass iPhone unavailable screen.
At first, here is a great video that will walk you through the entire process about how to fix iPhone unavailable!
Way 1. Directly Tap 'Erase iPhone' on the Screen (iOS 15.2 or Later)
If you forgot the passcode on your iPhone and keep entering the wrong passcode, you'll see not only the iPhone Unavailable or Security Lockout message, but also the Erase iPhone option. Apple offers us this option to erase the phone on the lock screen.
Requirements: Just make sure that your iPhone is running iOS 15.2 or later, has access to a cellular or Wi-Fi network, and has your Apple ID password ready.
Follow the below-mentioned steps to bypass iPhone unavailable screen.
First, keep entering the passcode and see the Erase iPhone option on the bottom right corner.

Tap on it, and it will notify you about erase iPhone and losing data. Go ahead.

Enter your Apple ID password. And then, the erase process will begin. Once done, you can set it up as a new device.
Way 2. Using 4uKey to Fix iPhone Unavailable without Passcode
How to fix iPhone Unavailable if you don't have access to a network, or the 'Erase iPhone' option is just not working? You can use Tenorshare 4uKey, which is able to bypass iPhone unavailable screen without any passcode. It is compatible with the latest iOS 15.5 and iPhone 13 Pro Max, and also supports unlocking iPad and iPod.
First, you need to launch 4uKey on a computer and click the "start" button.

Connect your iPhone to the computer. Read the notes here and click "next" to proceed.

4uKey will match the latest iOS firmware, and you can download it to any location you want on the PC.

After that, you can start removing the passcode you forgot. It takes a few minutes.

Wait for a few minutes, your passcode will be removed, and iPhone Unavailable messages will disappear.
3. How to Unlock an Unavailable iPhone via iTunes
When iPhone says iPhone unavailable, the third way is to restore your phone to factory settings by using iTunes. But sometimes iTunes cannot detect your iPhone when it is locked. In this situation, follow the below-mentioned steps.
Put your unavailable iPhone in recovery mode first, then connect it to iTunes on your computer.

iTunes will pop up a message window. Then go with the restore option.

Then your iPhone gets restored in a few minutes. And you'll see the Hello screen after it restarts.
4. How to Unlock an Unavailable iPhone via Find My iPhone
Is there any other way to fix iPhone unavailable screen? If you use and enable Find My across your devices, you can also erase your unavailable iPhone wirelessly on iCloud.com with another device. Like the first method, it also needs Apple ID login and network.
Open icloud.com on a browser, and sign in to your Apple ID, go to Find iPhone.

Click All Devices on the top bar. Select your iPhone that says unavailable, and proceed with the erase option.

Since no firmware is involved, this process could be pretty faster. And you will soon get access to your iPhone again.
Conclusion
When the wrong passcodes are entered many times, your iPhone will be locked with iPhone unavailable screen. Follow the methods mentioned above, you can unlock it easily. Do set a passcode that is easy to remember next time. And for how to fix iPhone unavailable, we highly recommend Tenorshare 4uKey with least limitations.
Remove Any Password in Minutes
Remove Apple ID or iCloud account on iPhone/iPad without password
Remove screen time passcode in 3 simple steps
Fix disabled iPhone/iPad without iTunes or iCloud