iPad Unavailable? iPadOS 16 Makes It Easier to Bypass
by Anna Sherry Updated on 2022-09-30 / Update for iPad
Security Lockout is a new feature of iPadOS 16 to prevent unauthorized use of iPad. After entering the wrong passcode several times, you will get a notification that says "iPad Unavailable", which will stop you from using the device.
However, in some situations, this feature may work against you, especially when you have forgotten your password. So, what can you do if your iPad says "iPad Unavailable/Security Lockout"? The solutions are in this article.
I. How Long Does iPad Unavailable Screen Last for A Wrong Passcode
For a single wrong passcode, the "iPad Unavailable" screen will last for about one minute. However, the more you try wrong passcodes, the longer you will need to wait before the screen disappears.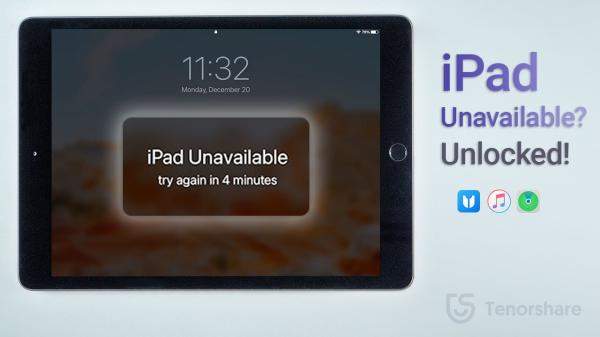 II. How to Unlock Unavailable iPad without Computer
After inputting the wrong passcode into your iPad for an extended period, you will be locked out of the device. This is when you will get the "Security Lockout" screen. Continuous wrong attempts will require you to restore your device to factory settings by connecting to iTunes.
Unfortunately, if you don't have a computer within your reach, it will be impossible to use iTunes. The good news is that there are other solutions you can consider especially if your iPad runs on iPadOS 16.
1. Directly Erase iPad If Running iPadOS 16
For an iPad that runs on iPadOS 15.2 and later, you can take advantage of the new Security Lockout feature to erase the iPad directly. Follow the instructions below to directly erase an iPad operating on iPadOS 16.1:
Continue entering the wrong passcode until "Erase iPad" appears on your screen. The message will read "This iPad is in Security Lockout. You can try your passcode again in 5 minutes, or you can erase and reset this iPad now".
Now, you should press "Erase Now".
This will require you to enter your Apple ID password. Input the password and the erasure process will start automatically.
Once done, you need to set up your iPad like a new one.
2. Remotely Erase iPad via Find My iPad
Another option for erasing your iPad without a computer is through the Find My iPad feature. This option works the same way for both iPad and iPhone. To use Find My iPad, here are the simple steps to follow:
Get started by visiting and signing in on https://www.iCloud.com on another iPad or iPhone. Afterward, hit the Find My iPad feature on the page. A verification code may be sent to the device before you can proceed to the next step.
From the drop-down menu, you have to choose the locked iPad.

Afterward, you have to click "Erase iPad".
Once you have done everything above, the iPad will be erased, and you will be able to input a new password to start using it without any hassle.
III. How to Get Into Unavailable iPad with 4uKey (Super Easy)
If you don't have iCloud connected to the iPad and you cannot remember your Apple ID, the methods above cannot work for you. But this doesn't mean that you cannot get into your unavailable iPad. In this situation, all you need is Tenorshare 4uKey, which is a powerful tool for unlocking all kinds of iPad, iPhone, and iPod touch. Tenorshare 4uKey can get into 4- or 6-digit passcode, Face ID, Touch ID, etc.
When it comes to using 4uKey, the method is super easy and hassle-free. You don't need any technical skill to utilize this tool to unlock your unavailable iPad in the comfort of your home. Everything you need to do to use Tenorshare 4uKey will be described below:
Download, install and launch Tenorshare 4uKey. Once you have launched the program, hit the "Start" button to kick-start the process.

The next step is to use a USB cable to connect your unavailable iPad to the computer with 4uKey. The iPad should be detected automatically by the program. Then, you need to tap the "Next" option.

If your iPad is undetected by Tenorshare 4uKey, you have to put it into "Recovery Mode" or "DFU Mode". This will ensure that it is detected.

The third step is to download the latest firmware file. You will be prompted by the software. Just select your preferred save path and tap "Download" to continue the process.

After downloading the firmware package on your computer, tap "Start to Remove".

Tenorshare 4uKey will start removing the passcode of your iPad immediately.
IV. How to Unlock Unavailable iPad with iTunes
Last but not least, you can also unlock your unavailable iPad with iTunes. It is noteworthy that this method also requires the use of a computer. So, how can you unlock an unavailable iPad with iTunes? These are the things to do:
Run iTunes on a Mac or Windows PC. With the aid of a USB cable, connect your unavailable iPad to the computer.
The next step is to turn off your iPad completely.
Now, it is important to put unavailable iPad in recovery mode. This will depend on the model of iPad you are using.

Once connected, the "Restore" and "Update" options will appear on the screen. Click "Restore" to start the process to restore your iPad.

The process will take around 15 minutes. Once completed, restart your iPad.
Now, disconnect the two devices and set up the iPad like a new device.
Conclusion
As shown above, there is no difficulty with unlocking an unavailable or disabled iPad as long as you have the right tools. If you can just follow the instructions in this post, you should be able to unlock your iPad and start using it again. Out of the aforementioned solutions, Tenorshare 4uKey is the most dependable and effective option that you can use.
Remove Any Password in Minutes
Remove Apple ID or iCloud account on iPhone/iPad without password
Remove screen time passcode in 3 simple steps
Fix disabled iPhone/iPad without iTunes or iCloud