5 Ways to Unlock iPhone 13/14 SIM/Passcode
by Jenefey Aaron Updated on 2022-09-01 / Update for Unlock iPhone
In this article, you can find out ways about how to unlock iPhone 13/14. There are two cases of locked iPhone discussed in this article. In cases you have forgotten your passcode, this guide will show you to unlock your iPhone by bypassing the initial security passcode barrier. There are some other cases as well when your iPhone SIM gets locked, this article also tells how to unlock your iPhone from all the major mobile network providers like AT & T, EE, O2, Tesco and Three.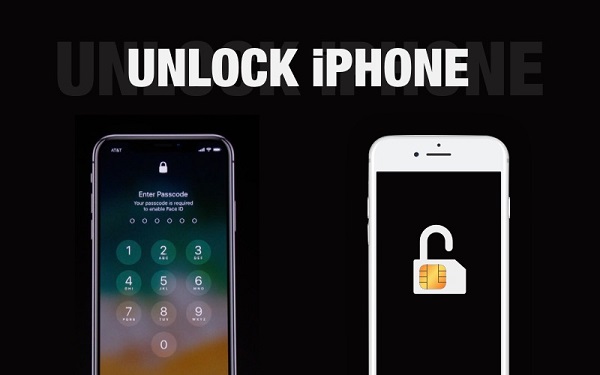 Part 1: How to Unlock iPhone 13 from Carrier
Sometimes the iPhone you buy may be locked to a particular carrier due to which you might not be able to use it. The two best-recommended ways to unlock SIM phone are mentioned below. Follow the step by step guidelines in each way on how to unlock iPhone from carrier easily:
Way 1: Contact iPhone Network Provider
You can contact your network provider and follow the steps as directed by them to unlock your iPhone. Some of the major network providers and their solutions for unlocking iPhone are given below.
Unlocking your iPhone for EE
EE provides unlocking services at the fixed rate of £ 8.99. For using their service you would have should have an account which you have been using for a minimum of six months and you need to have paid all your bills till date.
If you satisfy the above criteria, you can fill the form for unlocking your iPhone by navigating to https://myaccount.ee.co.uk/device-unlock/
You can call EE customer care on 0843 837 5413 or visit http://ee.co.uk/help/get-in-touch
Unlocking your iPhone for O2
You can unlock your iPhone for O2 if you have My O2 Online Application. For "Pay Monthly" customers as well as for "Pay As You Go" customers, you can unlock your iPhone easily by paying off the contract amount.
Once you have completed these steps, you would have to first insert a non-O2 SIM into your iPhone and then connect to iTunes to unlock the phone.
If this fails to unlock your iPhone you will have to contact their customer care service by either calling on 0344 847 1426 (for Pay Monthly customers) or 0345 600 4302 (for Pay As You Go customers). You can even visit https://www.o2.co.uk/help to get further help
Unlocking your iPhone for AT & T
AT & T responds to queries regarding unlocking iPhone in approximately two business days. You can follow the steps below to contact them for unlocking your iPhone.
Open your web browser and navigate to https://www.att.com/deviceunlock/
Read the eligibility requirements which are mentioned, if all of it is satisfied, and then agree to it to continue.
Fill in all the details in the request form and submit it.
After doing this, you will get an email confirming the same along with your unlock code.
The confirmation link in the email expires in 24 hours, so be sure to click it soon to confirm your unlock request.
Within a matter of two working days, AT & T will respond to your request by sending you an email with detailed instructions to unlock your iPhone.
Way 2: Use Paid Unlocking Services
If contacting the network providers doesn't help in unlocking your iPhone you just be wondering "How do I unlock my iPhone?" You can try the various third party applications which are easily available for iPhone IMEI unlock. All these applications differ only in their name, their steps and way of working is more or less the same. Here are the general steps which you would have to follow for any third party application.
Open the website of the third-party application.
Pay for their services and then wait for the unlock code in exchange for that.
Once you get the email with the unlock code, use that code to unlock your iPhone device successfully for other network providers.
A popular application for unlocking the iPhone device is DoctorSIM.
Part 2: How to Unlock iPhone 13/14 Passcode
The above methods describe what to do when your iPhone gets locked for a particular network carrier. Below, the article discusses how you can unlock iPhone when you have forgotten the passcode or have entered the wrong passcode too many times.
Way 1: Unlock a Locked iPhone using 4uKey
A third party software called Tenorshare 4uKey can be downloaded and installed on your PC or Mac to bypass the passcode on your iPhone. It can unlock any iPhones with passcodes, Touch ID, and Face ID etc. Follow the steps below to use this highly recommended software.
Open the software on your PC/Mac after downloading and installing it. Click on "Start".

onnect your locked iPhone with the help of a USB cable and click on Next.

Download the required firmware to continue.

Click on "Start Unlock" to start the unlock process of your iPhone.
This is how to unlock iPhone passcode. This software will then erase all the data on the iPhone along with the previous set passcode.
Way 2: Unlock iPhone With iTunes Restore
If you have synced your iPhone with iTunes you can completely restore your device which would remove even the passcode barrier. Follow the steps below:
Connect the iPhone to your computer using a USB cable and run iTunes. Select your iPhone icon on the top. Click on "Restore iPhone" option under Summary tab.
If iTunes cannot detect your iPhone, then you have to put your iPhone to Recovery Mode.

After iTunes detection, you will find a prompt: There is a problem with iPhone that requires it to be updated or restored

Simply click on Restore here and iTunes will again ask you to wipe out all data. Select "Restore and Update" and iTunes will download new software and restore the iPhone.
This is how to unlock a locked iPhone. Now, you can access your iPhone as it is not only unlocked but restored to Factory Settings as well.
Way 3: Unlock iPhone With Find My iPhone
How do you unlock an iPhone with "Find My iPhone"? Well it is basically a feature of iCloud. You can remove the passcode of your iPhone to unlock it by locating the device and erasing all data remotely. Follow the steps in the guide below to know how to do this.
Firstly, to use iCloud toremotely erase or unlock your iPhone, you will need another iOS device or a computer.
Go to the icloud.com and log-in to your iCloud account.
Next, find "Find iPhone" from the list and tap "All Devices".

Select your iPhone from the drop-down list and tap "Erase iPhone".
All the data including your passcode will be removed from your iPhone. You can restore the data later from the list of backups available with you.
Conclusion
It is always recommended that you backup your device regularly so as to not lose any important data when such situations arise when there is no other option other than restoring your device completely. Tenorshare 4uKey is a highly recommended iPhone unlock software to efficiently and easily unlock any model of iPhone in the quickest way possible.
Remove Any Password in Minutes
Remove Apple ID or iCloud account on iPhone/iPad without password
Remove screen time passcode in 3 simple steps
Fix disabled iPhone/iPad without iTunes or iCloud
Find and view stored passwords on iPhone and iPad