How to Move Photos from Verizon Cloud to Gallery
by Jenefey Aaron Updated on 2021-08-23 / Update for Cloud Merge
Hello Team, I hope you're enjoying your summers. I want to ask how to move photos from Verizon cloud to Gallery? You see, I have these old family photos on my old device. I uploaded those photos to the Verizon Cloud back then to save some space. I have changed my phone now and suddenly remembered that I still have those pictures in the Cloud. Would you mind showing me the easiest way to transfer those pictures to my Gallery? I need them badly for a family event. TIA."
Many people like to upload their pictures and videos to Verizon Cloud. Although it is not as popular, we would still tell everything about Verizon Cloud and how they can retrieve data from it directly to their phone's Gallery. Continue reading to find all the details.
Part 1: What is Verizon Cloud?
Verizon Cloud is another Cloud backup service like iCloud and Google Drive. It is used for wirelessly backing up and synchronizing contacts, videos, photos, documents, and text messages for Android and iOS users.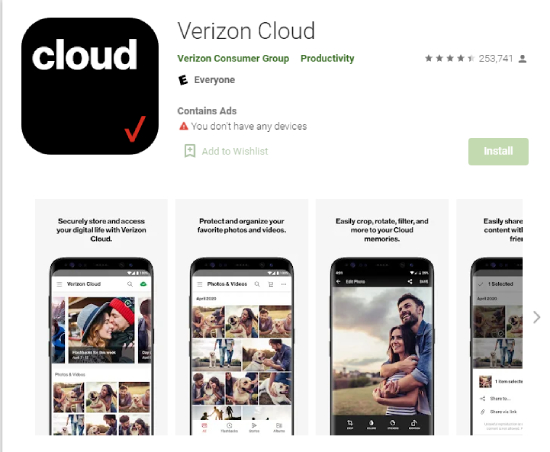 However, the messages and document backup option to Verizon Cloud is only available for Android devices.
Verizon Cloud provides its customers 600GB of Cloud storage for $6 monthly. If the users want more, they can subscribe to Verizon Cloud 2TB space for $15 or go for unlimited storage space at $20 a month.
However, the 600 GB plan for Verizon Cloud is available on only one device and does not sync for more than one device.
Part 2: Can I Transfer Photos from Verizon Cloud to Gallery?
Yes, you can transfer photos from your Verizon Cloud to your mobile or computer's Gallery. Here is how to transfer photos from Verizon Cloud to your PC.
Step 1: Log into your Verizon Cloud account by going to the website www.verizonwireless.com.
Step 2: When your account loads, go to "My Devices" then "My Cloud and Media."
Step 3: Once you get there, select your photos. Do not select more than 200 photos at once, as it will slow down the system. Once done, tap on the Arrow icon in the top right to start downloading the files.
Step 4: The zip file of your photos will be downloaded into your PC gallery. You can go there and unzip those files and save them wherever you like.
Part 3: How to Move Photos from Verizon Cloud to Gallery?
But the question we were asked was: "How do I transfer photos from Verizon cloud to my phone?" Let's answer that.
The procedure is too easy. Follow these steps:
Step 1: If you have the Verizon Cloud app installed on your phone, then open it. You can download Verizon Cloud from your app stores as well.
Step 2: Enter your sign-in details to Verizon Cloud. Once it verifies, it will start displaying your account on the app. 
Step 3: Scroll to the bottom left of the app and tap on "All." Verizon Cloud will display all the files and folders.
Step 4: Go to the upper-right portion of the Verizon Cloud app and tap the "Contextual Menu" icon. Then tap on "Select Content."
Step 5: Choose the pictures and tap again on the "Contextual Menu" icon. The selected photos will be highlighted in gray with a tick mark on them.
Step 6: Finally, click on the "Download" icon, and the downloaded items will go straight to your Gallery's storage. You can use those pictures from there.
Tip: If you don't want to use the Verizon Cloud application, you can use your Smartphone's browser and log into https://www.verizon.com/solutions-and-services/verizon-cloud/ and repeat the same procedure to download the images to your Gallery.
FAQs about Verizon Cloud
Q1. Is It Possible to Share Verizon Cloud Storage with Others?
If you subscribe to the Verizon Cloud Unlimited plan, it allows you to share your Verizon Cloud storage with four other people, whether Verizon or non-Verizon users.
Q2. What Kind Of Files Can Verizon Cloud Store?
You can store any file in Verizon Cloud. You can transfer your Android messages and contacts to this Cloud. Moreover, if you have an iPhone or Android phone, you can send its data like documents, photos, videos, music, audio files, and other essential files to Verizon Cloud.
Q3. Is There Any Alternative to Verizon Cloud?
Yes, there are many brilliant alternatives to Verizon Cloud. If you're using Android, then the best Cloud alternative is Google's own Google Drive Cloud storage. If you're an iPhone user, then the best alternative of Verizon Cloud is Apple's iCloud storage which is phenomenal.
Extra Tip: How to Migrate WhatsApp from Android to iPhone?
Since there is no mechanism for sharing or uploading your private WhatsApp messages to Verizon Cloud, one has to find another way to migrate these chats from an Android phone to an iPhone. Tenorshare iCareFone app is the one that can allow this transfer to happen. Here is how you can migrate WhatsApp from Android to iPhone.
Download and launch Tenorshare iCareFone. After launching, connect both devices on the PC and click on "Transfer" to proceed. Turn on USB debugging on the source phone. 

Once debugged, click on "Yes" to initiate the migration. Open WhatsApp on your source phone and backup data on your Gmail.

You also have to log in to your WhatsApp on iCareFone and verify the backup account to ensure safety. After verification, the data will start to transfer, and it will soon ask for a WhatsApp login on the target device.

Toggle off "Find my iPhone" on your iPhone and wait until it restores the data. Restart your iPhone after completing the restoration and enjoy.

Restart your iPhone after completing the restoration and enjoy.
Conclusion
Verizon Cloud lets easy transfer of photos to Gallery. Also, when you have problems about how to transfer from Google Drive to iCloud, then welcome to Tenorshare for help. If you want to transfer WhatsApp messages, then use iCareFone, as it is the best user-friendly application that you can try.