Know How to Backup Text Messages Android with 3 Different Ways
by Sophie Green Updated on 2021-07-02 / Update for Android Tips
It is a good habit to backup text messages Android so that you have something to restore when data loss occurs on your phone. Android actually has various ways for you to back up your messages.
You can Android backup text messages to the cloud, locally on your PC, and even on your own phone. All you need to do is to follow the right method and you will have a safe copy of all your messages. Here we cover some of the ways to recover your Android messages.
Part 1. How to Backup Text Messages on Android Without App – Using Google SMS Backup
If you are someone who is hesitant to give away your messages data to a third-party app, there is actually a way to backup Android text messages without using any app. Your phone has a built-in option that allows you to back up as well as restore your text messages.
This option is Google's very own backup feature. With this tool, you can back up your messages to Google Drive. Then, when data loss occurs, you can restore that entire backup on your phone.
Here we show how to backup text messages on Android without app.
On your Android phone, head into Settings > System > Backup.

Enable the Back up to Google Drive toggle to start backing up your phone.
There are a few disadvantages of using this method. First, if you lose access to your Google account, you cannot restore your backup. Second, your old backups get replaced with new ones. Third, you must fully reset your phone to be able to restore a backup.
Part 2. How to Backup Text Messages Android to PC – Using Tenorshare UltData for Android
If you want a hassle-free way to backup text messages on Android, a good option is to use a computer tool that helps you do that. There is a tool called Tenorshare UltData for Android that helps you do just that.
Using that program, you can actually back up all of the messages saved on your Android phone over to your computer. This creates a safe and secure copy of all your SMS on your computer. You can back up nearly all other file types as well using this tool.
Here we show how to backup text messages Android using this software tool.
Download and launch the tool on your computer. Then, click Recover Lost Data in the tool.

Connect your phone to your computer via a USB cable. Turn on USB debugging on your phone, if you have not already done that.

Tick Messages as you want to back up your messages, and then click Start in the bottom.

When the scan results appear, select the messages you would like to back up and click Recover in the bottom.
You should get the option to save your messages on your computer. That is how you backup text messages Android to PC.
Part 3. How to Backup Text Messages Android Free – Top 5 Free Android SMS Backup App
If you would like to use an app to backup and restore text messages Android, the following are some of the apps you can use.
1. SMS Backup+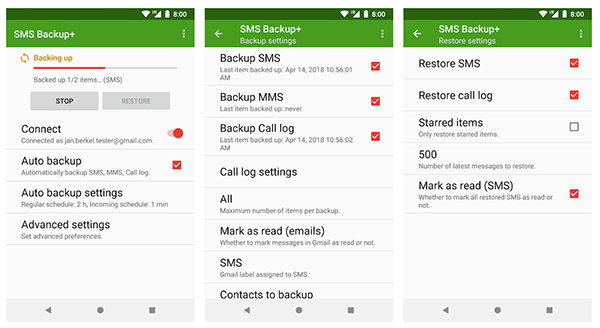 SMS Backup+ helps you automatically create backups of both your SMS and MMS messages to your Google account. During the setup, you need to configure your Google account to use with the app, and the app then uses your account to save all your text messages.
2. SMS Backup & Restore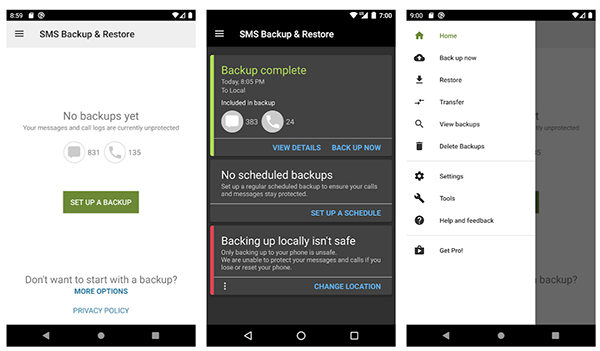 If you would rather prefer your backups to be made locally on your phone, SMS Backup & Restore is a great way to do that. Using this app, you can make local copies of your text messages and call logs. You have the option to upload these backups to various cloud providers, if you want to do that.
3. Titanium Backup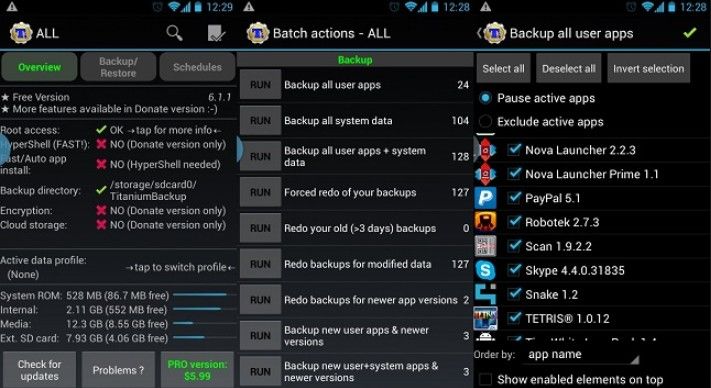 If your phone is rooted or you do not mind rooting your device, Titanium Backup is a pretty good way to backup your phone's content. Unlike other apps, this makes an actual full backup of your phone including all your data. Restoring data with this app is as easy as backing up data.
4. Backup Your Mobile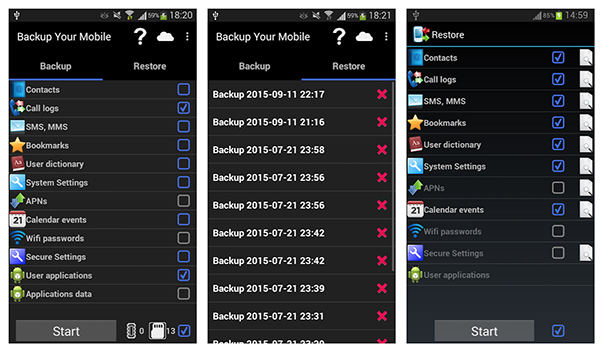 Backup Your Mobile is an all-in-one solution to all your data backup solutions. Using this app, you can create local as well as cloud backups of your phone's data, including your messages. You can even transfer your backups to another phone and restore the backup there.
5. G Cloud Backup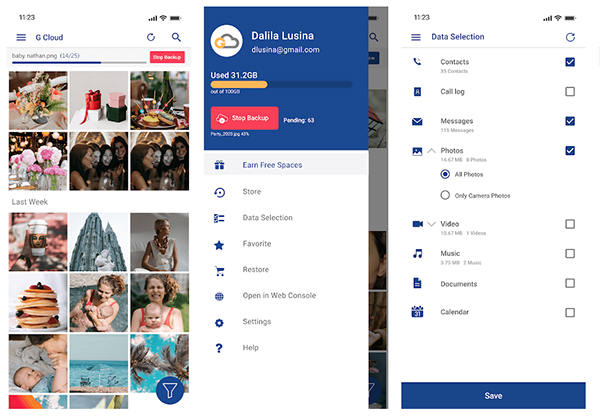 If you want your backup app to be feature-loaded, look no further than G Cloud Backup. With this app, you can backup your messages as well as many other kinds of data from your phone. The app has many features including the ability to make backups of your SD cards, automatically run backup actions, and so on.
Summary
Whether you want to backup text messages to Google Drive or you prefer offline backups, there are many ways to make safe copies of all of your text messages on your Android device. We hope the guide above helps you keep your important messages secure.