Guide: Pokemon GO Raids For Beginners 
by Anna Sherry Updated on 2022-08-12 / Update for change location
If you are a newbie to Pokemon GO, you may be interested in Pokemon Go raids. How do start a raid in the game, what will you get after winning a raid? Well, this guide will answer your question and give you some useful tips about the raids. Let's go!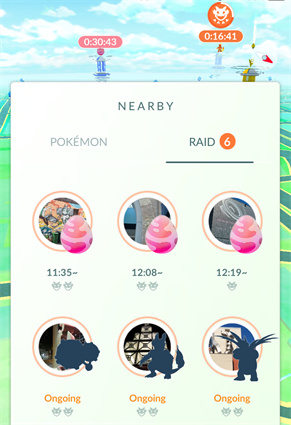 Short Introduction of Pokemon GO Raids
If you are wondering what actually are Pokemon go raids and how one can be a participant in this? So let's find out first about the raids. 
Basically, it is the way people connect with each other and then team up. Once a team is made they cooperate with each other and then fight against those tough bosses. The main goal is to defeat the powerful Pokemon. 
They occur when the boss Pokemon takes over the Gym. Players can team up with their friends and even strangers so they can win against the most powerful and strong Pokemon by using this Pokemon raid feature. 
This is an amazing feature that will not only give a thrilling experience but also will have a win against those tough bosses. 
What Will You Get from Pokemon GO Raids
What will happen if you won the battle raid? You and your fellow trainers get successful in the raid you will be rewarded with some exciting and special items. Not only that but a good chance of catching that Pokemon too. All of this needs teamwork and once it's achieved you will be able to enjoy those special rewards. 
The Pokemon GO raids list rewards that you will get are as follows:
Fast and Charged TM.
Rare Candy. "In Pokemon Go, it's a catch-all candy that will help in evolving any Pokemon you can".
Golden Razz Berries. "It's a powered-up version of the regular Pokemon berries".
Premier Ball. "It is the same ball but with a cool red-and-white look".
Details of Pokemon GO Raids Invites
Raids as all fun and games as it's one of the most exciting things to do. If you want to start a raid, how to send and accept Pokemon GO raids invites? 
Accepting An Invite
Trainers can invite up to ten friends for a raid battle, it was five before. Players can join the raid in two ways i.e. through raid in person or either connect remotely using the remote pass of raid. Remotely accepting requires a REMOTE RAID PASS to allow you to join the raid without the restriction of location.
Sending An Invite
Invites can be sent by joining a private or a public raid lobby. Then on the screen's right side, tap the option of invite friends. Choose the friends you want to raid with the limit of 5. Then it's up to your friends you invite from the Pokemon GO raids discord, they will accept your offer and then you all are ready for a raid.
Pokemon GO Raid Finder Recommend
If you are looking for a good Pokemon GO raid finder, the Sliphroad has proven to be the best in finding raids. The Sliphroad has a great mapping and tracking sites. You will be able to see the up-to-date maps, shows the bosses, and even the difficulty level. So, for beginners, we will say try the lesser raid bosses so there will be a higher level of success. As for a recommendation from us, it's Sliphroad. 
How to Teleport to Pokemon GO Raids
How to join a raid which is thousands of miles far away from us, the best solution is to use Tenorshare iAnyGo to teleport yourself to the location of raids. In this way, not only can you join raids without the restriction of location but also can save 100 coins to buy a REMOTE RAID PASS.
Follow the steps to teleport yourself to the game.
Download iAnyGo on Win/Mac and install it. Launch it and go to the change location mode.

Connect your iDevice to PC with a USB cable.

Enter the location of raid on the search bar and click Start to Modify. And then you will be teleported to the raid gym. Now you can join the gym directly without spending any coins.
The End
We hope now you have a good idea about Pokemon go raids. It's a great feature that Pokemon Go players should avail themselves of. Just try iAnyGo to join more raids to win rewards!