What are Password Protect Apps Android? How to Use?
by Anna Sherry Updated on 2020-11-10 / Update for Android Tips
Being security conscious involves keeping our information safe. Whether you use fingerprint or alpha-numeric passwords, the safety of your passwords helps you control who has access to your device. With the volume of personal information that is contained in most personal devices, it is wiser to use password protect apps Android to prevent unauthorized access to one's data.
Part 1: Why People Need Android Password Protect Apps
To restrict access to certain areas: You probably have friends that may want to check your phone for new music, videos and other files they are interested in. With apps lock, you can grant restricted access to your files so your friends can see only what you want them to see while the rest remains hidden.
To prevent fraud: with the password protect an app Android, the one who stole your Android device could not get your money out your account.
To prevent unauthorized use of your devices, keep you device in safe.
Part 2: How to Use Password Protect Apps on Android
Way 1: Use Android Built-in Screen Pinning Password Protect Android Apps
Go to Settings > Security/ Security Location > Advanced.

Choose Screen pinning and enable it by switching the toggle.

Tap Ask for Pin to choose a passkey.
After selecting the desired passkey, tap Got it.
To unpin the app, press the Back key and Overview at the same time. Supply the passkey required to unpin the app.
Way 2: Lock Apps with Samsung's Secure Folder
Many recent Samsung android devices have the Secure Folder for restricting access to certain apps on the device. Secure Folder allows users to secure their folders and files with a biometric lock or passcode. Use the steps below to enable the feature on some apps.
Go to your apps tray and choose Settings.
Look for Biometrics and Security/ Lock Screen and Security. Tap any of the aforementioned options.

Choose Secure Folder.

You will be required to sign in to your Samsung account. If you are a new user, you will need to create a new Samsung account.
After you are done creating a new account, supply your Samsung account details and sign in to proceed.
Once your login details are accepted, you will be prompted to choose the lock method, pick from the options and tap Continue.
Re-enter the lock method to confirm your choice. Tap Confirm to proceed. You will find a Secure Folder short cut on your device menu screen.
You open the Secure folder shortcut and Chose Add Files. You will see lots of apps on your phone. Pick the ones you want to lock and tap Done to effect Lock function.
Way 3: Use Huawei/Honor Private Space Android Password Protect Apps
private space helps Huawei android users to set up different social media accounts, emails and keep some apps hidden away from their MainSpace. The private space will require the user's password or biometric login before it can be accessed. Follow the steps below to setup Private Space.
Go to Settings > Security & Privacy > PrivateSpace.
Select Enable and verify your default PIN.
Choose a new private space PIN. You may also use a fingerprint different from the one used on the MainSpace.
Once PrivateSpace setup is complete, use your PrivateSpace PIN or fingerprint to take you to private space directly

While in PrivateSpace, go to Settings > Security & Privacy > PrivateSpace so you can move data and files from MainSpace to PrivateSpace and the other way round.
Way 4: Use Guest Account on Android
A guest account helps you to your app and information hidden. A guest account mimics your original account but you control which apps are made available or not.
Go to Settings > Users & Accounts > Users > Add Guest.

Choose Multiple Users then select Guest to switch from normal account to guest account.
You may allow or disallow calls by tapping a gear icon at the right of the screen.
Select OK to confirm your preferences.
Way 5: Use App Lock Software Password Protect Apps on Android
1. AppLock (by DoMobile Lab)
This is the most popular phone lock app on the Google Play Store. You can use it to lock specific apps on your Android. You can also use it to hide or lock certain media files such as videos, music, and photos.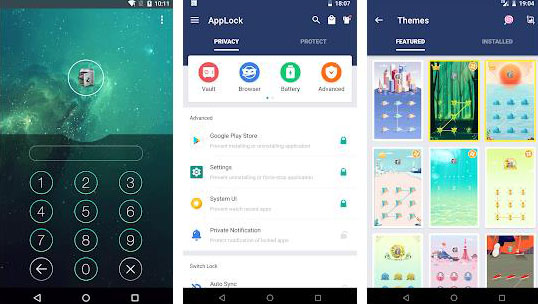 Once you have installed the app, you need to create a control pattern password that will be required each time you open the app.
2. Norton App Lock
We know Norton for antivirus apps. Norton also has its free apps lock tool for android mobiles. With the Norton app lock, users can choose between fingerprint lock, 4-digit pin, and password to restrict access to some apps on the phone. The app also suggests some apps that the user should lock.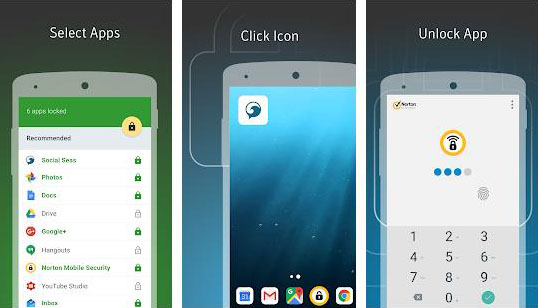 When intruders press an invalid password on your device, Norton app lock takes their picture so you can know who tried to access your phone without your permission.
3. Perfect App Lock
Perfect App Lock is also one of the top-rated app lock tools on Play Store. It has a very strong security protocol that is extremely difficult to by-pass. Apart from locking apps, it also locks WiFi. It can mask apps lock function by displaying error messages to confuse unauthorized persons.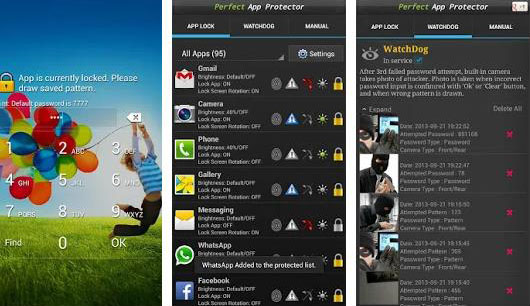 Perfect App Lock comes in both Free and Pro versions. The free version contains ads while the Pro version is ad-free and has more advanced features.
4. Smart App Lock
Smart App Lock goes beyond locking apps and photos only. It also locks your phone logs, settings, and toggles. Its fingerprint scanner is compatible with Samsung devices. It also features an intruder alert system. It is free and very easy to use after installation. However, users may be bothered by advertisements on the app.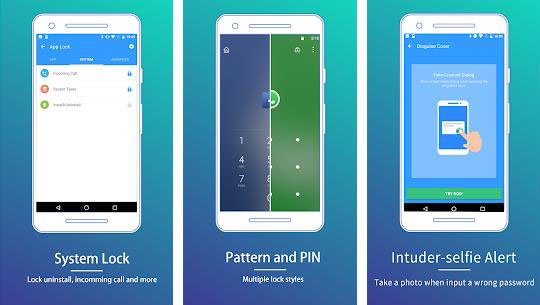 Part 3: Must-read Tip: How to Unlock Your Android When You Forget Password
4uKey for Android is an all-in-one tool for removing forgotten PINs, passcodes and fingerprints from your Android device. If you have tried so hard to remember your PIN and you can't, use 4uKey for Android as a last resort. Tenorshare 4uKey for Android Screen lock function only takes three steps to remove the lock on your screen.
After downloading and install 4uKey for Android on your pc, launch it and connect the affected device via USB. Select the Remove Screen Lock feature.

Step 1: Download and Click Remove Screen Lock on 4uKey for Android

Confirm your selection and click the Start menu on your pc to remove the screen lock

Step 2: Tap Start button on 4ukey for Android

Wait for the process to be completed. It would only take a few minutes and you will be notified when passcode has been completely removed.

Step 3: 4ukey for Android Unlock successfully
Conclusion
Now you can use apps lock without fear. If you forget your lock, you can rely on the methods of using 4uKey for Android above to help you recover or bypass your password