Can't Remember iPhone Passcode? Here's the Best Way to Unlock iPhone
by Anna Sherry Updated on 2022-08-18 / Update for Unlock iPhone
The nature and dominance of a passcode in an iPhone is not concealed to us. Ever since the passcode thing is introduced, we can say that it has relieved the people to a great extent because they can now place their device anywhere without bothering about anyone getting unauthorized access to their device.
However, living in the era where we all need passcodes or passwords for unlocking or say signing in, it's natural being unable to remember iPhone passcode that you recently set. What if you fall in the same situation? Well! There's no need to panic anymore. We have a best solution for you that you can implement when you can't remember iPhone passcode. Have a look!
The Types of iPhone Passcode and the Significance of Passcode
Before you stress when you can't remember your iPhone passcode, how about knowing the kind of passwords your iPhone has and why is it so important to have them at the first place. iPhone has basically three types of passcodes, i.e. a Face ID, Touch ID and digital passcode.
You need to set up a passcode for protecting your iPhone and the data within it from being misused or stolen. A passcode is important while turning on or restarting your iPhone, updating its software, unlocking it, erasing your iPhone, installing iOS configuration profiles, or accessing or changing passcode settings. Passcodes are again of various types such as numeric, alphanumeric, four-digit numeric or six-digit passcodes.
Can't Remember iPhone Passcode, How to Unlock?
What option you are left with, when you can't remember iPhone passcode? You can go for Tenorshare 4uKey and unlock your iPhone. this program can remove any kind of passcode from your iPhone including 4-6 digit passcode, Face ID, or Touch ID easily. For broken, unresponsive or screen frozen iPhone, it works effortlessly. Moreover, it supports the latest iOS and can factory reset locked iPhone without a passcode. You can even restore your iPhone using your iCloud or iTunes backup.
If you can't remember your iPhone passcode here is how Tenorshare 4uKey can come to your rescue:
Step 1: Run Tenorshare 4uKey on your computer once downloading and installing is done. Connect your iPhone with the computer using an Apple authorized USB cable. Once the program recognizes your iPhone, tap on the 'Start' button.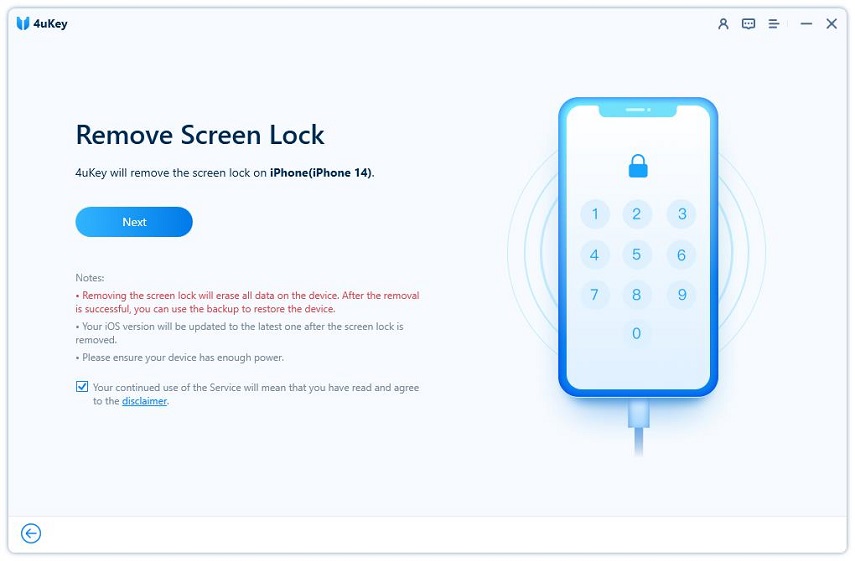 Step 2: Hit the 'Download' button after that for updating the iOS firmware.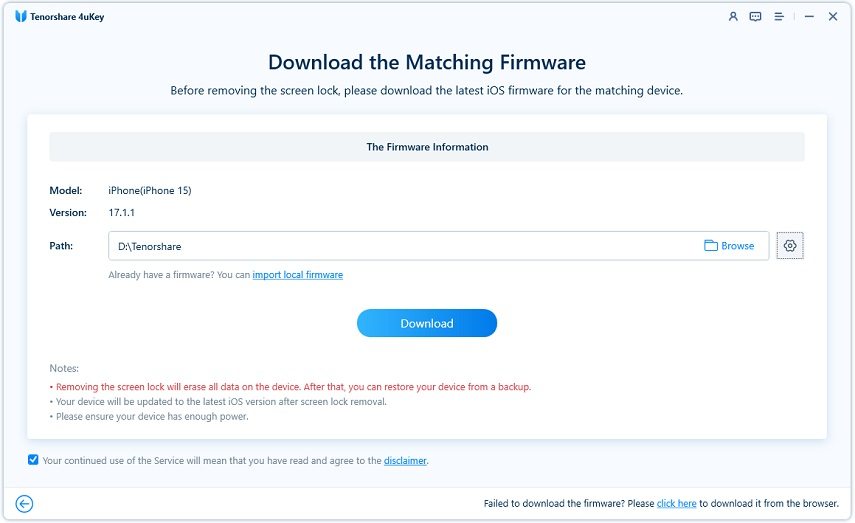 Step 3: Pressing the 'Start Unlock' button initiates removing lock from your iPhone. Allow some time to let the process take effect.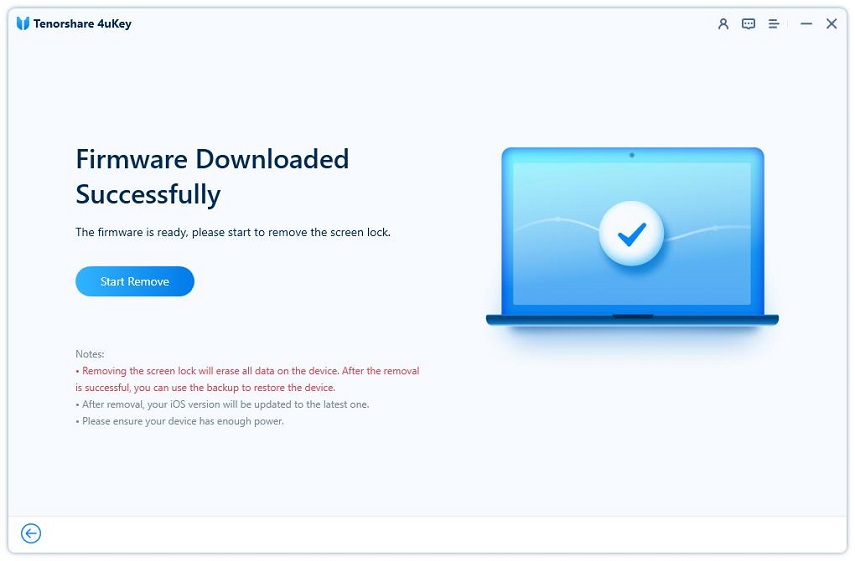 Step 4: As the passcode has been removed, you can setup Face ID, Touch ID and Passcode afresh. You can even restore iPhone from iCloud/iTunes backup.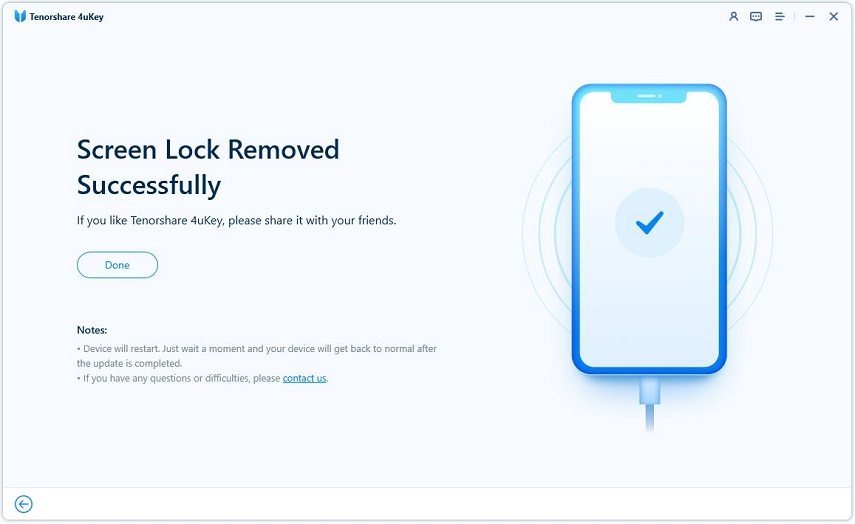 You can aslo Check out This Vedio Guide:
How to Set Up iPhone Passcode, Touch ID or Face ID
It is not every day that you can't remember your iPhone passcode. Understanding how to setup the passcode would come in handy, while resetting your iPhone passcode. So, in this section we will show you how to set up different types of passcodes for your iPhone.
Setting up a Passcode for iPhone:
1. For iPhone X and latest models, visit 'Settings' > 'Face ID & Passcode' > 'Turn Passcode On'.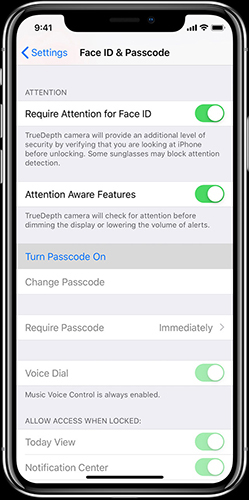 2. For older iPhone models, browse 'Settings' > 'Touch ID & Passcode' > 'Turn Passcode On'.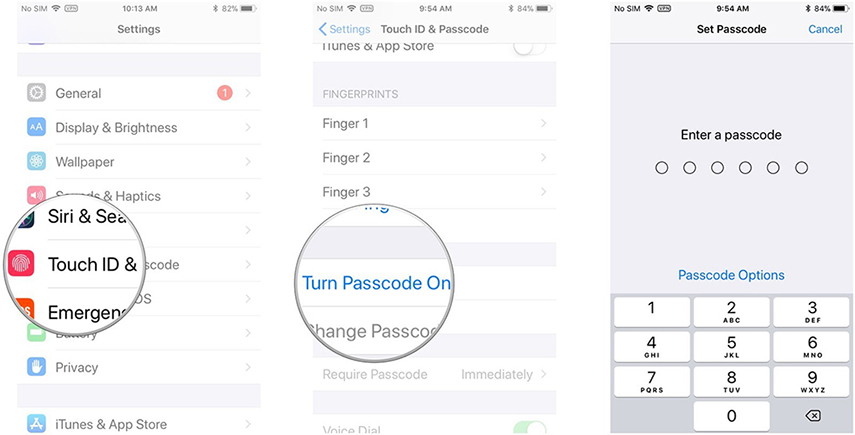 3. Devices that lack a Touch ID, 'Settings' > 'Passcode' > 'Turn Passcode On'.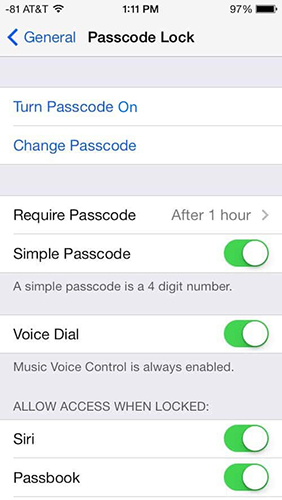 4. Key in a six-digit passcode/ 'Passcode Options' for four-digit numeric code, custom alpha-numeric code, or custom numeric code.
5. Re-enter the passcode to confirm, then activate it.
Setting up Touch ID:
1. Setting up a passcode is prevalent prior to setting up Touch ID.
2. Hit 'Settings' > 'Touch ID & Passcode' > key in passcode > 'Add a Fingerprint' > hold the finger on 'Home' button until it vibrates and you are asked to remove the finger.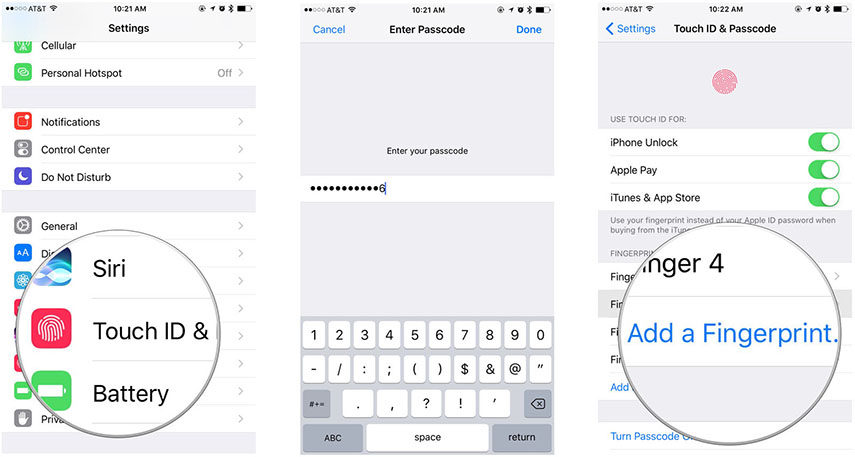 Repeat the process for different positions of that finger. Now, on the next screen, you need to adjust your grip on the 'Home' button using the same finger's outer areas.
Setting up Face ID:
1. Browse 'Settings' > 'Face ID & Passcode' > key in passcode if prompted > 'Set Up Face ID'.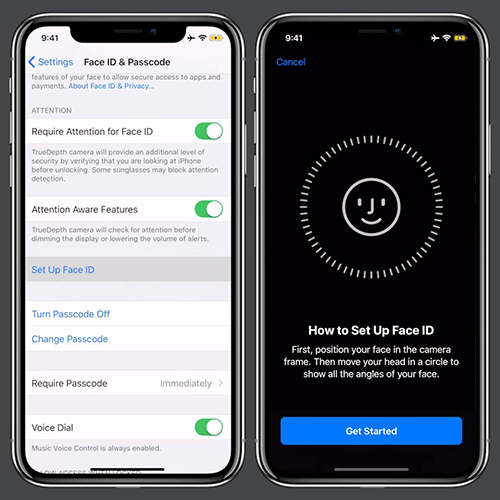 2. Hold the iPhone in portrait orientation and keep your face aligned to it. Click 'Get Started'. Once your face is within the frame slightly move your head and complete the circle. Click 'Accessibility Options' otherwise.
3. Hit 'Continue' after the first Face ID scan and repeat the process once again. Press 'Done' afterwards.
Conclusion
While you are stressed over the fact that you can't remember your iPhone passcode as you have suddenly forgot it. It becomes essential for adopting the best method to fix the issue. You should go for Tenorshare 4uKey without thinking twice for that amazing passcode unlock feature. Moreover, it allows you to restore your iPhone using iCloud/iTunes backup. You can even factory reset your iPhone using this tool.