iTunes Won't Transfer My Music to iPhone!
"When I plug in my iPhone into my computer and try to sync my playlists on iTunes to my iPhone, the sync completes but the songs will not be transferred. I have literally tried everything that I know. Why iTunes won't add music to my iphone 6s? Any suggestions would be appreciated?"
--Tina
Top 7 Solutions to Fix iTunes Won't Transfer Music to iPhone Issue
Anyone who's had iTunes for a few years has probably run into this problem, especially those who have just upgrade iOS (for instance, upgrade to iOS 10/9.3/9). Here are 7 most reliable solutions for you to solve this annoying problem.
Editor's Note: All the solutions apply to iPhone, iPad and iPod. And if songs in iTunes won't copy to iPod, you can try the following solutions as well.
Solution 1: Fix iTunes Won't Put Music on iPhone with iPhone Care Pro
iTunes won't transfer music to iPhone after iOS 10/9 upgrade? If your iPhone won't sync music with iTunes, one of the most common reasons is the iTunes media files missing or corrupted on your device. Tenorshare iCareFone (iPhone Care Pro) offers you a chance to restore lost or corrupted iTunes media files easily and at the same time you can sync all or partial music, ringtones between Apple iOS device and PC/iTunes library without iTunes.
Free Download
For Win 10/8.1/8/7/XP
Secure Download
Free Download
For macOS 10.13 and below
Secure Download
Step 1. Downloaded and installed the Tenorshare iCareFone. Connect your iPhone to the computer via a USB cable and start the program.
Step 2. Click on "File Manager" from the main interface and select red icon "Music" to click. Click "Add" on the menu to add music to your iPhone.
Solution 2: Check the available space of your iPhone
Music, especially HD ones usually take up large space, and you can't move songs from iTunes to iPhone if you don't have enough space for all the songs. To find out how much space is left on your iPhone, you need go to Settings > General > Usage > Storage. Under Storage you will see how much space you have left on your device.
If you don't have enough space, you should clean up iTunes library and save more space for new songs.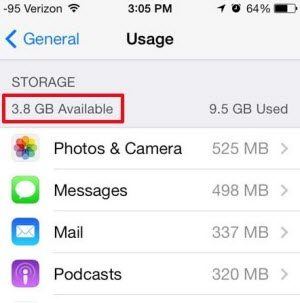 Solution 3: Check the location of your songs
Sometimes iTunes does not indicate which songs it cannot find until you select them. If iTunes can't locate songs in your library, iTunes won't transfer music to iPod touch or to your iPhone and iPad. Double check if the songs on your iTunes library have same folder location as before.
Solution 4: See if your music are unchecked
In iTunes when you select your iPhone, go to the Music tab - is "Entire music library" selected? If so, go to Music (in your iTunes library), click on the check mark next to the "Name" column header (to sort by checked music) and scroll to the bottom. Any unchecked music won't sync.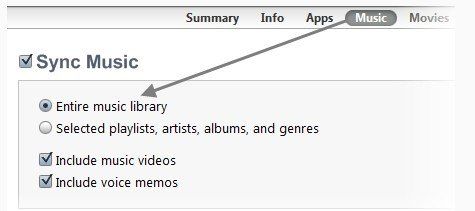 Solution 5: Update to the latest iTunes
Sometimes, the iTunes version might cause the iTunes won't sync music issue. In this case, you need to see if you are with the latest iTunes (click to download iTunes 12). From your iTunes, go to Help > Check for Updates if you are a Windows user; Mac users go to iTunes > Check for Updates.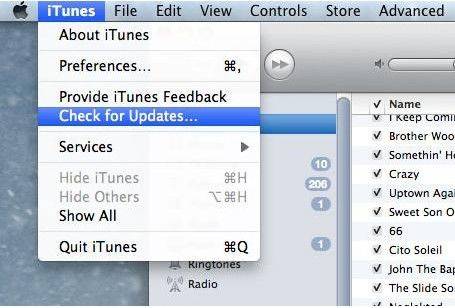 Solution 6: Add songs to a playlist before sync
In order to put your music on your iPhone you have to put your songs into a playlist and then sync up that playist to your iPhone. Use the Audio tab in your iPhone config to select all or just some of the playlists to sync up.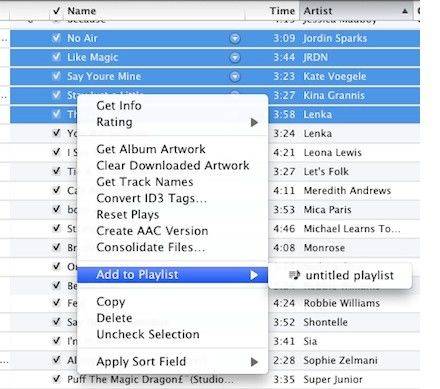 The overall guide goes like this:
Highlight all the songs you wanted to sync, right-clicked "Add to Playlist", and selected the playlist that appeared automatically with the name of your iPhone.
Solution 7: Fix iTunes Library with Free Tenorshare TunesCare
Corrupted or missing iTunes library files will cause iTunes won't transfer music to iPhone. In this case, you need to rebuilt the iTunes library. Free Tenorshare TunesCare gives a the easiest way to repair corrupted iTunes/iPhone Library (iTunesDB and iTunesCDB files) with only 1 click.
Free Download
For Win 10/8.1/8/7/XP
Secure Download
Free Download
For macOS 10.13 and below
Secure Download
Step 1: Download Tenorshare TunesCare and connect your iOS device to computer with the OEM USB cable.
Step 2: After Tenorshare TunesCare detects your device, click "Fix iTunes Sync Problems"  and Tenorshare TunesCare will start to repair the corrupted iTunes library automatically.

Step 3: After the repairing, you can open your iTunes and sync your data as you want.
Hopefully, with these solutions, you can transfer music to iPhone, iPad or iPod successfully and enjoy all the wonderful songs! If you've got other great solutions to solve the "iTunes Won't Transfer Music to iPhone" issue, share with us in the comment below.
Free Download
For Win 10/8.1/8/7/XP
Secure Download
Free Download
For macOS 10.13 and below
Secure Download
Related Articles
comments powered by