What's the Best Way iPhone to Motorola Transfer
by Anna Sherry Updated on 2022-03-11 / Update for iPhone Transfer
Hey, I want to inquire from your tech team about the proper way to perform an iPhone to Motorola transfer. I just got this new Motorola Android phone that has driven me crazy. Please tell me how my iPhone data can migrate to the Motorola phone. Thanks."
Hey there. You can transfer your data from iPhone to Motorola. However, it might require some steps, so be patient, go through this article and see if your questions have been answered.
Part 1: Questions before You Start iPhone to Motorola Transfer
Q1. Does moving to iOS work with Motorola?
No, the move to iOS application is only developed if you move your data from an Android to the iPhone and not vice versa. So, you cannot transfer your iPhone data to a Motorola using the move to the iOS app.
Q2. Is Motorola Migrate App Still Available?
No, Motorola has discontinued the Motorola Migrate application, including the Droid Turbo 2, Droid Maxx 2, Moto X Force, and Android 6.0 Marshmallow.
However, you can still use the Motorola Migrate application for non-smartphone transfer services. It is still available only if your Motorola has Android 5.1 or lesser.
Motorola doesn't endorse the Migrate app anymore. However, some users still share it, and it can be installed using third-party sharing apps.
Q3. What has replaced Motorola Migrate?
Since then, many third-party apps have been introduced, which have replaced the Motorola Migrate app. You can download apps like Tenorshare iCareFone Transfer, Mobiletrans, and many more.
They're more reliable, can easily be installed on your PC, and make the transfer easy.
Part 2: So, iPhone to Motorola Transfer, How to Do That?
Since you do not have any official app like Motorola Migrate, you can use third-party apps to do that. There is a secret way too, but you have to have the old Android version of Motorola.
Way 1. How to Transfer Data from iPhone to Motorola (Old Android Version)
Here is how you can transfer your iPhone data to Motorola through Motorola migrate.
Open your iPhone and start backing up your data to iCloud.
Touch the App Menu icon on your Motorola mobile, select the "Motorola Migrate app," and open it.
Select the "iPhone" option.
Enter your Apple ID and passcode inside to copy the required information from your iCloud to your Motorola's Google account.
Follow the onscreen instructions.
You can use other apps or phones while the migration happens.
Way 2. How to Transfer iPhone to Motorola Using Third-party Tools
You can use third-party apps to transfer iPhone data to Motorola too:
1. iCareFone Transfer
Suppose you want your iPhone to transfer WhatsApp data to the other Motorola device. In that case, you can use the app Tenorshare iCareFone Transfer for that. It is easy, innovative, and allows easy data migration from iPhone to Motorola.
The best thing about it is that you can easily send your WhatsApp texts, which isn't possible with other apps. Here is the procedure:
Install the iCareFone transfer app on your PC. Connect your iPhone and the Motorola to your PC after running the app. The app will recognize both phones by default. Click on "Transfer."

Press "Yes" to proceed. Your previous WhatsApp data on iPhone will be rewritten, and it will start backing up your WhatsApp on the source device.

Verify your number on the iCareFone transfer app. Enter the required country code and phone number to proceed. Click on Verify once done.

Then the program will start to generate data for the target device.

Once done, iCareFone Transfer will automatically transfer data to the target device. You just need to wait for a while and then you'll get data on your Motorola device.
2. Mobiletrans Phone Transfer
Another way to transfer data from iPhone to Moto G6 is by using the Mobiletrans Phone Transfer app.
It is one of the best Motorola Migrate alternatives and supports all Android and iOS versions. You can transfer with a single click.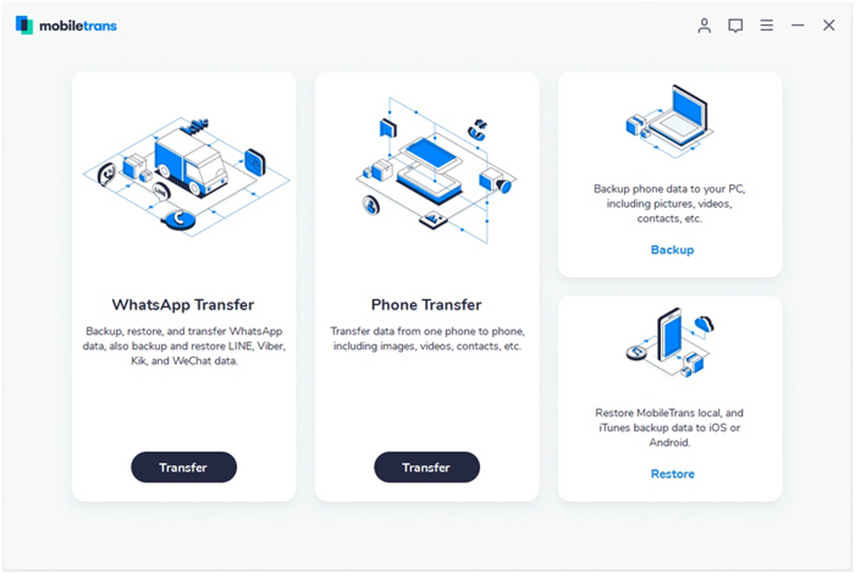 Here's how:
Launch/Download the app on PC and select "Phone Transfer."
Connect both iPhone and Motorola devices.
Select "iPhone" as the source and "Motorola" as the destination.
Once connected, you will see all the data lists that you can share.
Select the data you want to share and click on "Start."
Your data will transfer.
Pros:
Easy to use.
Transfers data easily.
Cons:
Sometimes glitches during transfer.
3. Jihosoft Phone Transfer
Another way to transfer contacts from iPhone to Motorola is through the Jihosoft Phone transfer app.
Jihosoft transfer supports an extensive range of phones. It supports Motorola phones, so get it to transfer your iPhone data to Moto.
Here's how:
Download the Jihosoft app on your PC.
Connect both your Motorola and iPhone to the PC.
Once detected, choose the data you want to transfer.
Select and send the information seamlessly to the other end.
Pros:
Easy iPhone to Motorola transfer.
It allows backup too.
It works well for old Motorola phones.
Cons:
It has bugs.
It is a paid tool.
Conclusion
So we hope that users who want an iPhone to Motorola transfer guide will benefit from this blog. However, suppose you specifically want to move WhatsApp messages from iPhone to Motorola. In that case, there's nothing better than the iCareFone Transfer app.