Quickly Fix Transfer Directly from iPhone Not Working with 6 Methods
by Anna Sherry Updated on 2023-02-08 / Update for iPhone Transfer
Hi. I just bought a new iPhone 14 Pro. I want to transfer all my data from my old iPhone 11, but Transfer Directly from iPhone not working. How do I fix this?"
Transferring all your data from an old iPhone to a new one is pretty easy because Apple provides reliable features for it. However, sometimes those features don't work as they should which causes problems for the users.
As you're reading this post, we know the feature to transfer directly from iPhone is not working for you. But don't worry, we will help you troubleshoot the issue and fix it in no time.
1. Reasons Behind "Transfer Directly from iPhone Not Working" Issue
Now, there could be plenty of reasons why transfer directly from iPhone not working loop. In this section we are going to look at the most common ones.
Your iPhones are low on battery.
Your iPhones are too far apart.
You are using a slow or unstable internet connection.
Your device software is not up to date.
There is not enough free storage space on the new iPhone.
2. Fix "Transfer Directly from iPhone Not Working" - 5 Easy Methods
Now that you know why iPhone direct transfer not working, here are a few common methods you should try.
We recommend going through these methods one by one in ascending order.
Fix 1: Update Both iPhones to the Latest iOS Version
First and foremost, both of your iPhones should be running on the latest iOS version available to them. It makes your all the fixes released by Apple are applied to your devices.
The new iPhone will automatically be updated during the setup process. However, to update the old iPhone, follow the steps below.
Open the Settings app.

Go to General > Software Update.

If there's an update available, install it.
Related read 6 Tips Before Installing iOS 16.
Fix 2: Move Both Phones Closer
Both phones should be close to each other in order for this transfer method to work.
If your direct transfer iPhone to iPhone not working even after updating to the latest iOS version, you should make sure they are placed right next to each other.
Fix 3: Change Your Internet Connection
As the data transfer happens through your Wi-Fi connection, you need to make sure your connection is strong and reliable.
If your connection isn't stable, the process may suffer and may cancel out again and again.
So, you should try a different Wi-Fi connection and see if it resolves the issue.
Fix 4: Charge Your Phones
The transport process may cancel again and again if your phones are not fully charged. You need at least 50% battery on both phones to complete the process.
However, it's possible that your old phone's battery health is quite low. We recommend keeping it plugged in throughout the process to make sure there are no power problems.
Fix 5: Make Sure You've Got Enough Phone Storage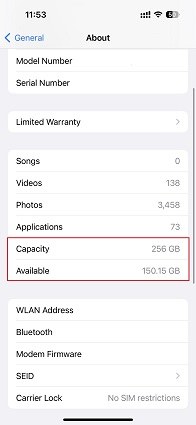 If your old iPhone has more internal storage than your new iPhone, the transfer process may not be completed.
Say you have 200GB of data on your old iPhone but your new iPhone is only 128 GB. In this case, you won't be able to transfer all your data.
But, if you do have enough internal storage on your new iPhone and none of the methods above have worked for you, you would need to rely on an alternative method. We are going to discuss that in the next section.
Related read How to Clear Other Storage on iPhone.
3. The Fastest Alternative Way to Transfer Directly from iPhone
If none of the methods above have worked for you, you would be glad to know there's an alternative method you can use which works every time.
It's called Tenorshare iCareFone. The best thing about it is that you don't need to transfer all the data during the setup process. You can do it even after you have completed the setup.
iCareFone is a welcomed iOS data management tool that can help you transfer/back up/restore your device data within several minutes! The best part is that it's free for iOS device backup. (More free features are waiting for you...)
Transfer after setup. No factory reset!
No device data will be overwritten.
Transfer within 6 minutes.
99.9% success rate.
100% privacy protected.
24h free technical support team.
Here's how.
Download and install iCareFone on your computer. Connect your old iPhone to the computer. Select "Backup & Restore" from the sidebar on Tenorshare.

Select all the data you'd like to back up, then hit "Backup".

Wait for it to complete.

Now, connect your new iPhone to the computer and select the "Restore" option. Choose the backup you just made from your old phone.

You can restore all the data to your new iPhone 14 pro with just a click.

Wait for the restore process to complete and you're done!
4. What does Transfer Directly from iPhone Mean?
Transferring directly from iPhone means that you do not have to restore the backup from the cloud or a computer. You can do it directly from your old iPhone wirelessly.
You get to choose this option during the setup process.
5. Can I Transfer Directly from iPhone after Setup?
No. You can only use this method during the setup process.
After you have completed the setup, you cannot use this feature to transfer data from your old iPhone again. You will have to reset the iPhone for that.
That's where iCareFone comes into play. With iCareFone, you can restore the data anytime you want even after you have completed the setup.
The Bottom Line
And that's everything you need to know about transfer directly from iPhone not working Reddit error.
Remember, if none of the fixes work for you, you can completely rely on iCareFone to transfer data from your old iPhone to the new one.