2023 Move to iOS Not Working Solutions [Alternative Includede]
by Anna Sherry Updated on 2023-03-29 / Update for Transfer
Hi, I just bought a new iPhone and want to transfer my data from my old Android to my new phone. However, Move to iOS not working at all. What do I do? Can you help me? Thanks in advance."
Move to iOS is Apple's proprietary solution for moving your data from an Android phone to an iPhone. However, it's not the most intuitive of transfer tools out there.
To begin with, users have been reporting various kinds of issues with it.
As you're reading this post, we know that Android to iOS transfer not working for you, too. But you don't have to worry!
In this post, we will give you every possible fix you could try to make it work. But if it still doesn't work, we will give you a 100% working alternative method you could.
Part 1: Move to iOS Not Working Common Problems
Before we talk about the possible solutions to "Move to iOS not working Reddit" issue, you need to know its possible types. It means you might face one or another problem during the process.
Here are the most common ones.
Move to iOS app on your Android may simply fail to connect with your iPhone.
You might see a Move to iOS transfer error DURING the data transfer.
During data transfer, Move to iOS may get stuck at a certain point. When this happens, the progress bar will not move.

The transfer might be very slow, i.e., it may show several hours needed to complete the process — which is unrealistic. You can't wait for hours for it to be complete.
Part 2: A Quick Look at Why Move to iOS Not Working
If Move to iOS not connecting or transferring your data, there might be a few logical reasons for it.
In this section, we will help you understand the causes of the issues mentioned in the previous section.
The WiFi connection you're using is very unstable or slow.
Both your devices are far apart. (They should be placed right next to each other)
You don't have enough storage space on your new iPhone to receive all the data.
There's not enough charge left on either of the phones. You should have at least 50% on both phones. It's recommended to keep them plugged in throughout the process.
Devices aren't compatible.
There may be some sort of software issue in Move to iOS or either of the devices.
Part 3: Fix Move to iOS Not Working with 8 Solutions
Way 1: Turn on WiFi and forgot known network
The first thing you need to make sure is that you're connected to the same and stable WiFi connection on both phones.
Go to system settings on both phones and head into the WiFi section.
Then, make sure they're connected to the same WiFi. If there's another known WiFi in reach, select it and forget it. This makes sure the device doesn't jump between connections during the transfer, ess.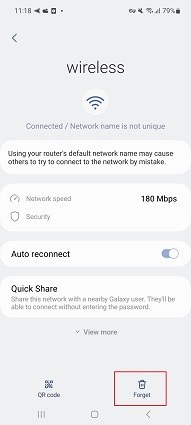 Way 2: Check devices' compatibility
Move to iOS will only work if both devices are compatible with it.
Your Android phone should be running on Android 4.0 or higher.
Your iPhone should be running on iOS 9.0 or higher.
If you're using an Android or iPhone for the last 5 years, you don't have to worry about this as the required Android and iOS versions are quite old.
Way 3: Make sure there is enough storage space on iPhone
You need to make sure that your new iPhone has enough storage space to receive all of your data.
Go to your Android device's Settings > System > Storage, and see how much data you have.

Now, compare the amount of data on your Android with your iPhone's total storage capacity.
If you have fewer data than the storage space of your iPhone, you should be fine. If not, you should delete some unwanted data to reduce its size.
Way 4: 50% battery is required on both phones
Check the battery on both phones and see if they have at least 50% left.
To improve the chances of success, we recommend you plug in both phones to the charger during the process.
Way 5: Restart Devices and Transfer Again
To fix any minor software glitches, restart both your iPhones and try again.
To restart your Android:
Press and hold the power button.

Tap Restart, then tap again to confirm.
To restart your iPhone:
Press and hold the side button and volume up button at the same time.

When you see the power off slider, slide it.

Wait 30 seconds. Then turn your phone back on by pressing and holding the side button.
Related read How to ReBoot iPhone [All iPhone Models].
Way 6: Turn on airplane mode
Turning on the Airplane mode on your phone will refresh the network and give you a fresh start.
It's worth a try. Here's how.
Open the quick toggles on your Android and Control Center on your iPhone.

Tap the Airplane mode icon.

Keep it ON for 30 seconds, then turn it back OFF.
Way 7: Disable Connections Optimizer or Smart Network
Your Android phone may have some sort of smart networking switching feature, which automatically switches between different WiFi connections and Cellular data to improve speed.
This can interrupt the Move to iOS process, so you should disable it.
It's usually located in Settings > Connections > WiFi. Its exact name may vary depending on your Android phone's brand. For Samsung phones, it's called Smart Network Switch.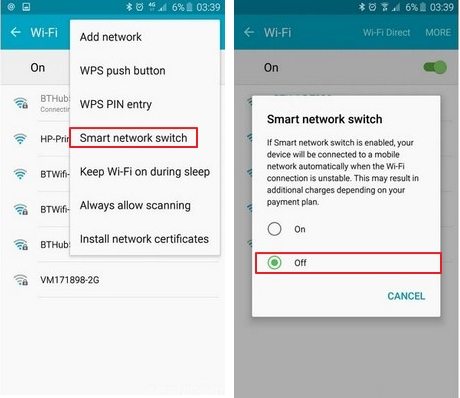 Way 8: Keep Move to iOS Staying on the Screen
If transfer to iOS not working even now, make sure you're not minimizing the app during the process.
You need to keep the app running and on-screen during the entire process.
Part 4: Is There An Alternative to Move to iOS?
Absolutely! Tenorshare iCareFone iTransGo!
Tenorshare iCareFone iTransGo can help you transfer your data from Android to iOS with ease. It's the best Move to iOS alternative.
The best part about it is that you don't need to be on the setup screen of your iPhone to use it. You can use it after the setup process. And no device data will be erased.
Plus, you can choose to select any single type of data to transfer, like contacts, videos, images, etc. This is something you can't do on Move to iOS.
And it is mush faster than the Move to iOS. Tested 15MB/S (The speed will be affected by computer performance and USB cable).
That said, here's how to use it.
Download and install iCareFone iTransGo on your computer, then open it. Click the Start button from the Android to iOS section.

Connect both phones, i.e., Android and iPhone to your computer using USB cables. On your Android, you need to enable USB debugging. And trust the computer on your iPhone. When your devices have been detected, hit "Start".

Select what kind of data you want to transfer.

After the scan is complete, click "Transfer Data" to start.

Wait for the process to complete, and you're done!
Part 5: How to Transfer WhatsApp from Android to iPhone after Setup
To transfer WhatsApp data from your old phone to new phone, you should give iCareFone Transfer a try.
It's a popular WhatsApp/WhatsApp Business/GBWhatsApp data transfer, backup and restore tool.
You don't even need to reset your iPhone or start from the setup screen to do it. You can transfer at any time you want.
You can access it from the iCareFone iTransGo home page, or click the button below!
The Bottom Line
There you go — that's all you need to fix the Move to iOS keeps failing issue.
If you need an alternative with a high success rate, Tenorshare iCareFone iTransGo has got your back.