[Fresh News]iOS 16 Lockdown Mode: All You Need and Want to Know
by Sophie Green Updated on 2022-09-30 / Update for iOS 16
Lockdown Mode is a newer version for iOS 16 and iPadOS 16 iPhones and iPads. This function is a response to the Pegasus spyware, which allowed attackers to access your data on Apple devices, culminating in an Apple lawsuit.
Cyber attacks using spyware and other highly developed technologies are extremely rare. However, Apple thought it was critical to creating a safeguard to protect your data against a focused threat. This article is for you if you're concerned about how Apple Lockdown Mode works or whether you'll ever require it in the future.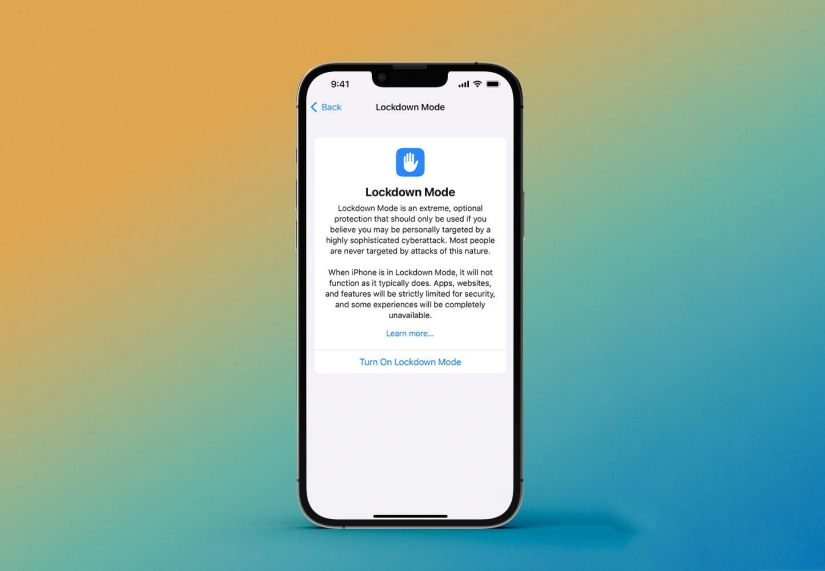 Part 1: What Is Lockdown Mode in iOS 16
iOS 16 Lockdown Mode is an optional iOS 16 feature designed to protect against the most effective assaults. You cannot use these apps, surf the web, or use your phone with this option, which is unnecessarily and socially harmful for the average user, but a sensible safeguard for more influential customers. Lockdown Mode enhances iPhone security by blocking malware and spyware and protecting your confidential info. The disadvantage is that when you use iOS 16 Lockdown Mode, some functions on your iPhone are no longer available.
iOS 16 Lockdown Mode effectively boosts security protections on iOS by restricting some protections that could be attacked:
Other than photos, most mail attachments are banned, and functions like link previews are disabled.
Without your exclusion, web technologies like just-in-time JavaScript generation are disabled under Lockdown Mode.
If you have never phoned the individual before, inbound invites and service requests, such as FaceTime calls, are denied.
Any new offers for Shared Albums are prohibited, and all Shared Albums in Photos have been deleted.
No connected attachments are allowed between your iPhone and a computer or device.
Installing customization profiles is impossible, including those for Apple's public betas.
Mobile device management is not possible for your device.
Part 2: How to Enable or Turn off Lockdown Mode on iPhone Promptly
It's simple to activate iOS 16 Lockdown Mode on your device. Use the Settings app on your iPhone to perform this task.
Click Privacy & Security under Settings.

Scroll to the bottom of the screen and select Lockdown Mode.On this page, click Turn On Lockdown Mode.

Follow the link and select Turn On Lockdown Mode on the resulting overflow screen.

You'll receive a prompt informing you of potential feature disablement. Tap Turn On & Restart to continue.

Your iPhone will now reboot, and iOS 16 Lockdown Mode will be activated when it starts up.
Need to disable iOS 16 Lockdown Mode
Click Turn Off Lockdown Mode under Settings > Privacy & Security > Lockdown Mode, followed by Turn Off & Restart. Lockdown Mode will be removed when your iPhone restarts, allowing you to use it normally once more.
Part 3: Best Troubleshooter for iOS Problems and Bugs
Tenorshare ReiBoot can resolve all of your issues on iPhone, iPad, and Apple TV. You can experience issues and troubles when installing iOS 16 or after the installation is complete. It is compatible with all iOS and device versions and fixes not only the update mentioned above issues but also more than 150 other system and device-related issues. ReiBoot can guarantee the stability of your system and the security of your data in the meanwhile. Tenorshare ReiBoot can be your best option if you bother downloading iOS 16 and wish to roll back to an earlier edition on your iPhone.
This is how to apply it to repair the iOS operating system:
Install ReiBoot on your Mac or PC. Select "Start" from the menu.

Choose "Standard Repair" on the following screen.

Download the firmware package. By choosing the install option, you may do it quickly.

It will take a short time for the firmware pack to solve iOS problems after it has been installed. Verify your device to determine if iOS 16 is operating properly after the patch is finished.
Bonus Tips: Should You Use iOS 16 Lockdown Mode
Apple claims a very small percentage of users will require iOS 16 Lockdown Mode. Lockdown Mode should only be used when you are the victim of a very powerful cybercrime. These attacks aren't meant for the regular person; most of them are state-sponsored.
You can turn on iOS 16 Lockdown Mode to prevent a sophisticated attack assault if you believe you are at risk of one. The majority of people won't ever have to utilize Lockdown Mode because it severely restricts your iPhone. You shouldn't enable Lockdown Mode until necessary because it disables several iPhone functionalities, affecting your work, play, and interaction.
Even if you don't really need Lockdown Mode, there are other options and modifications you can make to your iPhone that will make it more secure.
Conclusion
If you think you could be the focus of a very effective cyberattack, such as one created by a private corporation creating state-sponsored mercenary spyware, you should only turn on Lockdown Mode, severe, optional security for iPhone. iPhone won't operate normally while it is in Lockdown Mode. There will be stringent restrictions on the apps, webpages, and services for safety purposes, and some activities cannot be accessed. If you have any problem unfixed, you can trust Tenorshare ReiBoot.
Fix iPhone Stuck Issues without Data Loss