How to Blur&Unblur iOS 16/17 Wallpaper on Home Screen
by Anna Sherry Updated on 2023-07-24 / Update for iOS 16
I have been searching the internet endlessly for a solution on how to implement iOS 16 home screen background blur. However, none of the solutions specified online has helped me. Initially, I thought it had something to do with a particular wallpaper, so I tried many other wallpapers just to be sure. It turned out the problem was never the wallpaper. I'm out of ideas at this point and wouldn't mind getting help from anyone who can help." an iPhone user laments.
Part 1: What is iOS 16/17 Wallpaper Legibility Blur and What is it for?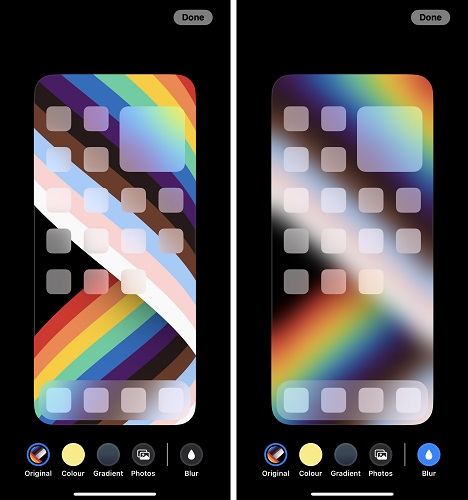 Flashy or bright wallpapers are appealing, particularly when you like to express yourself with vivid images or brilliant colors. However, if the wallpapers are too bright, it could affect the visibility of the icon on the Home screen.
In addition to other exciting features, Apple has added a new feature called – Legibility Blur. The objective of this functionality is to lay to rest some of the issues associated with home screen wallpaper.
Legibility Blur makes it possible for you to use your wallpapers without compromising the visibility of your home screen icons. It blurs out the background image of your wallpaper so that the visibility of the icons will be maintained.
Read also: How to fix iOS 16 wallpaper not showing on notification bar in horizontal mode.
Part 2: How to Enable or Disable iOS 16/17 Blurry Home Screen Wallpaper
The fact that your wallpaper can be interfering with the visibility of your home screen icons can be frustrating. However, the good news is that you can actually enable or disable home screen wallpaper.
It is a feature that is accessible to iOS 16/17 users. If you have not upgraded to iOS 16/17, you need to do so before you can use this feature. Here are the steps to update your iOS to the latest version:
1. Check if your iPhone is compatible with iOS 16/17:
First, find out if your iPhone is compatible with iOS 16 or later. The OS runs on iPhone 8 and upward.
2. Do the following to ensure you don't have any issues with the update process:
Back up your iDevice. (Open Settings - Your Name - iCloud - iCloud Backup - Back up now). It is also possible to use Finder or Tenorshare iCareFone to do the backing up on your computer. Use whichever option you prefer.
Ensure you connect your iPhone to power. The download process will be interrupted if your battery falls below 50%. So to prevent this from happening, plug the iPhone into power.
Connect to Wi-Fi. iOS 16/17 can only be downloaded through a reliable Wi-Fi network. Cellular data won't do it for you.
Make sure you have sufficient space. You need more than 5G space to download iOS 16/17. There is no way you will be able to download it when you lack storage space.
Related read Back up iPhone to computer.
3. Actual Steps to Download iOS 16/17:
Open Settings and go to General.

Then choose Software Update (If you are presented with the Download & Install option for iOS 15/16, then click Upgrade to iOS 16/17. It is right at the page's bottom.)

Download and install iOS 16 will show up. Click on it to get started. You would be required to input your passcode for the updating process to commence.
Related read Downgrade iOS 16 to iOS 15 without losing device data.
4. Steps to enable and disable blurry home screen wallpaper
Open Settings.
Navigate to Wallpaper Option.
Click on Customize beneath the Home screen to access more options.

Click on Blur to turn on/off background blur. And tap Done to complete the process.
Part 3: iOS 16/17 Wallpaper Blur Not Working? 3 Quick Fixes
Have you tried several fixes on how to blur iPhone wallpaper and you are not seeing the effect on your iPhone? Here are some quick ways to resolve this problem. Let's look at these fixes one after the other.
Fix 1: Turn Off the "Reduce Transparency" Setting
This is one setting you must do otherwise iOS 16/17 wallpaper blur will not be effective. Try to disable Reduce Transparency via these steps:
Open Settings and tap on Accessibility.
Go to Display & Text Size.

Disable Reduce Transparency.

Go back and check if the problem has been solved.
Fix 2: Restart iPhone
You may be doing the right thing yet your iOS 16/17 home screen background blur is still not working. If you are in that situation where nothing seems to be working no matter what you do, try restarting your iPhone. This may look too easy, but it can help you fix the problem.
Steps to Restart your iPhone (models with face id):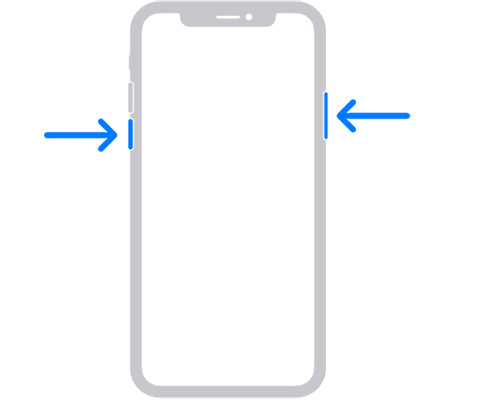 Press and hold the volume up/down button and the side power button at the same time
Drag the slider to turn off the iPhone.
Wait for 30 minutes and turn it on again.
Also read How to reboot iPhone.
Fix 3: Repair iOS System
Whether you are dealing with how to blur iPhone wallpaper or how to make iPhone wallpaper not blurry, you can easily get frustrated when nothing is working. Sometimes it is like that because of the buggy nature of iOS 16/17.
In that case, you might need to repair the OS to get the problem fixed. You can use Tenorshare ReiBoot to repair your iOS. See what ReiBoot can do:
One click to access & exit Recovery Mode for free.
Fix over 150 iPadOS/iOS/tvOS issues such as screen failing to come on, can't boot beyond Apple logo, and others.
Download to lower iOS version, with no jailbreak.
No device data will be erased. 100% Safe!
Steps to repair iOS with ReiBoot:
Download ReiBoot and have it installed on your PC. Open the software and connect your iDevice to the system. Wait for the system to recognize your device. When that happens, click Start to activate iOS System Recovery.

Click on Standard Repair. Endeavor to read the note below to avoid any mistakes.

Download firmware package. Downloading the most recent firmware package does take a while because the file is large. You may need to wait for several minutes.

Click on Start Repair when the firmware package is ready. Please, wait patiently for the process to complete and do not disconnect your device.

iPhone will reboot itself when the repair process finishes. Now you will not have any issues with your device.
Bonus: Learn More iOS 16 New Features
In addition to the Blurry Wallpaper feature, there're other interesting new features of iOS 16. This section will outline some of the new, exciting features that come with iOS 16:
Customise wallpaper
Edit sent iMessage
Recall sent iMessage
Get back deleted iMessage
End call with Siri
Home screen is equipped with Spotlight Search
Input emojis into messages with Siri
Face ID in landscape mode
Lock deleted and hidden albums
Enable Live Captions
Merge duplicate contacts
Related read All the iOS 16 New Features.
Bottom Line
iOS 16/17 wallpaper blur issues can be solved by the quick fixes raised in this post. But, instead of attempting various solutions that might not yield any result, use Tenorshare ReiBoot to fix your iOS 16/17 and you can easily enable and disable your Home Screen wallpaper.