How to Fix SIM Card Not Detected after iOS 16/17 Update
by Anna Sherry Updated on 2023-07-21 / Update for iOS 16
Following the release of iOS 16/17, everyone is eager to update their iPhone to this latest iOS version. Unfortunately, things have not gone so well with some iPhone users as their devices have not been able to detect SIM card after the update.
Common 5 Ways to Fix SIM Card Not Detected iPhone
If your iPhone cannot detect SIM card after the iOS 16/17 update, this article will show how to fix SIM card not detected in iPhone.
1. Turn on and off Airplane Mode
When you notice your iPhone not detecting SIM cards, the first thing you should do is to turn on and off the Airplane mode. This mode stops the availability of signals and Wi-Fi on your iPhone as long as it is on. By turning on and off this mode, your SIM card may be detected.
To turn on and off the Airplane mode, you should simply go to the Control Center of your iPhone.
2. Restart iPhone If SIM Card Not Detected
If an iPhone SIM card is not detected, restarting your device may be enough to get rid of the problem. To restart your iPhone, follow the steps below.
Press and hold the "Volume Up or Down" button as well as the "Side" button for some seconds until you can see the power-off slider on your screen.
Move the slider and your iPhone will turn off after around 30 seconds.

Now, turn on the iPhone by pressing and holding the "Side" button until the Apple logo shows on the screen.
3. Remove and Reinsert the SIM Card
Sometimes, you may have issues with a SIM card not detected by iPhone because the card is not inserted properly. Here, you need to locate the SIM card tray on your iPhone. Remove the SIM card from the tray and return it after a few seconds. As you close the SIM card tray, you must ensure that the tray is closed completely.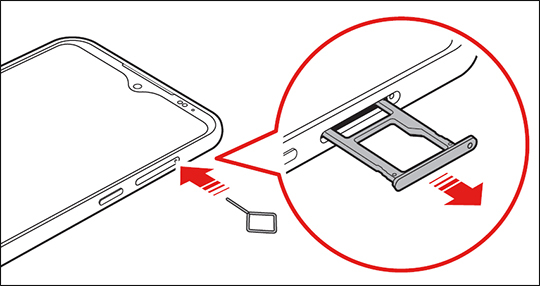 4. Check for A Carrier Settings Update
In a few cases, your failure to update carrier settings may be responsible for a SIM card not detected on your iPhone. To check for any carrier settings update, do the following:
Locate the "Settings" app on your iPhone.

Go to "General" and find "About". If there is any update, you will get a prompt to choose "Update" or "OK".
5. Reset All Settings for Fix No SIM Card Detected iPhone
If your iPhone is unable to detect SIM card, you should consider resetting all settings. Notably, this method returns your device to its default network settings, location settings, keyboards, private settings, etc. In many situations, this trick can be sufficient to fix the issue.
Navigate to the "Settings" app on your device and then go to General > Reset.
Here, you need to choose "Reset All Settings".
You may be prompted to input a passcode if you have one already. Do so to proceed to the next step.

A prompt will appear at the bottom of the screen of your device saying "Reset All Settings". Click it to complete the process.
Now, you have successfully reset all settings on your iPhone.
Advanced Way to Fix iPhone Not Detecting SIM Card
Is your iPhone not recognizing SIM cards after trying all the methods above? The iOS system may have some bugs or other issues that are preventing your device from recognizing SIM cards. To deal with this challenge, it is paramount to repair the iOS system. Tenorshare ReiBoot is a tool that everyone can use for repairing all kinds of iOS problems.
It should be noted that Tenorshare ReiBoot uses two modes – Standard Repair and Deep Repair. Although both modes can repair iOS problems, Deep Repair will erase all data on your iPhone. So, to prevent data loss, we will describe how to use the Standard Repair mode of ReiBoot.
Download, install and run Tenorshare ReiBoot. Connect your iPhone to the computer with ReiBoot. After the iPhone has been recognized by the tool, tap "Start" on the first page of the tool.

To repair the iOS issue without data loss, you should hit the "Standard Repair" option.

Download the latest firmware package

After downloading the firmware file, select "Start Standard Repair". This will start the recovery process than can last for some minutes.
Still Unable to Detect SIM Card? Try Another SIM Card
Is no SIM card detected by iPhone after repairing the iOS system? The chip of your SIM card is likely faulty and, as such, can no longer function. Unfortunately, you may not be able to do anything to fix the SIM card. So, you should rather try another SIM card on the iPhone. You should be able to request a new SIM card from your carrier with ease.
Conclusion
So, if a SIM card is not detected on iPhone, you can use Tenorshare ReiBoot to fix any possible iOS system issue or try other methods highlighted above. All these methods are quick to use and don't require any special skill.