Cannot Verify AirPods iOS 16? Genuine AirPods Verified
by Jenefey Aaron Updated on 2022-09-16 / Update for iOS 16
I have genuine airpods 3rd generation after the iOS 16 update it's saying they cannot verify what should I do?"

-- From Apple Community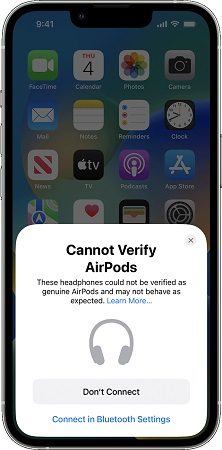 iOS 16 has brought on a ton of updates and new features. One of them is to verify if the AirPods are genuine. You will get the alert "Cannot Verify AirPods" before connecting it. Now let's see why you see this notice and how to connect AirPods to iPhone in this situation.
Part 1: Why You See Cannot Verify AirPods iOS 16
Apple added this new verification feature in iOS 16 that verifies the authenticity of your AirPods. And if they are not original Apple products, a pop up comes saying that Cannot verify AirPods iOS 16. This is created to specifically detect counterfeit AirPods.
However, you might still get this pop up with an original AirPods due to some problems. And you may also want to learn how to identify and connect AirPods. We get all these prepared below.
Part 2: Cannot Verify AirPods iOS 16, How to Connect
So, if your newly updated iPhone with iOS 16 is showing this cannot verify AirPods iOS 16 error, then what to do? 2 cases here. Your AirPods is genuine but cannot be verified. Or you know it is not the original one and still want to use the earphone. We can still connect it to iPhone anyway.
1. Connect AirPods in Bluetooth Settings
When AirPods cannot be paired automatically as usual, you can connect it in Bluetooth Settings. And if you see carefully, when the Cannot Verify AirPods prompt comes up, there is a small writing below the big Don't Connect button that says "Connect in Bluetooth Settings".
On your iPhone, open Settings and tap on Bluetooth. Turn it on.
Open the lid of your AirPods so they become discoverable.

When you see the Connect prompt, tap on Connect. You may also need to press and hold the button on the back of the case.

Release in a few seconds, a prompt appears on your iPhone, telling you how to set up. And you can use the AirPods on iPhone now.
2. Unpair and Re-pair AirPods
You can forget the AirPods in Settings and connect to it again if you cannot verify AirPods iOS 16, especially when your AirPods were connected previously to your iPhone.
Go to Settings > Bluetooth. Under My devices, look for the name of your AirPods. Tap on the small "i" next to it.

Scroll down to see the option of Forget this Device and then tap on it. Tap on Forgot Device to confirm.

Now you can connect AirPods to iPhone again in the way we have just mentioned.
Part 3: How to Identify If Your AirPods is Geniune
The iOS 16 will notice you that "Cannot Verify Airpods" when it detects that your AirPods might not be genuine. But how can you identify your AirPods. A few tips you can have a look.
Check the AirPods model number and serial number in Settings or on AirPods to identify.
Check the charging case by the location of the status light and other details to verify.
Go to Apple Store and ask staff for help.
It is recommended to buy AirPods from Apple Store or regular sales store.
Extra Tips: Fix iOS System Issues that Cause AirPods Connecting Problems
Cannot Verify AirPods in iOS 16 is easy to explain. But if your AirPods are still facing connecting problems, or other problems accur, then this could be a sign of iOS system issues, especially iOS 16 was just released for a while. You can wait for Apple to fix the system bug or use the quick choice Tenorshare ReiBoot for repairing.
Related Read:
1. Fix one of the AirPods not working
2. Fix AirPods keeps disconnecting
Download and launch Reiboot on your PC. And click Start to begin the repairing process.

Connect your iPhone to your PC via a USB cable. Select the Standard Repair mode to avoid data loss.

Now download the latest iOS 16 firmware package by clicking the download button.

Click Start Standard Repair. It will fix the iOS 16 software issues in a few minutes.
Conclusion
Since counterfeit or fake AirPods have been on the rise, Apple has found out a way to verify AirPods in iOS 16. If you see the "Cannot Verify AirPods" prompt, check your earphones. But you can still use Bluetooth to connect.
If your AirPods are genuine but cannot connect to iPhone, there is a chance that the new and unstable iOS 16 has a bug. Use Tenorshare ReiBoot for a repairing try.