How to Fix iPhone XR Stuck on Hello Screen After iOS 16 Update?
by Sophie Green Updated on 2022-09-23 / Update for iOS 16
iPhone XR update to new ios 16 so I updated my phone. It took 5 hrs when I was done, it was on a hello screen now it won't move and it ask me to enable the screen, and I did, now I can't do anything. Keep calling 911.
iPhone rules the phone industry, whether it's because of its brand value or its oh-so-wow picture quality! People have been dying to get their hands on the new iPhone models since they were announced. However, rumors of the iPhone XR being stuck on hello screen have recently circulated on the market. It's not only worrying but also heart-breaking because the iPhone doesn't prompt any further. Before this drives you insane, we've compiled a list of essential iPhone XR stuck on the hello screen!
Part 1: Does the "Hello Screen" Mean My iPhone was Erased?
Why is my iPhone XR stuck on the Hello screen? Even though the "Hello" page is renowned as the intro page before you have to set up your new iPhone, it does not always imply that your iPhone has been deleted.
If you see a "Hello" screen on your iPhone and can not remove it, it is most likely that your iPhone received an iOS 16 update, and you only need to perform a few steps (instead of the whole process).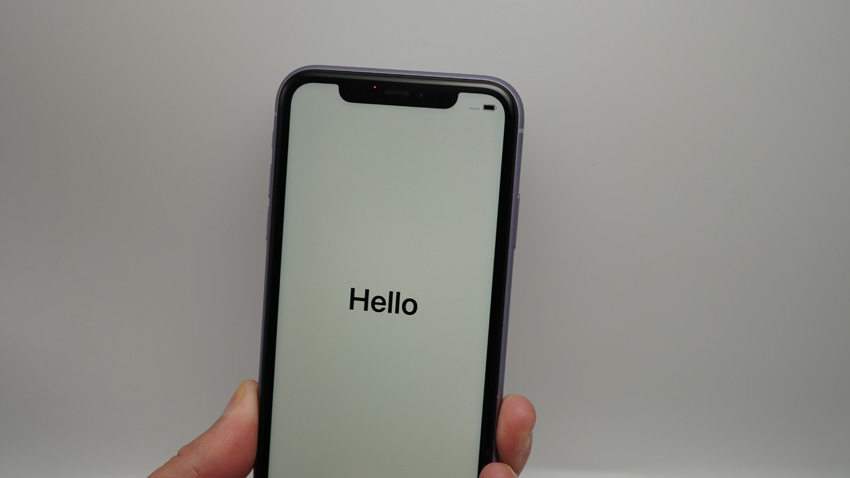 Part 2: How to Fix iPhone XR Stuck on Hello Screen After iOS 16 Update? [6 Ways]
Way 1: Force Restart Your iPhone XR
Because these versions lack home buttons, key combinations are required to restart your iPhone. Tap the "Volume Up" button and swiftly release it. Rep the procedure with "Volume Down". Press the "Power" button until the Apple logo appears on your iPhone.
Way 2: Run out the Battery and Charge it Again
The most straightforward solution to the iPhone stuck on the Hello screen problem is to drain the iPhone battery and then charge it. If you encounter the same issue, you must do nothing and wait until your iPhone shuts down due to power consumption.
Do not immediately connect your iPhone to the charger at this point. Allow a couple of hours. Then you may begin charging your iPhone. Restart your iPhone after it has been charged.
Way 3: Remove SIM Card
Removing the SIM card and restarting the iPhone solves the problem of the iPhone being stuck on the Hello screen. It does not appear that such an oversimplified way can fix the problem, but those who have experienced it demonstrate its availability. If the problem persists, use a paperclip to remove the SIM card from your iPhone and restart it.
Way 4: Fix iPhone XR Stuck on Hello Screen within 3 Clicks [No Data Loss]
Your iPhone may become stuck on the Welcome hello Screen. While this occurs infrequently, it isn't very comforting for most people because you cannot set up or use your iPhone. Tenorshare ReiBoot, like any other iOS problem, can repair the issue "iPhone stuck on the Hello Screen". It is a fantastic tool that may assist you in resolving practically all iPhone stuck situations. You can get rid of the hello screen with a few simple steps. Whatever situation you are in, connect your smartphone and follow the on-screen instructions to resolve all iOS issues.
Features of Tenorshare Reiboot:
To enter or exit recovery mode, click once.
150+ iOS/iPadOS/tvOS system issues, such as the Apple logo being stuck, iPhone XR stuck on hello screen, a screen that won't turn on, a recovery mode loop, etc., can be fixed.
iOS version downgrade without a jailbreak.
Reset your iPhone, iPad, and iPod touch without iTunes or Finder.
Simple clicks can fix iPhone/iTunes issues like 4013/4014 errors.
Support with all iPhone 14 models and iOS versions, including the newest iOS 16.
Steps to use Tenorshare Reiboot:
Download and Install ReiBoot on PC or Mac

Connect your iPhone to your PC and run ReiBoot. Click the "Start" button to launch the iOS System Recovery program when the device has been detected. It is strongly advised that you use the Apple original lightning USB cable to connect the iOS device to the computer to restore the iOS system successfully.

Click Standard Repair to Proceed

Select "Standard Repair" from the interface below, and then read the note below to prevent repairing process failure. Click "Standard Repair" when you are prepared.

Download Firmware Package

Click "Download" to start downloading the most recent firmware package when you're ready. Due to the approximately 5GB firmware packet, it will take some time. If the firmware package has already been downloaded to your computer, you can manually import the firmware by selecting "import local file".

Start Standard Repair

The system recovery process can be started by clicking "Start Standard Repair" after the firmware package has been downloaded to your computer.

Please be patient. The entire repair process will take a few minutes. Your iOS device will restart automatically after the repair is complete, but none of your data will be lost.
Way 5: Restore iPhone XR to Factory Settings [Data Loss]
Don't want to use a third-party tool? If this is the case, try restoring your iPhone to factory settings using iTunes. Restoring your device via iTunes can help you solve various issues, including the one you're currently experiencing - iPhone XR stuck on hello screen after iOS 16 update. However, keep in mind that this procedure will completely delete the device. So, if you're ready to restore your iPhone to factory settings with iTunes, the steps are as follows.
Install the most recent version of iTunes on your computer and connect the device to it with a digital connection.
Then, choose the device icon and navigate to the "Summary" page. Click the "Restore iPhone" button here.

After a period, your device will be restored, and you can set it up as new.
Way 6: Put iPhone XR in DFU Mode
Alternatively, you can use DFU Mode to restore your iPhone XR stuck on hello screen iOS 16.
A connection between your PC and iPhone must be made first. Open iTunes/Finder on your Win/Mac.
Make sure to press the 'Volume up' key. Now press the 'Volume Down button. After then, hold down the 'Power' button until the screen goes completely black.
Hold the 'Power' key for roughly 5 seconds while pressing the 'Volume Down key. Remove your finger from the 'Power' key.
When your screen goes completely dark, a pop-up window sends you to the iTunes screen, where you must click on 'Restore iPhone' and proceed with the confirmation steps.
Conclusion
Why is my iPhone XR stuck on the Hello screen? To summarise, numerous methods exist for resolving the issue of the iPhone XR stuck on hello screen. However, restoring the iPhone in DFU mode and using iTunes takes time and effort, whereas forcing an iPhone restart may not yield favorable results. So, Tenorshare ReiBoot is the best solution to fix an iPhone stuck on the hello screen. It will quickly repair various faults and recover your phone with 3 clicks technology! So, what are you holding out for? ReiBoot is now available!
Fix iPhone Stuck and Update Issues without Data Loss