How to Download and Install iOS 17/16 Beta
by Anna Sherry Updated on 2023-06-06 / Update for iOS 16
Following the official announcement of iOS 16 at WWDC 2022 on June 6, we now know the most notable features that the new OS has. However, users will not be able to get the iOS 16 update on their devices until September 2022. If you don't want to wait so long before enjoying the amazing features of the OS, you shouldn't hesitate to install iOS 17/16 beta or iPadOS 17/16 beta on your iPhone or tablet. Also, the whole guide also support iOS 16.5 beta!
Back up Your iPhone before You Install iOS 17/16 Beta
Before rushing to download and install beta iOS 16, you should first back up your iPhone. This is because Apple iOS 17/16 beta is still at its developmental stage. Hence, it may have some hidden bugs and other problems. In some cases, you may experience overheating, sluggishness, fast battery drain, etc.
Consequently, you may need to downgrade the iOS 17/16 beta profile to a previous version of the OS. The backup will come in handy when you need to remove the iOS 17/16 beta from your device. Notably, iTunes is one of the most reliable tools for backing up your data. The solution is 100% free and easy to use.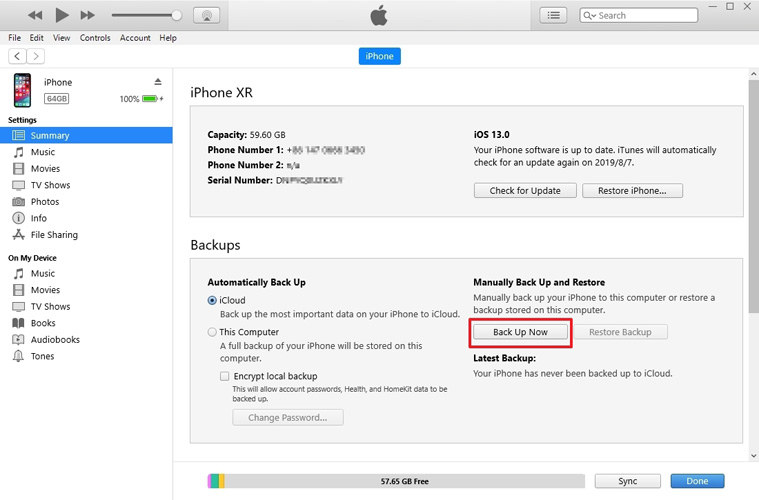 How to Install iOS 17/16 Beta on iPhone/iPad in 2 Ways
Are you ready to install iOS 17/16 Beta on your iPhone or iPad? Then, these are the two ways to explore:
Way 1. Using iOS 17/16 Beta Profile (Free)
If you don't want to spend money on getting iOS 17/16 beta profile, this particular method is for you.
Way 2. Enroll in Apple Developer Program ($99)
It is worthwhile to note that the iOS 16 public beta is not yet out; hence, the recently released version is the iOS 16 developer beta. Therefore, if you want to get iOS 16 beta 1 directly from Apple, you need to join the Apple Developer Program. Whether you are a developer or not, you can enroll in this program and pay $99 to get the OS now.
If you are ready to enroll to get the iOS 16 developer beta, do the following:
Go to App Store to download the Developer app on your iPhone.
Then, you have to navigate to "Account" and tap "Enroll Now". Use your Apple ID to sign in.
Read the various benefits of the program and tap the "Continue" option.
Submit the required information and pay $99 to join the program.
Go to the "Apple Developer portal" and use your Apple ID to complete the sign-in process.
Now, tap "Install Profile" to download and install the newly released beta profiles iOS 16.
Extra Tips: How to Repair the iOS 17/16 Beta Bugs on Your iPhone & iPad
It is worthwhile to note that beta versions of iOS are not usually stable. Therefore, iOS 17/16 beta may have a plethora of bugs and glitches. The good news is that you can go back to the previous OS version or just fix the problem with Tenorshare ReiBoot, which can be used for repairing all kinds of iOS 16 beta bugs on your iPhone or iPad.
The software has two modes – Standard Repair and Deep Repair. The second option is more effective but will erase the data on your iPhone/iPad, thus it's important to make a backup first. Below are the steps for using Tenorshare ReiBoot to repair the iOS 17/16 beta bugs and glitches.
Download Tenorshare ReiBoot on a Mac or Windows computer. Install and run it. Then, utilize a USB cable to connect your iPhone/iPad to the computer. Once the device is detected, click "Start".

Now, you need to tap "Deep Repair". Take note of the on-screen instruction before proceeding. Then, if you are set, hit the "Deep Repair" option.

Once your device has been detected, you need to hit the "Download" button to get the newest firmware file. Since the file is around 5GB, be patient with the downloading process.

After getting the firmware package on your computer, you just need to tap the "Deep Repair" button.

Remember that Deep Repair will delete all data on your computer. So, back up your data before proceeding. After backing up the data, tap "Repair" to continue.

You will see the progress of the process on the screen of the computer.

Once you have completed the steps above, Deep Repair would have solved all iOS 17/16 beta bugs on your iPad or iPhone.
Frequently Asked Questions about iOS 17/16 Beta
Q1. Is Beta Apple Safe?
Yes, it is safe to download and install iOS 17/16 beta on your device. Just make sure that you have the right iOS 17/16 beta software profile and get it from a trusted source. However, you must realize that Beta Apple may have some bugs and glitches.
Q2. iOS 17 Beta Release Date
The developer version of iOS 16 beta was released on June 6. However, there is no specific iOS 17 beta release date for the public version. But it has been suggested that it will be available in July.
Q3. Which Phones will Support iOS 17?
According to the latest official announcement, the following phones will support iOS 17:
iPhone SE (2020)
iPhone XS, XS Max, and XR
iPhone 11, 11 Pro, and 11 Pro Max
iPhone 12 Mini, 12, 12 Pro, and 12 Pro Max
iPhone 13 Mini, 13 Pro, and 13 Pro Max
iPhone SE (2023)
Conclusion
So, if you are interested in installing iOS 17/16 Beta to check out the astounding features of the new OS, this article has shown how to do so. However, if a system glitch or bug is making it difficult for you to enjoy the OS, you can simply downgrade it or use Tenorshare ReiBoot to fix the issue.
Fix iPhone Stuck and Update Issues without Data Loss