A Summary of All iOS 16 Features (Keep Updating)
by Anna Sherry Updated on 2023-01-04 / Update for iOS 16
According to many reports, it is believed that the iOS 16 release date will be late September 2023. As we learned from June's WWDC, this time, iOS 16 brings some big changes including the redesigned lock screen. In this post, we will summarize all the features of iOS 16 that have been announced to public and iOS 16 hidden features you might not know.
I. A List of All Important iOS 16 New Features
Here are some new features available with iOS 16.
iOS 16 Unsend Message
In the last few years, there have been suggestions that iOS will start allowing users to unsend messages. So, will iOS 16 let you unsend messages? Lots of iOS 16 leaks have established that users will be able to unsend messages with the new OS. Instagram, Telegram, WhatsApp, Snapchat, and other social media apps allow users to enjoy this feature already. Therefore, it is possible that iOS 16 unsend messages. However, there is no guarantee.
iOS 16 Lock Screen: Customizable Lock Screens with Widgets
iOS 16 has completely redesigned the lock screen, which will add widgets, animated wallpapers, and etc. The new lock screen allows users to create multiple different lock screens that linked to focus mode.
iOS 16 Updated Notification System
Another important feature of iOS 16 and iPadOS 16 is the updated notification system. This will boost the overall experience of using the iPhone and iPad. Nonetheless, we don't have the full details of how the updated notification system on the new OS will work.
iOS 16 Improved Camera app
Over the past few years, the camera of the iPhone has been improved several times. With the new OS, we are looking forward to seeing an improved Camera app. The app will come with more functionalities that will enhance the quality of the camera of iPhones.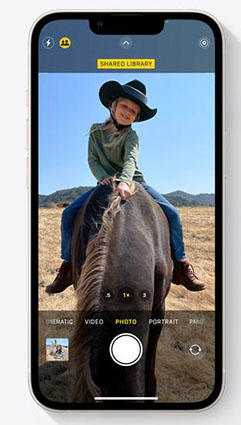 Image: Apple
iOS 16 Home Automation Widgets
With iOS 14, Apple started improving its widgets. So, it is expected that iOS 16 will come with better widgets. The widgets will provide you with several apps such as smart lights. Therefore, it will be easy for you to access the apps easily and quickly from your Home screen.
iOS 16 Improved Focus
In iOS 16, the improved Focus combined with Lock Screen Editing can be more convenient and pragmatic. iPhone users can individualize and design an unique lock screen for their Focus. Then you can change your lock screen only through a simple swipe so that your phone enter into the Focus mode. Afterwards, Calender, Email app etc. on your phone only notify of contents you choose or related to the Focus.
iOS 16 Fitness
Starting with iOS 16, Fitness app can be used on iPhone even if you don't have an Apple Watch. Once you download iOS 16 on your phone, just go to the Fitness app and complete a series of Settings, and Apple gives you an activity tracking. It relies on the iPhone's motion sensors to estimate the number of calories,steps,and third-party workouts a person burns each day.
Unfortunately, due to the boundedness of phone motion sensors compare to Apple Watch, the Fitness app on iOS 16 only allows you to track calories, but won't remind you to stand or count your workout time.
Besides,iOS 16 add a very useful new health function -- iPhone medication Reminder. Users can add medication reminder and schedule in the built-in iPhone Health app, also can track the intake record of medication or health care products and understand the potential interactions between drugs.
iOS 16 Advanced Input Method
Now the input method of iOS 16 that allows users to write while speaking. When using the voice input function, the iOS 16 drive-in keyboard will still be displayed on it for editing, which can make users more efficient at typing. When you speaking a long sentence, it will automatically add punctuation. What's more, you just need to dictate "xxx emoji" and your iPhone will understand and type it right there for you in text message.
iOS 16 Live Text
When iOS 15 was released, it could only recognize text in pictures. Now, iOS 16 can recognize text in videos, and support for translating the recognized text directly, or currency conversion, making calls and other convenient operations.It means you can pause while watching a movie to copy the text or translate it.
Notes: Currency conversion is only available on the A12 bionic or updated iPhone.
More than these, iOS 16 allows users to quickly and precisely extract the main content in an image. Only pressing the image for a few seconds, you can cutout and drag it to other apps for sharing or transmitting, such as messages, emails, memos etc.
iOS 16 Apple Pay Later
iOS 16 finally allows installment payment. Apple Pay Later lets you split the cost of your purchase into four equal payments spread over six weeks. The first payment is due at the time of your purchase and the rest is due every two weeks thereafter. You can also track installment records and data directly from the Apple Pay interface.
When Apple Pay Later is released, you will have two options when completing your purchase: Pay in full and Pay Later. Selecting the latter option displays a payment schedule showing the amount of each of the four payments along with the time due.
However, according to Corey Fugman, senior director of Wallet and Apple Pay, said that Apple Pay Later will be available to where Apple Pay is aceepted in the app or online, This indicates that the service may not be available for in-store purchases.
iOS 16 Email
Users can now schedule email's delivery time in advance and cancel it a short time after it has been sent so that it doesn't reach the recipient's inbox. The email app will also detect if the user has omitted something important, such as an attachments from the email.
Users can also use a later reminder to choose to redisplay an email at any specific date and time, and the follow-up suggestion will automatically remind users to follow up on emails that have not yet been answered.
Mail app in iOS 16 also uses advanced technology to provide more accurate and comprehensive search results. The moment a user starts searching for email, they can immediately see the latest emails, contacts, documents, and links.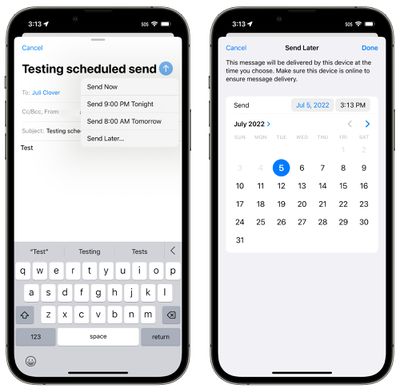 iOS 16 Wallet
The functions supported by keys in the Wallet have been further expanded. In order to keep private and secure experience for users, Wallet in iOS 16 will only provide the necessary information for the transaction to the app. Users can also set a face ID or touch ID verification to view and agree to share the provided information.
In addition, iOS users can use various communication apps, such as messages and emails, to share the house, hotel, office access cards and car keys in Wallet in a securer way. What's more, it seems that iOS 16.1 will support removing most of Apple's drive-in apps, including Wallet,Weather, Podcasts and so on.
iOS 16 Apple Carplay
In iOS 16, the whole UI of Apple Carplay has been improved, such as controlling the radio through Carplay or directly changing the temperature of air condition and controlling the seat heating. It can also calculate the car speed, residual fuel etc.
Besides, CarPlay will be able to send content to multiple displays in the vehicle, creating a complete and unified experience for users. It will be better adapted across different models of vehicles, allowing closer coordination and interaction between the iPhone and the vehicle.
II. iOS 16 Hidden Features You May Not Know
There are some iOS 16 hidden features that Apple doesn't announce during the WWDC. Continue reading to learn more and we've got you covered in new iOS 16 features you will be interested in.
iOS 16 Car Crash Detection
One of the key iOS 16 features is car crash detection. Once a collision has taken place, the feature will detect it and send a notification to emergency services automatically. Nevertheless, there is still a lot to know about this car crash detection feature.
Image: Cult of Mac
iOS 16 Emergency Satellite Features
Based on various iOS 16 rumors, an emergency satellite feature will be added to the new OS. This feature will allow iPhones and iPads to send emergency text messages even when cellular coverage is not available. Without a doubt, the feature will come in handy in lots of situations.
iOS 16 SharePlay
The new wallpapers in iOS 16 have also been optimized. When editing the astronomical wallpaper, the system displays the user's current real-time location on Earth through a small green dot. In addition, widgets on the lock screen no longer block the earth in this wallpaper. The earth is positioned up and down depending on whether widgets are on the lock screen. It also provides a real-time weather effect wallpaper that changes according to the current location, such as a rain effect on screen when it rains.
iOS 16 Sharing Toggle on Camera
iOS 16 have an new sharing toggle feature that will allow you to automatically share photos you've taken to fridens or families. It's in line with iOS 16's new iCloud Shared Photo library feature, which allows you to create a photo albums which six people limited can contribute photos and collaborate to edit them. There's also sharing based on proximity, where your phone can detect other iPhone that nears you.
Notes: Only available between iPhones that upadated iOS 16.
Tips: How to Remove iOS 16 Beta If You Regret to Install
As everyone is going to start installing iOS 16 Beta, you may also join the trend to install it. Unfortunately, bugs and other issues may make the OS not work properly on your iPhone. As a result of this, you may regret installing iOS 16 on your device. Given this, you will likely want to install the OS on your iPhone.
Luckily, this should not be a problem for you as you can use Tenorshare ReiBoot to remove iOS 16 Beta or other iOS updates on your device. This software is compatible with almost all models of iPhones. It is easy to use without any technical expertise.
To use ReiBoot to uninstall iOS 16 Beta, follow the steps below:
Start by downloading Tenorshare ReiBoot on your computer. Install and run the software. Then, use a USB cable to connect your iPhone to the computer.

Now, choose the "iOS System Repair" option. Just click "Start" to proceed.

Download the latest official iOS package. On the program, tap "Download" to get the latest official OS (which is iOS 15.5).

Once you have downloaded the OS, you have to click the "Start Repair" option. The process will start automatically. After some minutes, your iPhone will reboot itself.
Congrats! You have successfully removed iOS 16 Beta on your iPhone.
Related Read: How to Remove iOS 16 Beta with/without iTunes
Final Thought
Now, we have shown you everything you need to know about the latest OS version of Apple mobile devices. Also, you have learned about the iOS 16 beta release date. Without a doubt, iOS 16 will come with several awesome features that many users will love to utilize on their devices. However, if iOS 16 Beta is unstable or not working properly on your iPhone, you can remove it by using Tenorshare ReiBoot.
Fix iPhone Stuck and Update Issues without Data Loss