A Summary of All iOS 16 Features (Keep Updating)
by Anna Sherry Updated on 2022-08-05 / Update for iOS 16
According to many reports, it is believed that the iOS 16 release date will be late September 2022. As we learned from June's WWDC, this time, iOS 16 brings some big changes including the redesigned lock screen. In this post, we will summarize all the features of iOS 16 that have been announced to public and iOS 16 hidden features you might not know.
I. A List of All Important iOS 16 New Features
Here are some new features available with iOS 16.
iOS 16 Unsend Message
In the last few years, there have been suggestions that iOS will start allowing users to unsend messages. So, will iOS 16 let you unsend messages? Lots of iOS 16 leaks have established that users will be able to unsend messages with the new OS. Instagram, Telegram, WhatsApp, Snapchat, and other social media apps allow users to enjoy this feature already. Therefore, it is possible that iOS 16 unsend messages. However, there is no guarantee.
iOS 16 Lock Screen: Customizable Lock Screens with Widgets
iOS 16 has completely redesigned the lock screen, which will add widgets, animated wallpapers, and etc. The new lock screen allows users to create multiple different lock screens that linked to focus mode.
iOS 16 Updated Notification System
Another important feature of iOS 16 and iPadOS 16 is the updated notification system. This will boost the overall experience of using the iPhone and iPad. Nonetheless, we don't have the full details of how the updated notification system on the new OS will work.
iOS 16 Improved Camera app
Over the past few years, the camera of the iPhone has been improved several times. With the new OS, we are looking forward to seeing an improved Camera app. The app will come with more functionalities that will enhance the quality of the camera of iPhones.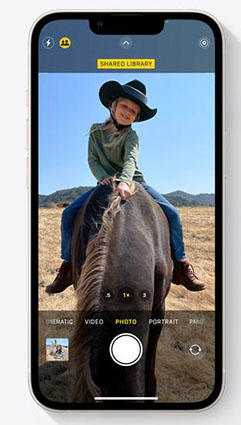 Image: Apple
iOS 16 Home Automation Widgets
With iOS 14, Apple started improving its widgets. So, it is expected that iOS 16 will come with better widgets. The widgets will provide you with several apps such as smart lights. Therefore, it will be easy for you to access the apps easily and quickly from your Home screen.
iOS 16 Improved Focus
In iOS 16, the improved Focus combined with Lock Screen Editing can be more convenient and pragmatic. iPhone users can individualize and design an unique lock screen for their Focus. Then you can change your lock screen only through a simple swipe so that your phone enter into the Focus mode. Afterwards, Calender, Email app etc. on your phone only notify of contents you choose or related to the Focus.
II. iOS 16 Hidden Features You May Not Know
There are some iOS 16 hidden features that Apple doesn't announce during the WWDC. Continue reading to learn more and we've got you covered in new iOS 16 features you will be interested in.
iOS 16 Car Crash Detection
One of the key iOS 16 features is car crash detection. Once a collision has taken place, the feature will detect it and send a notification to emergency services automatically. Nevertheless, there is still a lot to know about this car crash detection feature.
Image: Cult of Mac
iOS 16 Emergency Satellite Features
Based on various iOS 16 rumors, an emergency satellite feature will be added to the new OS. This feature will allow iPhones and iPads to send emergency text messages even when cellular coverage is not available. Without a doubt, the feature will come in handy in lots of situations.
Tips: How to Remove iOS 16 Beta If You Regret to Install
As everyone is going to start installing iOS 16 Beta, you may also join the trend to install it. Unfortunately, bugs and other issues may make the OS not work properly on your iPhone. As a result of this, you may regret installing iOS 16 on your device. Given this, you will likely want to install the OS on your iPhone.
Luckily, this should not be a problem for you as you can use Tenorshare ReiBoot to remove iOS 16 Beta or other iOS updates on your device. This software is compatible with almost all models of iPhones. It is easy to use without any technical expertise.
To use ReiBoot to uninstall iOS 16 Beta, follow the steps below:
Start by downloading Tenorshare ReiBoot on your computer. Install and run the software. Then, use a USB cable to connect your iPhone to the computer.

Now, choose the "iOS System Repair" option. Just click "Start" to proceed.

Download the latest official iOS package. On the program, tap "Download" to get the latest official OS (which is iOS 15.5).

Once you have downloaded the OS, you have to click the "Start Repair" option. The process will start automatically. After some minutes, your iPhone will reboot itself.
Congrats! You have successfully removed iOS 16 Beta on your iPhone.
Related Read: How to Remove iOS 16 Beta with/without iTunes
Final Thought
Now, we have shown you everything you need to know about the latest OS version of Apple mobile devices. Also, you have learned about the iOS 16 beta release date. Without a doubt, iOS 16 will come with several awesome features that many users will love to utilize on their devices. However, if iOS 16 Beta is unstable or not working properly on your iPhone, you can remove it by using Tenorshare ReiBoot.
Fix iPhone Stuck Issues without Data Loss