Fix iOS 17/16 Hidden Photos Disappear&Unable to Hide Again Issue
by Anna Sherry Updated on 2023-10-25 / Update for iOS 16
I recently updated to iOS 16 and discovered that hundreds of hidden photos on my iPhone are gone. I can only see my most recent pictures. I cannot remember deleting the said pictures. I am wondering whether those pictures are still in my phone. As a result, I have been wondering aimlessly online in search of how to see hidden photos on iPhone iOS 17/16. Although I can't place my finger on it, I know something is definitely wrong. Any help I can get now will be appreciated." That was shared by user on reddit.
If you are having the same issue with your iOS 17/16, then this post has got you covered. You would learn virtually everything about the subject here.
Part 1: How to Hide&Unhide Photos on iPhone
Before we show you the fix of the "iOS 16 hidden photos disappeared and unable to hide again" issue, let's see how should the hide feature work normally. You can decide which photos you would like others to see when they are using your iPhone.
Be noted that on iOS 17/16, the hidden album folder is locked by default, so it is inaccessible to unauthorized users. This section will be taking you through how to hide pictures on iPhone. It will also discuss how to unhide photos on iPhone.
Click Photos.
Choose the picture you wish to hide.
Click on the three dotted button. Click Hide from the drop down.

Confirm your action.
Steps on how to unhide photos on iPhone:
Click Photos and tap Albums tab.
Look for Hidden under Utilities and click on it.
The Hidden Photos Album needs to be unlocked with Touch ID or Face ID. Tap the picture you wish to unhide. Click the three dotted button and click on Unhide from the dropdown.

ongratulations you just successfully revealed a picture that was previously hidden.
Part 2: Unable to Hide Synced Photos iOS 17/16, Why and How to Fix?
It has been reported by several iOS 17/16 users that they cannot hide synced photos on their iOS 17/16 and their previously hidden pictures disappeared.
The most probable reason for this misbehavior could be a system bug. In addition to that, some other reasons could give rise to such. Here are some possible reasons why you cannot hide synced photos on iOS 16:
iPhone sync issues.
iOS 17/16 Software bug.
Not enough time.
Not connected to any Wi-Fi.
Fix Unbale to Hide Photos iOS 17/16 Issue
Are there ways you can make this hidden album iPhone issue a thing of the past? Absolutely! Let us take a look at some of those solutions below.
Fix 1: Make Sure You've Turned on Show Hidden Album
Sometimes the Hidden album disappeared because you turned off "Show Hidden Album" settings. You can follow the steps below to make sure it's turned on:
Open Settings (for iOS 17/16)
Click Photos.
Enable Show Hidden Album.
Fix 2: Wait for More Time(At Least 30 Minutes)
It is actually funny that while you have been racking your brain on how to hide pictures on iPhone iOS 17/16, the solution requires that you do nothing.
Occasionally, the reason why you cannot hide photos on iOS 17/16 is that iPhones usually require more time to load synced pictures. After waiting for about 30 minutes or one hour and you still cannot hide photos, then you can explore the next option.
Fix 3: Connect to WiFi
It is also a given that the reason your "iOS 16 Hidden Photos disappear and unable to hide again" issue is due to the fact that you are not connected to functional Wi-Fi. You can hide photos again when you connect to stable Wi-Fi. Outlined below are steps to connect to Wi-Fi on iPhone.
Open Settings. Click on WLAN.
Enable Wi-Fi by toggling it on. Choose the network you wish to connect to. Input the Wi-Fi passcode before clicking on Join.
Fix 4: Restart iPhone and Try Again
Using your iPhone for a long time can also lead to bugs. And when you are using a buggy iOS 17/16, anything can happen. One of the consequences is that you may not be able to hide photos anymore.
Therefore, when you look at your iPhone and you can't find the hidden album, all you need to do is restart the device and the Hidden Album may just show up.
How to Restart(Force Restart) iPhone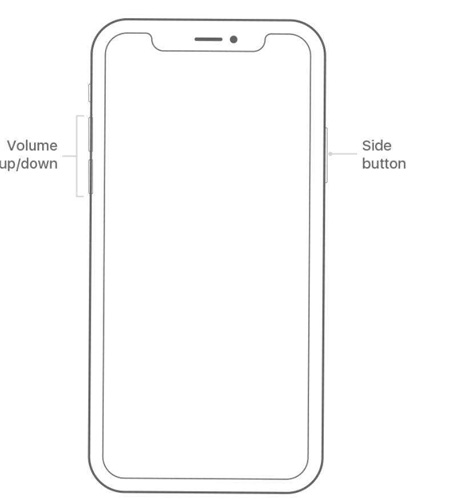 Press the volume (+) button and release it quickly.
Press the volume (-) button and release it quickly.
Press the side button and hold it down.
Release side button when Apple logo shows up.
Related read How to force restart iPhone.
Fix 5: Reset All Settings
Reset All Settings can be regarded as an important method when you start facing bugs on your iPhone. It may be the solution to your iOS 16 Hidden Photos disappear problem. Here is how to go about it: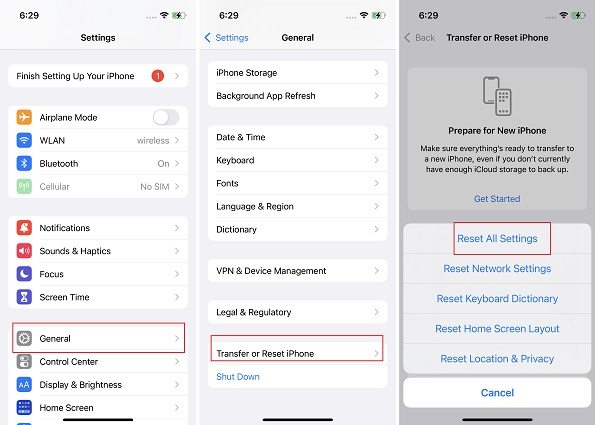 Open Settings. Click on General.
Scroll downward and click on Transfer or Reset iPhone.
Click on Reset. Click on Reset All Settings. You need to input the passcode for your iPhone to confirm your action.
Congratulations, you just restored all your settings to their default state. And now please check if the synced hidden photos appear.
Fix 6: Check if there's a Newer iOS Version
Updating iOS to the latest version can also help fix such issues. As such, you may want to stick your nose to the ground in case Apple releases an iOS 16.0.1/iOS 16.0.2 that might take care of iOS 16 Hidden Photos bugs.
(Note: the iOS 16 minor versions are only available for iPhone 14 (Plus/Pro/Pro Max) users.)
Fix 7: Repair Buggy New iOS with ReiBoot
Repairing your buggy iOS 17/16 may seem like an interesting alternative if you have tried every other option without getting any results. Are you thinking of how you can repair your iOS 16? ReiBoot is the answer to that question. This safe third-party tool helps you fix plenty of iOS and other related issues with just a few clicks.
ReiBoot can help iPhone users fix more than 150 iOS related issues. And you can use it to enter and exit iPhone recovery mode with a single click. The best part is that ReiBoot can help users download iOS to an earlier version, no jailbreak needed.
Download ReiBoot and install it on your computer. Open ReiBoot on your system and connect your iPhone to it. The moment ReiBoot recognizes your device, click Start.

Click on Standard Repair. Read the information at the page's bottom before clicking Standard Repair.

Get Firmware Package. Click on Download to get the latest firmware package for your device. Up to 5G storage space is needed for the package to download completely.

Standard Repair. When you are done with the firmware package download, click on Start Standard Repair. Wait while the process is ongoing.

Congratulations. Standard Repair is complete. Now you can check whether you can see the synced hidden photos on iOS 17/16 or whether you can hide the synced photos.
Part 3: The Best Alternative Way to Hide iOS 17/16 Photos
Are you struggling with how to add photos to hidden album and you do not wish to go through the route of repairing your iOS 17/16? You can conveniently do that with Tenorshare iCareFone. iCareFone is designed to help you solve most iOS data management issues.
iCareFone can help you detect your hidden photos and help you add photos to hidden album with only one click.
Download iCareFone and install it onto your PC or Mac. Open the software when you are done installing. Connect your iPhone to your PC. Click Photos from the quick access.

If you want to see the iPhone hidden photos, click on Library from and left menu. Then choose Hidden. Here you can see all your iPhone hidden photos.

If you want to hide photos, clcik on the photos and right click to choose "Hide".
Extra Tips about Hiding iPhone Photos
Tip 1. How to see hidden photos on iPhone?
Click Photos and tap Albums tab.
Look for Hidden under Utilities and click on it.
The Hidden Photos Album needs to be unlocked with Touch ID or Face ID.
Tip 2. How to lock hidden photos on iPhone?
If you're running iOS 16, you do not need to do anything to lock hidden photos. The Hidden and Deleted album are locked by default. It's a system level lock and you cannot change it.
You can open Photos and scroll down. You will see the lock icon beside the "Hidden" and "Recently Deleted" albums.
Tip 3. How to add photos to the hidden album?
Open Photos.
Open any album you wish to hide.
Select all the videos and photos to hide.
Click the three-dotted button from the bottom. Choose "Hide". The photo will be hidden.