How to Install APK on Android
by Jenefey Aaron Updated on 2022-01-24 / Update for Android Tips
APK (Android application package file) is the file format used to distribute and install application software and middleware onto Google's Android operating system. In order to install third party applications to your Android phone, you need to install APK. Totally, there are 3 ways to install APK on Android (including Android phone and tablet) running Android 6.0 M, Android 5.1/5.0 Lollipop, Android 4.4 KitKat, etc.
Note
: For software like
Tenorshare UltData - Android Data Recovery
and , installing APK on Android allows you to recover contacts, text messages, photos, etc. from your Android devices without connecting your device to computer.
All the 3 solutions require you to download the APK file to your computer first. Then you could install it on your Android via different ways. For instance, to complete the installation of Tenorshare Android Data Recovery software, the priority is Tenorshare Android Data Recovery APK download page or Google Play which allows you to download the APK file to computer.
How to install APK files on Android
Solution 1: Download APK files from Computer and Copy to Android for Installation
This is the most common way to install APK files on Android phone and tablet.
1. Download the APK file to a folder on your computer or directly to your desktop.
2. Enable your Android by going to Menu > Settings > Security (For Android 2.X, go to Applications) > check "Unknown Sources" to allow your phone to install apps from sources other than the Google Play Store. Note: Make sure you have a File Explorer or File Manager so that you can easily find the app you transferred from your computer to your Android.
3. Connect Android to your computer. When asked on your phone whether to charge your phone or connect it as a "media device", choose the latter. Then simply find your phone on your computer and drag, then drop, the APK file you just downloaded to your Android.
4. Open File Explorer or File Manager to find the APK file. Click on it and then click "install".
Solution 2: Install Android APK with Apk Installer
The Apk Installer is a free application available on the Google Play Store. With this aided tool, it would be pretty quick and easy for you to install the APK files on the micro SD card used in the Android device. Like Solution 1, you also need to first download the APK file from Google Play.
1. Copy the APK file to your Android's memory card and insert the card into your phone.
2. Download and install the Apk Installer application from Google Play.
3. Once installed, the Apk Installer will display the APK files which are on the memory card.
4. Click and install your APK files.
Solution 3: Install Android APK through Dropbox
Without a USB cable, you are also able to install APK files. All you need to do is install Dropbox to your computer as well as Android. You can then transfer files between your computer and Android by syncing Dropbox.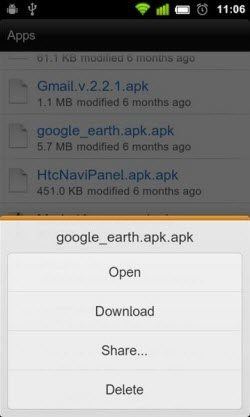 1. On your computer, download the APK file to your Dropbox folder and let it finish syncing.
2. On your Android phone or tablet, open the Dropbox app, navigate to the folder where you keep the APK file, click on it.
3. Dropbox will then download the APK file. You can install the APK files when the download is finished.
As for now, all the 3 ways to install APK files on Android devices are covered in this post. If you are interested in our posts, like us on Facebook, Twitter, Google Plus and other social networks. We'll keep you updated with other Android tips and tricks!