How to Fix Fast Charger Not Working (Samsung/OnePlus/Moto/LG/Oppo)
by Sophie Green Updated on 2020-12-18 / Update for Android Tips
Since two days, I've been facing issues with fast charging. I am a Samsung S8 owner and need help on the same. Why my fast charging is not working? Can anybody help?"
It's been a long time we are receiving such complaints from the users. They report that their fast charging is not working properly. Well, there are various reasons which cause the quick charge not working. We're going to discuss the same in this post. Also, if you are also confronting the same issue, then this blog can help you to understand why it is not working and how to fix it.
Part 1: Why Is My Fast Charger Not Working
Here are common 6 reasons. Let's delve into why is your fast charger not working first.
Reason 1.Using a third-party charger, without support for Fast Charging
Sometimes, without being aware of what kind of charger we are using, we may face some issues with it. If it is a third-party charger which doesn't support the fast charging system, then it will obviously not work.
Reason 2. A faulty adapter
It might happen that the adaptor you are using is faulty. Well, you need to check it or your fast charging will not work.
Reason 3. A broken cable
In some cases, one of two gold connectors may break down. Then, the fast charging will be unable but the regular mode will still be able to charge.
Reason 4. A dirty charging Port
For our careless use of charger, we overlap its charging port which actually supplies the increased level of voltage to a phone. If it is filled with debris, then you may face some issues. It hinders the transfer of electricity.
Reason 5. A software glitch
Another reason why your phone is not fast charging could be problems with the software your phone has installed in it. Sometimes, software update may cause damage to your fast charging.
Reason 6. Fast charging being disabled
 There is an option which allows you to disable fast charging option. You may have mistakenly or unknowingly disabled that.
Part 2: How to Fix Samsung Fast Charger Not Working
Is your Samsung fast charger not working properly? Or are you having issues with your S7 not fast charging? Okay. You have already been aware of the issues. Like most issues, we have some solutions for it.
Fix 1: Using an original or certified charger
Make sure you are using an original or a certified charger. Every manufacturing company says that. Your original charger has the capacity of amplifying the charge so that it takes less time for fast charging. An original charger comes like this.
Fix 2: Change the faulty adapter
Check "Adaptive Fast Charging" is written on your Samsung charger. If your phone is being charged fast, then it's okay. Otherwise, check the next steps.
Fix 3: Check the USB cable is in well condition
Sometimes, USB cable may break down but it doesn't mean the phone will not be charged. Your phone will be charged in regular mode. If there is any issue with USB cable, you should buy another one.
Fix 4: Charging port must be cleared
Sometimes, any unwanted things like dirt or debris can obstruct the transfer of electricity. So, cleaning the charging port frequently can help you to keep your fast charging smooth. You can use the below method to clear the charging port.
If you see any dirt or debris inside the USB port, instantly turn off your phone.
Try a pair of tweezers or a toothpick to remove that dirt.
Keep cotton swab with alcohol inside it for a while.
Rub the portion slowly in order to remove any dirt.
Wait for a while to dry up your phone.
Plug your phone with the charger and check if the fast-charging is working or not.
Fix 5: Check if there is no software issues
If you confront with software issues, you should start the phone in safe mode.
Press and hold the power button for a while. You will see the "Power off" option, long press it.

As you see the "Reboot to safe mode" message, hit the ok button.

Wait until you get the "Safe mode" option at the bottom-left side of your phone.
Plug your phone with the charger to check if the fast-charging is working properly.
Fix 6: Enable fast charging option from settings
Check if the fast charging mode is enabled from the setting option. Some users may unknowingly turn off this option which at last causes the trouble.
To enable the option, go to "Menu" > "Setting" > "Battery". You will get the fast-charging option. If it is turned off, just toggle it to the right.
If your phone still has issue, then apply factory reset. To do this, follow the below steps–
Go to "Settings" > "Advanced settings" > "Backup and reset" > "Factory data reset" > "Reset phone".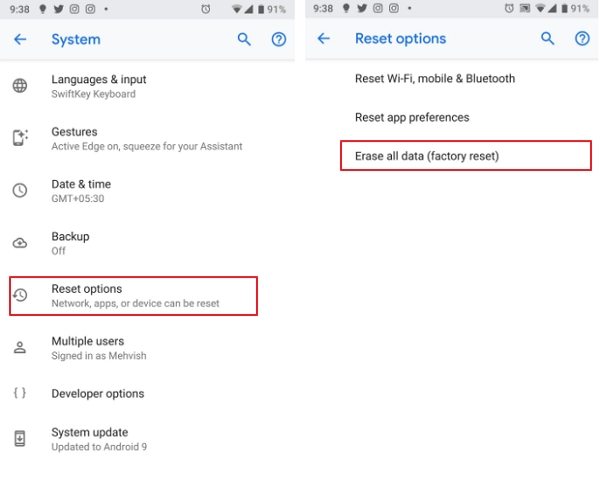 Part 3: How to Fix OnePlus/Moto/LG/Oppo/Honor Fast Charging Not working
What if your Oneplus 6 fast charging is not working? Well! No worries as most of the issues can be solved by following the above points. Even any other Android device charging issue can be solved with these fixes. Hence, there is no need to stress whether oppo vooc charger is not working or honor play fast charging not working. With a proper guidance, you can easily handle the moment you face trouble.
Extra Tips: Way to Fix Fast Charging Not Working for Kinds of Android Devices
With the vast use of Android phones, we, sometimes, face some severe issues. Sometimes, you need to repair your system when everything doesn't work. Before you wonder how, we recommend Tenorshare ReiBoot for Android which is used as Android system recovery tool. ReiBoot can solve most of the problems of android. If you are trapped in recovery mode/fastboot, ReiBoot is there with you.
Steps to repair Android System
Download and install ReiBoot for Android. Connect your Android to your computer and click "Repair Android System".

Click "Repair Now" to proceed.

Now, select exact device info.

You have to download "Firmware Package". After downloading Firmware Package, click on the "Repair Now" option.
Conclusion
Fast charging is a very helpful way to charge your phone within less than an hour. Whatever phone you use, the fast charging is available on most of it. If you are having issues with Samsung S7, S8 or S9 not fast charging, the article could be a better way to know and fix it.