Top 4 Ways to Get into A Locked iPhone 13 Without Password
by Jenefey Aaron Updated on 2021-12-20 / Update for Unlock iPhone
It is normal for you to enter the correct password and unlock the phone but in this situation, if you enter the incorrect password more than 10 times then the iPhone will be disabled and a message will pop-up "iPhone is disabled, connect to iTunes". Now, when you are facing such a situation the question is how to get into a locked iPhone? Don't worry we are here to help. In this article, you will find your answer.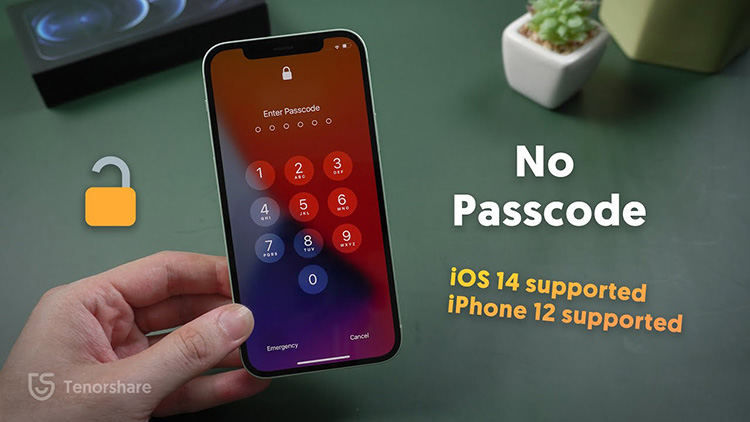 Way 1: Unlock a Locked iPhone without iTunes or Passcode(iPhone 13 Supported)
The first viable option and by far the best method to get your iPhone unlocked is using a third-party tool called Tenorshare 4uKey. This app is specifically designed for this purpose. Be it any type of lock, 4-diigt/6-digit/FaceID, TouchID, it can unlock everything. Here's how to unlock a locked iPhone using Tenorshare 4uKey:
Begin by downloading the Tenorshare 4uKey software on your computer.
Now, install the app then plug in your iPhone and computer with the help of a USB cable.

Your iPhone will be automatically detected. After detection, click on "Start"

Now, a message will be prompted on the screen to download a firmware.

You have to select a destination for the firmware and then click on "Download"

After the firmware has been downloaded you need to click on the message "Unlock Now". The firmware will start to unlock your iPhone.
Video below will show you detaily how to use 4uKey to remove iPhone passcode and get into locked iPhone.
The entire procedure takes a few minutes to complete, stay connected for that time. This is the simplest solution to your problem, it is efficient and convenient and most importantly gets the job done fast!
Way 2: Get into a Locked iPhone 13 with Siri
You can also unlock locked iPhone by using Siri. You can use Siri to get into that locked device without even restoring the device. This method is mainly applicable for iOS 10 and iOS 11 devices. But how to open a locked iPhone using Siri, the steps are as follows:
Take out your iPhone and hold the Home button. Holding the Home button will activate Siri.
Now, you need to ask Siri "What is the time now?"
Siri will provide you with the local time.
Then tap on the "Clock" icon, and you will see the World Clock.

After that, you have to tap on the "+" sign to add another clock to the list.

Now, type some random words on the search bar and then select them.

Choose "Share" from the options.

A pop-up message will appear. There you have to choose "Message" to open a new Message window.

Finally, in the message field go to "To" and tap and hold "Paste" to paste the copied text.
Now, you just have to wait a few moments and then press the Home button. After pressing the Home button you will reach the Home screen and the lock will be lifted. Unfortunately, this procedure does not always work.
Way 3: Get into a Locked iPhone 13 with Security Lockout Mode (iOS 15.2)
You can make your iPhone 13 enter the security lockout mode and then erase it if the device is running the iOS 15.2 system. However, this method only works if you've signed your Apple ID in the device and the device has a network connection. The detailed steps:
On your Locked iPhone 13 screen, enter the password for many times you see an "Erase iPhone" appear on the lower right corner.

Then select "Erase iPhone" and enter the Apple account's password.

Now you need to wait for the erase process to complete and set up your iPhone 13 again.
Way 4: Get into a Locked iPhone 13 with iTunes
The most used option used by a lot of users is iTunes. Many people think that if you get into such trouble, connecting the device to iTunes will get it solved. It is true but it is cumbersome. There is a huge procedure and then you can get it done. Not to forget the sudden crashes and bugs that you may encounter while using iTunes. First, you have to put the device into the recovery mode and then you can restore it using iTunes. So, how to get into a locked phone using iTunes:
Run the iTunes app on your computer.
Get a USB cable and connect your computer only.
Get hold of your iPhone.
a. First tap the Volume Up button and then tap on Volume Down button. Then finally press and hold the Side button for iPhone X, 8 and 8 Plus.
b. For iPhone 7 and 7Plus, press and hold the side and volume buttons together at the same time. Leave them after the device enters recovery mode.
c. For iPhone 6 and earlier models, tap and keep pressing the Home and Power button and just wait for recovery mode.
Now, plug in your iPhone with the original USB cable which is connected to the computer previously.
When iTunes detects your device in recovery mode, a message prompt will pop-up saying "There is a problem with iPhone that requires it to be updated or restored"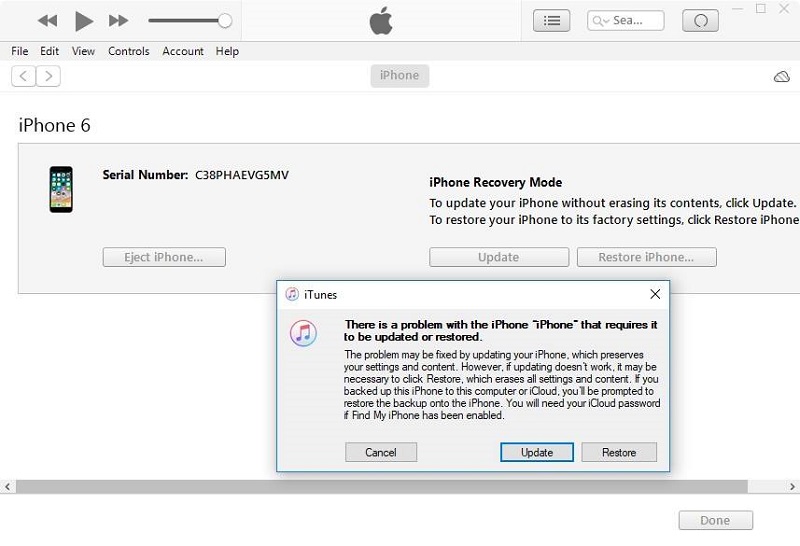 Tap Restore and iTunes will verify again to erase all your data and settings.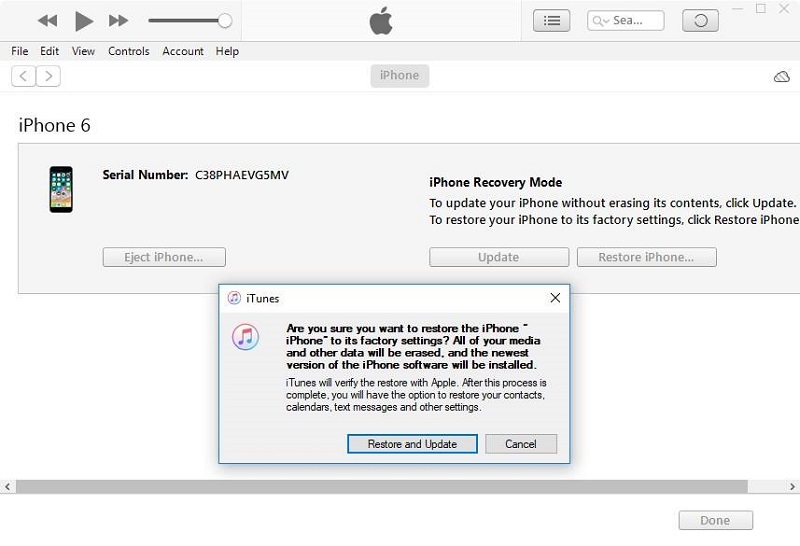 Tap "Restore and Update" and then iTunes will be downloading the software and restore your device
Now, your phone is unlocked, and you can use your iPhone easily.
Way 5: Get into a Locked iPhone 13 with iCloud
The last and final solution to your locked iPhone problem is iCloud. As usual iCloud and iTunes are the most significant apps designed for iOS devices. Although iTunes provides a potent method to solve the issue, iCloud on the other hand also provides a solution. iCloud will let you enter the iPhone without the password. The only thing here is that the procedure is a bit different and complicated! It basically uses Find My iPhone feature to remotely unlock your iPhone. So, how to get into a locked iPhone without the password, the description is mentioned below:
First, open your computer. Now, open a browser and go to icloud.com
You have to enter your iCloud account using your designated Apple ID.
Now, click on "All Devices" from the top.

Then select a device, in this case, it is your iPhone.

Click on the "Erase" button.
If you go through this procedure using iCloud, then it will erase all the data on your iPhone and you will be able to unlock the iPhone without the password.
FAQs about A Locked iPhone 13
1. What does it mean when an iPhone is locked?
iPhone is locked can have different meaning in different cases.
Case one: You are locked out of with password or iCloud account you forgot and you are unable to enter iPhone.
Case two: iPhone is locked with special carrier. In this case, you can only use SIM card from that carrier.
Case three: Locked iPhone means "jailed iPhone". You can only use application approved by Apple.
2. How many attempts do you have to unlock an iPhone?
If you have 6 failed attempts, you will have 1 min locked out, 7 for 5 mins, 8 for 60 mins, 10 for complete lockout and data erase.
Conclusion
This is a very common problem faced by thousands of users every year but instead of taking the device to the nearest Apple Store you can use any of the solutions mentioned above to get rid of the problem. Siri can help you unlock your device but it may not work always. The iCloud and iTunes are the oldest iOS apps and people have been using them to unlock their iPhones for years but you can also use the third-party tool Tenorshare 4uKey to unlock the iPhone effectively and faster than any other method listed here. It is easy to use and doesn't involve any complicated steps unlike other methods here in this article. We highly recommend this software!
Remove Any Password in Minutes
Remove Apple ID or iCloud account on iPhone/iPad without password
Remove screen time passcode in 3 simple steps
Fix disabled iPhone/iPad without iTunes or iCloud