iOS 16 Depth Effect Wallpaper Not Working? Fix Now
by Sophie Green Updated on 2022-09-30 / Update for iOS 16
The new iOS 16 allows iPhone users to customize their lock screens. Depth effect on custom wallpapers is one of the popular features that gives the wallpapers a cool 3D looking effect. However, iOS 16 depth effect not working seems to be an issue. This blog prepares both step-by-step solutions and video tutorial for you.
Part 1: What is Depth Effect in iOS 16 and How to Use
Briefly, the Depth Effect in iOS 16 positions the subject of a picture in front of the time on Lock Screen, giving a multi-layered photo effect. Based on AI image processing, it only places the subject over the time, while the background is still underneath. Let's look at how to use the Depth Effect.
Long press the lock screen and it will ask you to unlock to edit. Enter the lock screen passcode.
Swipe left and then tap on the blue + icon. Choose the photo you want to set as wallpaper. Make sure there is a visible and clear subject.
Now tap on the three dots in the bottom right corner and select depth effect to enable it.

On the top right corner of the screen tap on Done.
Part 2: Why is iOS 16 Depth Effect Not Working
The iOS 16 depth effect of your iPhone is heavily dependent on the hardware capabilities and the pictures you choose. Here we summarized three main reasons of iOS 16 depth effect not working.
a. iPhone does not support Depth Effect Wallpaper:
Powered by the A12 bionic chips or later, the depth effect is better available on iPhone XR to iPhone 14 models with iOS 16. (iOS 16 itself supports iPhone 8 and later.)
b. You have not set it correctly:
For example, your wallpaper is not positioned correctly or there are widgets on the lock screen.
c. The wallpaper you choose is not available for depth effect:
The pictures you choose should be taken in Portrait mode, and have a highlighted subject.
Part 3: How to Fix Depth Effect Not Working iOS 16
Now that we have know the three main causes above, let's see how to solve iOS 16 depth effect not working in detail. Here are prepared 5 tips.
1. Enable Depth Effect Feature
Although you can use the iOS 16 Depth Effect on iPhone XR/XS/11/12/13/14, this feature is not turned on automatically. You need to enable the depth effect before applying it while customising the wallpaper. When enabled, it will display a tick mark.
2. Remove Widgets on Lock Screen
The lock screen widgets can cause the iOS 16 depth effect not working. You have to remove all the widgets on the lock screen, except the time. Tap on the "-" sign on top of each widget to remove it or do not add any widgets while setting.
3. Force Restart iPhone
You can also force restart your iPhone if the depth effect seems to be disabled or not working even you have done every steps correctly. Quickly press and release the volume up and down buttons in succession. Then long press the side key until the device turns off and Apple logo appears.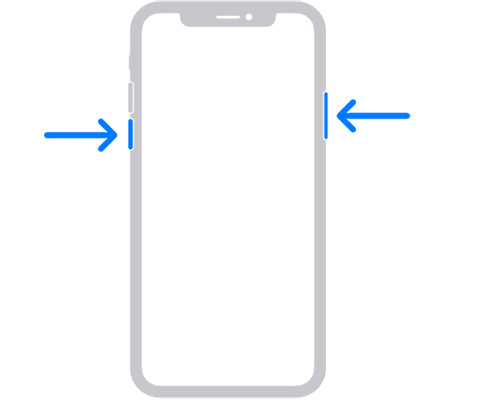 4. Use Appropriate Pictures
The usage of iOS 16 Depth Effect is largely related to the picture you choose and set as a wallpaper. So if Depth Effect is not working, check out the following tips:
The Depth Effect will have trouble locating and isolating one subject if your wallpaper has different or unlcear ones.
The subject in the picture should not be too large or too small. You can zoom in or out to adjust and adapt while setting.
The format also needs to be in .JPG for the depth effect to work.
5. Fix iOS System Issues with ReiBoot
If the problem of iOS 16 depth effect not working still appears, it could be an issue in the iOS. It has been reported many bugs in the new iOS 16. And to fix iOS problems, there are third party apps like Tenorshare ReiBoot that works just fine. Follow the directions below:
Download and install ReiBoot on your computer. Run the program and click Start to fix iOS system problems.

Connect your iPhone using the lightning-fast cable, and select the Standard Repair mode.

You have to download the latest iOS firmware package.

After that, click on Start Standard Repair. Once the process is done, your iPhone will reboot automatically and your issues will be resolved.
Part 4: Check Video Tutorial on iOS 16 Depth Effect Not Working
Part 5: More FAQs on iOS 16 Wallpaper Depth Effect
1. Do default wallpapers have Depth Effect feature?
Many iOS 16 default wallpapers have depth effect, such as the astronomy and collection wallpapers. If you do not have an appropriate picture but do want to use depth effect, then choose these wallpapers.
2. Can I use Perspective Zoom and Depth Effect at the same time?
You can enable the depth effect and perspective zoom feature simultaneously at the early stage of iOS 16 Beta. The latest iOS 16 official version removed the Perspective Zoom. But Pinch to Crop is available.
3. Will Depth Effect work with Photo Shuffle?
Yes, it does work, as long as you have enabled the depth effect and all the images being used are compatible with depth effect.
Conclusion
Depth effect provides a certain swagger to your lock screen wallpapers and if iOS 16 depth effect is not working on your iPhone, check out the above tips. You can see if your iPhone supports the feature, or if the effect itself is enabled. It could also be that depth effect isn't compatible with the wallpaper. And the last suggestions is Tenorshare ReiBoot, which fixes lots of iOS 16 system problems.
Fix iPhone Stuck and Update Issues without Data Loss