iOS 16: How to Show Battery Percentage You Should Know on 2023
by Anna Sherry Updated on 2022-08-12 / Update for iOS 16
After WWDC kicked off, we will be greeted by the official version of iOS 16 sooner or later. Now Apple has updated iOS 16 5 beta with a noteworthy feature. It's not so much a new feature as a return to an old one return, that is the battery percent indicator added back to the status bar, helping you know your battery percentage without click at any time. However there are battery percentage not showing on some user's iPhone. You may be wondering why iOS 16 battery percentage not showing and how to Show Battery Percentage in iOS 16. This article can help you get any information you want and answer all your question.
Part 1: Do You Know Why iOS 16 Battery Percentage Not Showing
What exactly reasons bring about iOS 16 battery percentage not showing issue to you? Here are 3 reasons as culprit to the issue:
1.You don't turn on Battery Percentage on your Settings.
In this situation, you can go to Settings>Battery> Turn on Battery Percentage.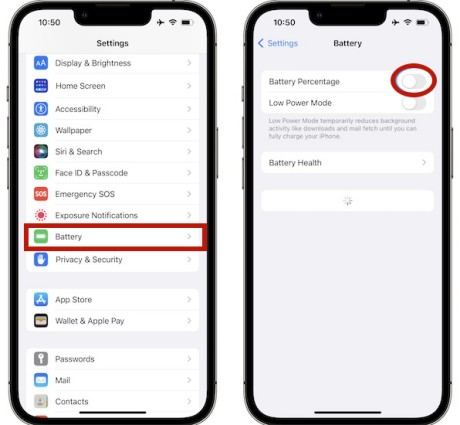 2.Incompatible with your iPhone.
Based on our tests and feedback from user's and developers who download iOS 16 5 beta, we find iPhone 12/13 mini, iPhone 11 and iPhone XR are unavailable to show battery percentage on status bar, and iPhone 12/13, iPhone 11/12/13 Pro, iPhone 12/13 Pro Max, iPhone XS, XS Max, iPhone X are available to show. But this is not ultimate models, Apple probably would make more models become compatible with this feature.
3.Bugs of New-released iOS 16.
iOS 16 beta is noted for instability with known and hidden bugs. So, if you can't show your battery percentage on status bar for both of the above reasons, maybe due to a bug in iOS 16.
Part 2: How to Show Battery Percentage in iOS 16
1.Swipe down your phone screen.
The quickest way to show battery percentage on your iPhone is just swipe down your unlock screen from the top-right corner and then access Control center to the battery percentage.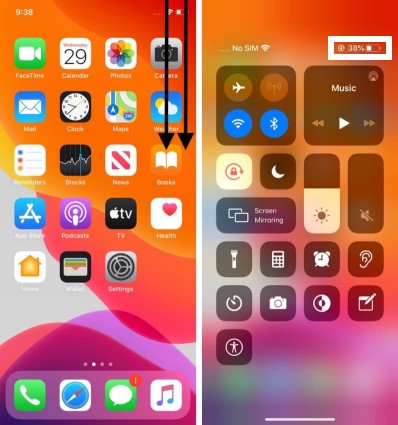 2.Add the battery widget to your home screen.
You can add the battery widget on your home screen see your battery percentage on the first page home screen.
Long press any blank area of the home screen.
Tap the "+" in the top-left corner.
In Search Widgets section, tap "Batteries".
Tap Add Widget to add it to show battery percentage on home screen.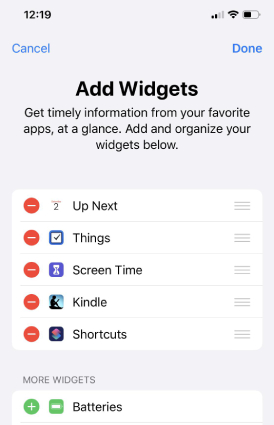 3.Swipe right to your Today View.
Hidden in the home screen, Today View can give daily information you need and help you glance at your day, including schedule, weather, news and messages and so on, you can see your iPhone battery percentage definitely too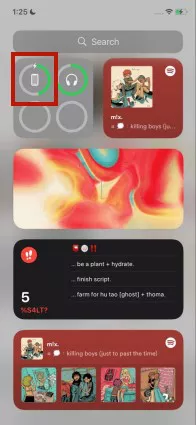 4.Invoke Siri.
If your hand is inconvenient, you can invoke Siri and ask it to help you check the battery percentage with words and voice.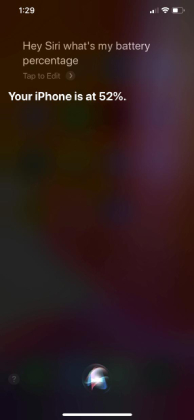 5.Charge your iPhone.
You can see the battery percentage on the lock screen when you charge your phone.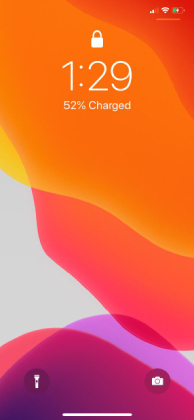 6.Tap into Battery Settings.
If you need precise analysis about your battery health of device and battery consumption on app, you can tap into Settings and find Battery to find. There you also can see your battery percentage.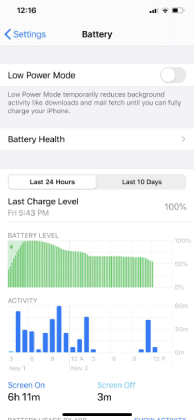 Part 3: How to One-Click Fix All iOS 16 Bugs With Reliable Tool
If all ways above cannot solve your iOS 16 battery percentage not showing problem, unfortunately, your phone may have bugs. But don't worry. Tenorshare ReiBoot can help you safely fix all iOS 16 bugs without data loss, besides, ReiBoot support all other version and models of iPhone. Here are the 4 concrete steps:
Download and install ReiBoot, click "Start" and then tap "Fix Now".

Click on "Repairing Operating System".

Next, click "Download" to start downloading firmware package.

After downloading the firmware, you should click "Start Standard Repair" to start fixing the iOS 16 bugs.

After the repair is done, your iOS device will automatically restart.
Bonus Tip: Why Is My iPhone Getting So Hot
iPhone or other devices get overheated is very common. Generally it happens when your device overloaded many apps or the overworked hardware for a long time, so the battery and system-on-chip will generate heat without built-in fan. But there are also some situation can bring about this problem.
1.Not certified charger.
Cheap charger could be potentially harmful and cause overheat to your iPhone.
2.Airtight phone case.
Some users have phone cases maybe trap iPhone in the heat that's generated while charging.
3.Maximum brightness of screen.
Keeping brightness to maximum is a real pressure to device, particularly under the sun or hot weather.
4.Background App Refresh
This also stress iPhone app to maintain always ready to launch and result in overheating.
5.Battery Drain.
Your battery could be drained and out of battery life. Therefore your battery is fragile and couldn't handle the same level of work as before.
6.Crashing app.
If you have app stuck in white or black screen, suddenly close or disappears when you tap to launch it, your app is crashing and get your phone so hot.
Conclusion
In this article, we mainly talk about why battery percentage not showing and how to show battery percentage in iOS with tip of the reason why iPhone get so hot. Hope you can find useful information here. iOS 16 still need a large improvement and innovation for it is much-anticipated among users. Nevertheless, if you unfortunately got some problems in iOS 16, you can contact Apple and ask for help. In addition, Tenorshare ReiBoot can be your trustworthy backup for fixing all your iOS 16 bugs and problems, it also can help you downgrade iOS 16 to the previous version if you regret to update.
Fix iPhone Stuck and Update Issues without Data Loss