iOS 16 Software Update Stuck on Install Now, 6 Ways to Get Rid Off
by Anna Sherry Updated on 2022-09-01 / Update for iOS 15
My question is what to do when a wheel located next to "Install Now" is spinning? It has been spinning for nearly 2 hours. It's trying to install Software Update iOS 16 beta on an iPhone 11?"
Generally, this issue could be caused by different factors such as a busy server, software problem, network problem, or low internal memory. Don't bother about this issue because we have found the most reliable ways to fix iPhone's software update install now spinning.
Is It Safe to Install iOS 16 Beta
Installation of iOS 16 beta is quite safe as it can hardly cause any permanent damage to your iPhone or iPad. However, you should note that the iOS 16 beta is not yet stable. On Apple's website, it is stated that the beta version of iOS 16 has certain errors and bugs. So, you may experience some crashes and other issues while using iOS 16 beta on your iPhone, iPad, etc. Therefore, you should consider this before installing the iOS 16 beta.
What Should You Do When iOS 16/15 Update Stuck on Install Now
If your iPhone software update install now is spinning, you can do a few things to fix it. The things you should do are described below:
Solution 1. Force Restart iPhone 14/13/12/11/X/8/7/6s
The first solution you should explore is force restarting your device. It is worthwhile to realize that different iPhones have varying ways to force restart it.
For iPhone 8/X/11/12/13/14
Press the "Volume Up" button quickly and then press the "Volume Down" button quickly too.
Press and hold the "Side" button of your iPhone until the screen goes off and the Apple logo appears.
For iPhone 7/7 Plus
Firstly, press and hold the "Sleep/Wake" button. This button is found on the right side of the device.
While still holding the button, press the "Volume Down" button. Release the two buttons when you see the Apple logo on your screen.
For iPhone 6s
Press and hold the "Home" button and the "Power" button simultaneously.

Once the Apple logo appears on the screen, release the two buttons.
Solution 2. Using iTunes to Restore iPhone with Complex Steps
The second method involves the use of iTunes to restore your iPhone. Follow the steps below:
Use a USB cable to connect your iPhone to a computer with the iTunes app.
The next step is to launch the iTunes app on your computer. Look at the top left of the app and tap the "Device" button.

Then, you should tap the "Summary" option. Lastly, hit "Restore" and follow the instructions on the screen.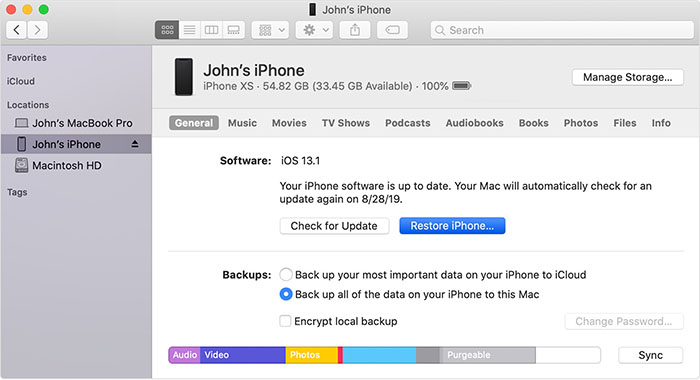 Although this solution may fix the software update of iPhone stuck on install now, it has some downsides. The first downside is that you need a computer with an iTunes app and account. So, if you cannot access iTunes, you cannot use this solution.
Another drawback is that it will erase all data and settings on your device. However, it will back up your data; so, you can restore the data and settings from iTunes. But this makes the process to be too complex.
Solution 3. Solve Software Update iPhone Stuck on Install Now with Ease
Is the iOS update stuck on install now after using the two solutions above? Tenorshare ReiBoot could offer you a dependable solution. The program is for solving numerous software issues.
Here is a great video that will walk you through the entire process!
Download, install and run Tenorshare ReiBoot on your computer. With a USB cable, you have to connect your iPhone to the computer. Once the device is recognized, you should click "Start".

Then, hit the "Standard Repair" button. Take the time to read the information on the screen before proceeding. Afterward, hit "Standard Repair".

The next step is to click "Download". This allows you to download the latest firmware package to fix the iOS problem.

Afterward, you have to hit "Start Standard Repair". ReiBoot will repair your iPhone automatically.

Once the process is complete, your device will no longer be stuck on install now.
Other Questions about iOS 15.5/16 Stuck on Install Now
Q1. Why is iOS taking so long to install?
The installation of iOS is taking so long to install because the file is around 5 GB. Hence, it is large and may not be downloaded or installed quickly. However, you should understand that it may also take so long to install if your internet connection is poor.
Q2. Can I Skip Software Update on New iPhone?
Yes, you can skip a software update on a new iPhone. Nonetheless, if you want to get a later update, all missing updates will be downloaded on your device.
Fix iPhone Stuck Issues without Data Loss