Android Knowledge: What Does Restart Bootloader Mean?
by Anna Sherry Updated on 2020-06-08 / Update for Android Tips
An encrypted bootloader could frequently be the bone of disagreement for the ones who love a manufacturer's hardware and they want to tamper with their devices. LG, Samsung, Motorola and HTC and all other companies frequently ship their devices with encrypted and locked bootloaders. Quite often, it is done as the carrier who had the handset manufactured for them wishes it locked up. This does empower an additional layer of safety for end users, but it makes it hard to install new firmware to the handset. Let's dive in and get to know what is restart bootloader and what you could do with it.
Part 1: What Is Restart Bootloader?
Bootloader is a set of instructions or utility software that helps the operating system to configure what to load and the sequence of their loading. If you correctly reboot the bootloader, it unlocks the specific parameters and enables the user to modify the stock operating system.
The bootloader is a utility that you use when your device doesn't start properly, and you need a software tool that helps you solve the underlying issues and make the device work properly. The bootloader also helps you to reset a device that you can't reset by any other method.
Functions of a bootloader:
The following are some utilities that the bootloader offers you. You can use the bootloader if you want to do any one of these:
Reboot a device that you can't reboot by any other method
Flash your device's ROM manually
View the key device information details
Part 2: How to Enter the Bootloader Screen?
You have to complete the following steps to enter the bootloader screen. (Note: different device adopt different method to get into the bootloader. Here, we take LG Devices as example.
First, power off the device
Press and hold the power buttons and the volume down buttons together, don't release until you see the LG logo.

Then, you will get into the bootloader screen. You can use the "volume up" and "volume down" button to select the options.

pic: bootloader interface
Part 3: What Can You Do in The Bootloader Screen?
The next thing that you need to know is what you can do on the bootloader screen. The following are some significant options that you will find on the bootloader screen, and you can do these operations using a bootloader:
FASTBOOT:
This option provides you with the facility to exit the bootloader. You can also manually flash a device using a USB drive.
HBOOT:
This option helps you in returning to the main bootloader screen.
REBOOT:
This option reboots the device in a normal way.
REBOOT FASTBOOT:
This option reboots the device but on the Fastboot screen.
POWER DOWN:
This option is used to power off the device.
RECOVERY:
This option performs Wipe Cache Partition action.
FACTORY RESET:
With this option, you can reset your device if the operating system is corrupt and inaccessible.
SHOW BARCODE:
This option allows the key device information to be visible. This information is IMEI and Serial number if the operating system is inaccessible.
Android Tip: How to Get into The Fastboot/Download Mode on Android device easily?
You may think it difficult to get into the fastboot or download mode on Android device if you are not familiar with Android operate system. Why not try to use a tool to help you quickly enter the fastboot mode? Here, we recommend a popular tool for you, that is Tenorshare ReiBoot for Android, which can help you one click to enter the fastboot or download mode. Here's the procedure.
Download the ReiBoot on your laptop or PC and connect your device with it. Here, you can select the option "One-Click to Enter Fastboot Mode."

You need to enable USB debugging on your device, just follow the on-screen instruction. The program will automatically detect your device brand.

Then your device will start entering the Fastboot mode, you will have to wait for a little while until the entering process is finished, and your device will enter the Fastboot mode after that.
Note: Keep one thing in mind that Samsung device doesn't have Fastboot mode, you can choose download mode or recovery mode which is similar as fastboot mode.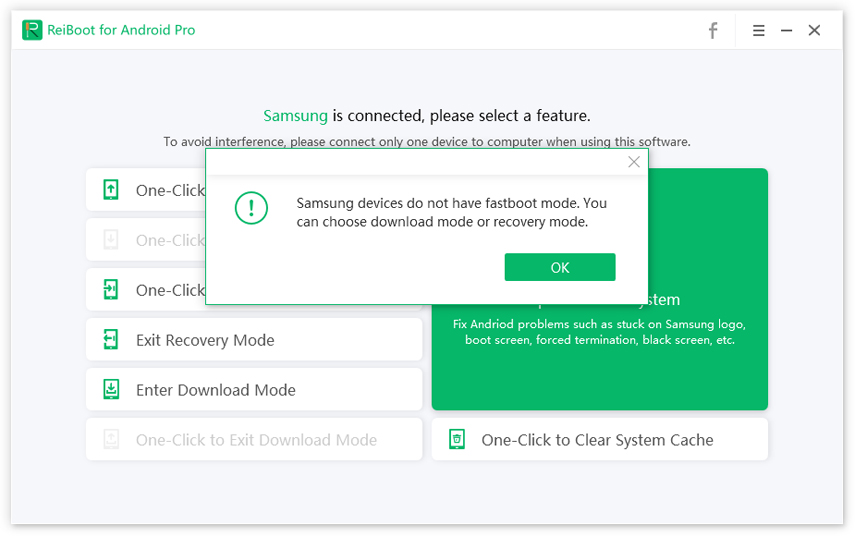 Conclusion
The reason behind choosing Tenorshare ReiBoot for Android is the ease of following the steps. There are no complicated steps that you have to follow to reboot your device and resolve its booting options. All the steps that we mentioned above will help you boot your device through USB, and you will get all your device issues resolved. What you have to do is to try these steps at your device and get benefitted. I hope this information helps you as intended, and you get your properly working device back!