How to Enter or Exit LG Download Mode with Only 1 Click
by Anna Sherry Updated on 2019-11-30 / Update for Android Tips
"LG G4 won't go into download mode. I got an lg g4 that works fine, however it refuses to go into download mode. Volume up and power button does nothing."
If you have ever customized your LG device, you may have likely used the LG download mode to do so. Even if you are new to the mode, you can still use it with ease and customize the functionality of your device to a great extent. The mode should let you add a number of custom features to your device that are not available by default on your device.
In order to use the download mode LG, you are going to need to first enter the mode on your device. It is not an app that you can launch and start using it. It is a mode that runs off of the BIOS of your device and is completely detached from the operating system. If it sounds scary to you, do not worry as it actually is not.
Entering the download mode on an LG device is pretty easy provided you know how to do it. The following guide should teach you how you can enter or exit the download mode on any of your LG device so you can then customize the device.
Part 1. One Click to Enter/Exit LG Download Mode for All Models
If you want a fuss-free method to get into and out of the download mode on your LG device, your best bet is to use a dedicated software that helps you do it. ReiBoot for Android is a software that will guide you how to reboot your LG device into the download mode and exit HTC download mode with only one click of a button. Using the software is so easy that you will want to get into the download mode again and again.
1. Free to Enter LG Download Mode with ReiBoot for Android
Here is how you can use the software to enter the LG G3 download mode and other LG seriers are supported as well.
Step 1 Download and launch the software on your computer. Connect your LG device to your computer using a USB cable.
Step 2 On the main interface of the software, you will find an option that says Enter Download Mode. Click on the option to enter the download mode on your LG device.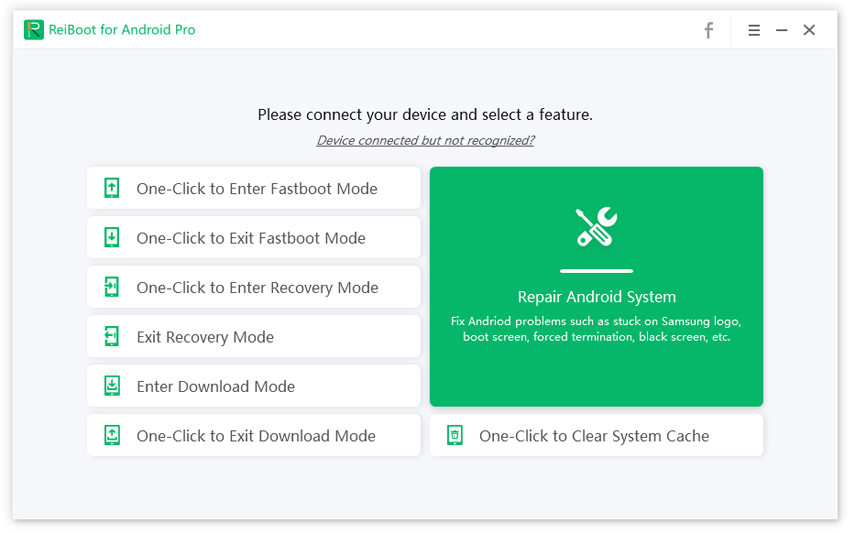 Step 3 Choose your device brand and then follow the guide to enter download mode.
You may now use the mode to flash custom files and add new features to your device.
2. Free to Exit LG Download Mode with Only One Click
If your LG phone gets stuck in the download mode and won't boot, there is an easy way to exit download mode with only 1 click using ReiBoot for Android.
Step 1 Connect your phone to your computer using a USB cable. Launch ReiBoot for Android and click on One-Click to Exit Download Mode.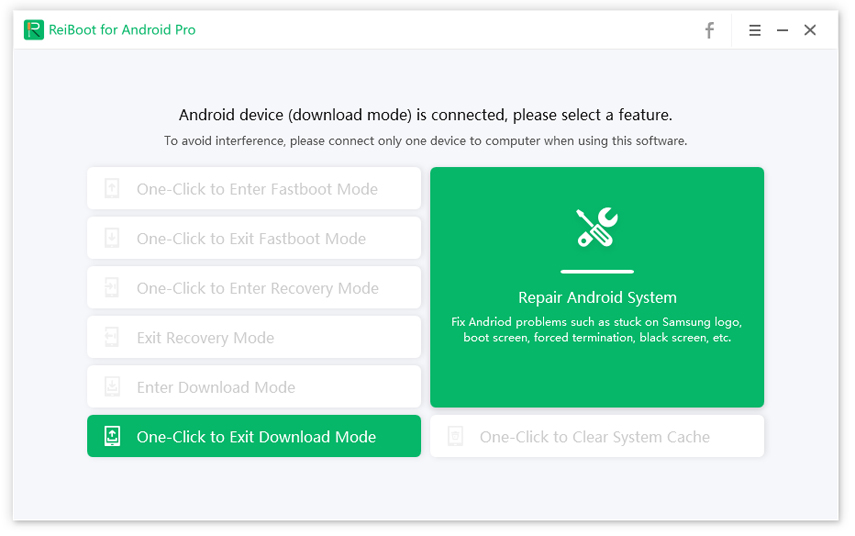 Step 3 Your device will automatically reboot and get out of download mode and you will see the following message on your screen.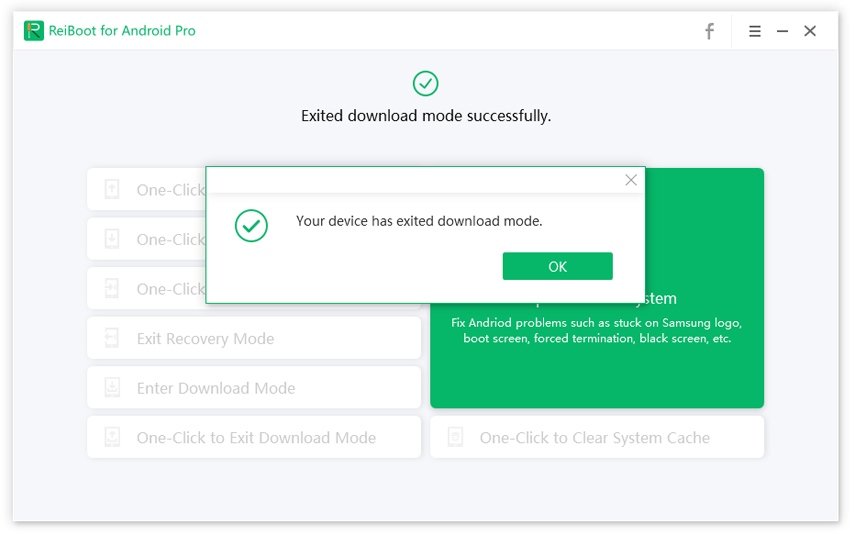 Part 2. How to Boot LG into Download Mode with Buttons?
Another way to get your LG device into the download mode is to use a key combo. Each of the Android devices including your LG Android phone comes with a key combo that lets you enter the download mode. Here is how you manually access the LG G4 download mode:
Step 1. Turn off your device if you have not already done so.
Step 2. Press and hold down the Volume Up button on your device. Plug-in one end of the USB cable to your device.
Step 3. Your device should enter the download mode.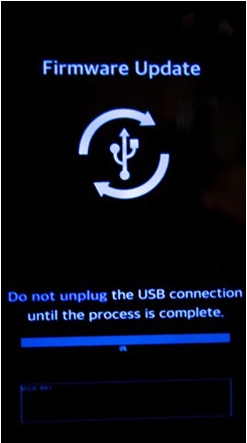 Now that you are in the download mode, try to add some extra features to your device from your computer.
Part 3. LG Stuck on Download Mode and Won't Boot, How to Fix It?
While most LG phones will not give you an issue, there are times when your phone may get stuck in the download mode. If it ever happens to you, you have several ways to take it out of the download mode.
Method 1. Force Restart
The first thing you should do when you find that your phone is stuck in the download mode is to force reboot the device. It will reboot your device back into the normal mode.
To do so on your LG phone, press and hold down the Power and Volume Down buttons for about ten seconds. You will see your phone reboots.
Method 2: Take Out Battery
If force reboot did not do the job for you, another option you have is to pull the battery out of your device. Doing so will force the device to shut down as it simply will not have a power source to use.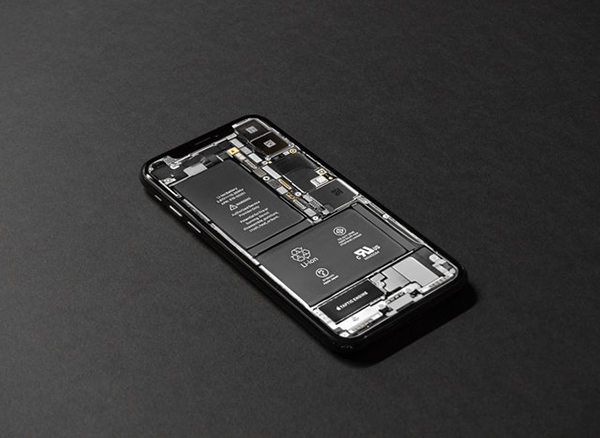 To do it, remove the back cover of your phone, pull the battery out of your device, put the battery back in after a minute, and turn on the device.
Method 3. Using LG Bridge
LG Bridge (former LG Mobile Support tool) lets you deal with download mode stuck issues by updating the software on your LG device. Download the tool on your computer, connect your device to your computer, and update the system version on your device using the tool in follwing steps. Your phone will then reboot into the normal mode.
Step 1. Run LG Bridge and go to Software update on the software interface.
Step 2. From the main interface, click on Updata error Recovery. Make sure your phone is connected properly with a USB cable.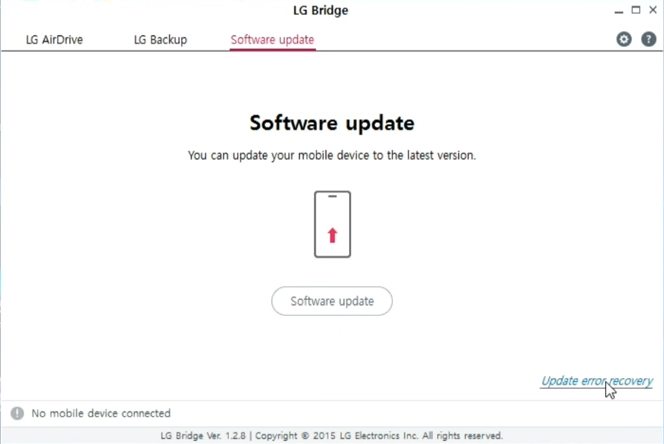 Step 3. The software will prompts you that personal data may get lost. Check the box and click OK to start the software updata.