Top 5 Android Problems and Trouble Solutions
by Jenefey Aaron Updated on 2019-07-25 / Update for Android Tips
Even though Android platform has been updated constantly and brought users with a lot of new features and improvements, it still cannot be free from problems. Android phone or tablet users could experience problems at one point or another. To help Android users better deal with such problems we summarized some of the most common Android problems and solutions (available for Android 6.0 M, Android 5.1/5.0 Lollipop, Android 4.4 KitKat and lower).
1. Android Won't Respond
Problem: It may happen that your Android phone or Android tablet will not respond at all no matter which button you press. The screen turned off and the phone behaved as if it was turned off which actually wasn't.
Solution: When the phone is unresponsive we usually remove the battery. You can also fix this by restarting it especially for those who don't have battery to remove. You can do that by holding the power button for a few seconds and then tapping Restart phone.
2. SD Card Can't Be Recognized
Problem: Most users come across problem with SD card. Once the expansion cards get corrupted and can't be recognized by Android, you may loss very essential data from it.
Solution:The most effective solution is to try to reformat SD card using a desktop or laptop PC. Using the standard file explorer, you should be able to right-click and choose the format option to bring it back to life. You should know that all data on your SD card will be erased after this. To recover data saved on SD card, you can refer to post How to Recover Data on SD Card.
3. The Device is Overheating and It Turns Off by Itself
Problem: When the phone is too hot to hold, it's too hot. The overheating could be resulted from a variety of reasons. Or it's just that the battery improvement can't catch up with hardware improvement.
Solution: An overheating phone can be a nasty problem. To deal with this problem, you can turn off the phone, take out the battery and let it cool. If the overheating problem continues, have the phone looked at for potential repair. The battery might need to be replaced.
4. The Small Popup Menu Doesn't Appear after Holding Power Button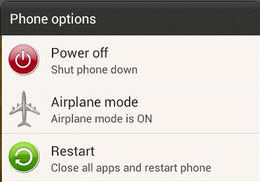 Problem: This is also one of the most often encountered Android problems. You've hold the power button for a few seconds, but the small Phone options menu (showing in the picture below) still doesn't show up. This menu allows you to power off your phone, turn off or on airplane mode or restart your phone.
Solution: Restoring to factory settings is the best way to solve such problem. To do this, you need to go to Settings > Backup and reset > Reset phone. However, you will lose all data on your device after factory reset. If you need to restore your Android data, Tenorshare Android Data Recovery could be a great help. It is an easy yet powerful application to recover data from Android after factory reset, rooting, error deletion, etc.
5. The Battery Drains Too Fast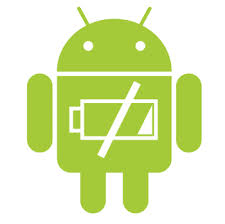 Problem: Battery drain seems to be a never ending saga for Android. No matter which version you are using Android OS simply is a battery hog. In fact, this problem arises due to running many apps in background like Bluetooth, Wi-Fi and GPS, which drain out your battery quicker than you can imagine. Other reasons include playing more graphics enabled games etc.
Solution: To maintain battery, you need to make sure that you've turned off such services when not in use. Other solutions to deal with battery drain are to disable auto-update of apps, adjust brightness level of your screen, and delete unnecessary apps.
Hopefully you could solve these common Android problems next time. Feel free to try out the quick tips above and you're also welcomed to share your trouble shooting tips with us in the comments.