Best Review of Unlock Mtool 2023 Ever
by Jenefey Aaron Updated on 2022-12-16 / Update for Unlock iPhone
The iCloud Activation Lock is one of the most secure protection for Apple users. So, it won't be easy to bypass this iCloud lock if you just got a used iPhone /iPad/iPod touch. But there are a few professional tools that have made it possible for regular users.
Among these professional tools, Unlock Mtool 2019/2020 is a popular one. It is well-known and claims to be one of the powerful unlocking tools on the market. So, we thought it needs a closer look. Check out our detailed discloser of Mtool below.
Part 1: What is Unlock Mtool 2019/2020?
The Unlock Mtool 2019(also called Unlock Mtool (iLocked+)  is a lock removal tool. It is capable of removal of different types of locks; the list includes iCloud Activation Lock, IMEI lock, Carrier locks. It is also capable of fixing iPhones that have locked or disabled.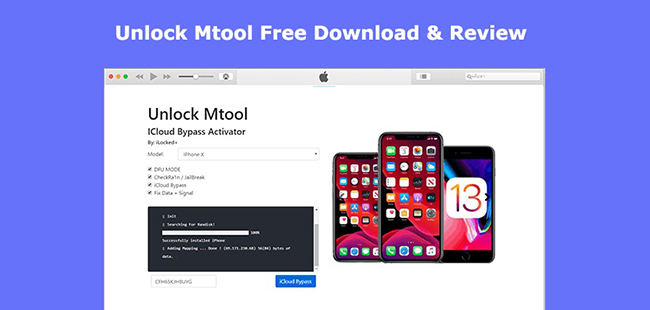 So, the Mtools seems to be very convenient, especially for iOS users. Due to the tool's multiple functions, we need to confirm whether does it work in reality.
Part 2: How Can I Get Unlock Mtool 2019/2020 Download Link?
So, about the Unlock Mtool 2020 downloadm, it is one of the difficulties faced by the users when they try to get this software.
The users have trouble locating the official link to download Unlock Mtool as there isn't one. This forces the users to download the tool from various third-party hosts which are very risky for various reasons.
Part 3: Is Unlock Mtool 2019/2020 Really Useful or Trusted?
As far as we know about Unlock Mtool, we don't get a positive vide. It is simply not possible to put our trust or rely on software that doesn't even have an official download link.
There aren't any official websites for Unlock Mtool as well. The user reviews are also mostly negative. But we still have conducted our research for the common iPhone models such as iPhone 6S/iPhone 8/iPhone X, and none of them work. So ur opinion is also negative about this tool. We recommend staying away from this tool.
Part 4: [Best Alternative]2020 iCloud Activation Lock Removal-4MeKey
While we have proven that Unlock Mtool is not the way to go, you will also need a way to remove the iCloud Activation Lock.
Well, we have a recommendation after many reliable tests on iPhone 5S-iPhone X. The best alternative option or simply one of the most used and reviewed iCloud unlocker program in the market is Tenorshare 4MeKey. It is great, capable, and easy to operate. Let's check out a few outstanding features of this iCloud Activation Lock removal tool.
Removes iCloud Activation Lock as fast as possible within minutes.
iOS password or the Apple ID is not required for the iCloud lock removal.
Compatible with major iPhone models starting from iPhone 5S to iPhone X.
Completely supports iOS 12.3 to 13.6.
Not only these, but there are also significant advantages of using this program as well.
First of all, it is easy to use with clear guide.
The interface is simple and easy to understand even for newbies.
Almost universal compatibility.
Works on both Windows and macOS platforms.
1-year license only costs $39.95.
While there are several advantages of using this unlocker tool, you should also look into the operational procedure. We have detailed it below, let's check it out.
A Video Guide: How to Remove iCloud Activation Lock
Install 4MeKey on a computer. Launch it, then click on 'Remove iCloud Activation Lock' on the program interface.

Then, an agreement notice will appear. Check the box below and click 'Next' to proceed.

Now, 4MeKey will jailbreak the iOS device. You will be instructed all the way. But the procedure is different on Windows and Mac.

After the jailbreak is finished, click 'Start Remove'.
Now, you just have to wait. After the iCloud Activation Lock gets unlocked successfully, you will be notified. And remember that don't tend to restart or factory rest or flash the firmware, or it will be locked again.
Unfortunately, this is a newly launched tool on the market. So, there have been a lot of speculations regarding the legitimacy of this software. But it has a solution to a lot of problems, so we thought it needs a closer look. And it lives up to all of its claims.
Conclusion
Therefore, Mtool comes with a lot of claims. But on a closer look, it revealed all its secrets and turned out to be a useless tool that comes with the risk of malware infection upon download. So, stop taking such unwarranted risks and use Tenorshare 4MeKey. It does not only remove the lock fast and efficiently, but it is also a legitimate option.