iCloud Unlock Service: Top 5 Reliable iCloud Activation Lock Removal Tool
by Jenefey Aaron Updated on 2020-08-18 / Update for iCloud Tips
The iCloud unlock service used for removing the iCloud Activation Lock. The iCloud lock is known for its strict security measures all over the globe, and it is designed to secure user data as effectively as possible. But then it also becomes an issue for the users who failed to provide the required credentials while resetting the iOS device. Hence, the need for iCloud Unlock Service.
Part 1. What is iCloud Activation Lock?
When you first activate your iPhone, the Apple ID gets associated with your device's unique identifier. or When you get a second-hand iPhone/iPad/iPod touch, it's possible that your device's iCloud get locked.
This is a strict security protocol maintained by Apple to make their devices even safer. After this lock gets activated, the device can't be reset without proper credentials which are a combination of username and password.
Part 2. Do iCloud Unlock Services Work?
So, do iCloud unlock services work? Not all claimed iCloud unlock services work especailly free of charge. You need to be very careful while you pick one to use. We would recommend staying away from any iCloud unlock free service, as they are mostly a scam. Most of them don't even have an official link.
Still, if you are having a hard time choosing a good iCloud Unlock Service, let us help you. We have detailed top 5 iCloud Unlock services below with the necessary details. Check them out.
Top 1. Tenorshare 4MeKey-Best iCloud Unlock Service
The first one on our list is Tenorshare 4MeKey. You may have already guessed it, and it is true. Tenorshare 4MeKey is the best iPhone iCloud unlock service on this list and the market as well.
First of all, the program is developed by Tenorshare. It is a trustworthy company that has developed several leading tools related to the iOS market. Any beginners can have chance to operate with the highest success rate in the industry.
Pros
Operation is simple
Easy-to-understand interface
The price is reasonable
Compatible with all the iOS versions and iPhone models, starting from iPhone 5S-X
Works on both Windows and Mac
Fast to remove Activation Lock within minutes
Price:
1 Month License for 5 devices, $35.95.
1 Year License for up to 5 devices, $39.95.
Lifetime License for up to 5 devices, $49.95.
Success Rate: Among all the iCloud unlock services, Tenorshare 4MeKey comes with the highest success rate.
Operation: Now, it is time to check out the operation of this popular and most effective iPhone 6S iCloud unlock service.
Video Tutorial: How to Remove iCloud Activation Lock
Install and then run 4Mekey on a computer. Select the 'Remove iCloud Activation Lock' option on the interface.

On the agreement notice, check the box below and click 'Next'. Then, you have to jailbreak the device. Instructions will be displayed on the screen. But before that, you have to choose the platform between Windows and Mac as the procedures are different.

when the jailbreak is complete, click on 'Start Remove'.

This is the easiest and fastest way to remove the iCloud lock associated with any iOS device.
Top 2. AppleiPhoneUnlock-Online IMEI Unlock Service
The second iPhone iCloud unlocking service our list is AppleiPhoneUnlock. It is best to call it a service than a unlock tool.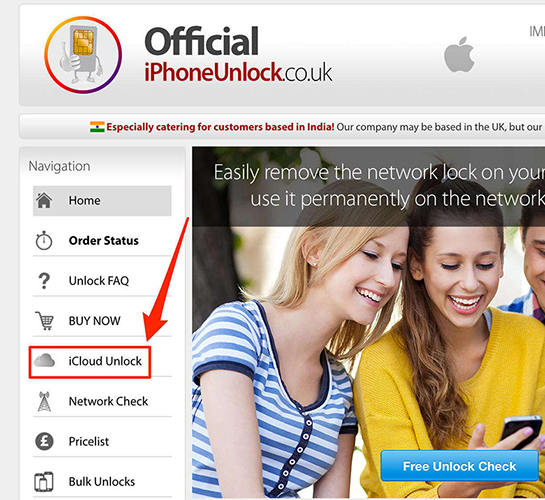 This tool provides fast and effective iCloud lock removal. It is easy to use. But unlike the previous tool, this one uses the IMEI number of the target iOS device to remove the lock. After you begin to use the service, you will be asked for the IMEI code. After you type it, you just have to wait. The waiting period can get extended up to 3 days. So, be patient.
Cons
The lock removal can get extended up to 3 days.
The price starts from $19.95, and it varies. But for a tool with a medium rating, this is expensive.
Some users claim that this tool doesn't work properly and for them, the problem is there is no refund policy.
Price: The price starts at $19.95.
Success Rate: The success rate of AppleiPhoneUnlock is low.
Top 3. DoctorUnlock-Professional Unlocking Service
Now we have DoctorUnlock, another popular iCloud unlocking service. This is also an excellent tool, very capable, and convenient.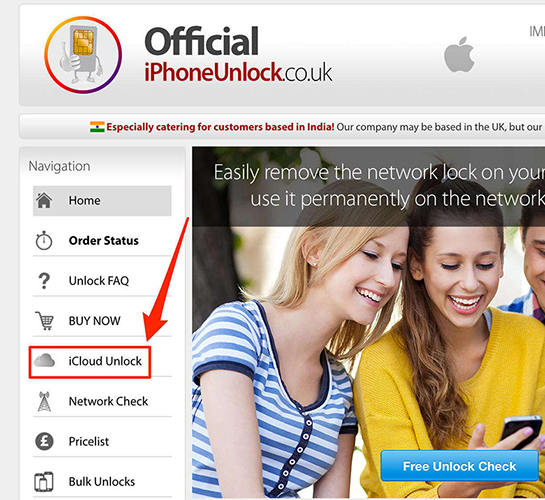 DoctorUnlock also uses the IMEI method to remove the iCloud lock effectively. After you have provided the IMEI number of your device, you just have to wait for the device to remove the iCloud lock.
Cons
Success rate is low.
Operation is not flawless.
It takes a long time to unlock.
Even after taking a long time you might get unsuccessful results.
Price: Starts from $39.
Success Rate: DoctorUnlock has a low success rate.
Top 4. WipeLockiCloud Unlock-Complicated Unlock Tool
WipeLockiCloud Unlock is one of the best iPhone iCloud unlock service on this list. It is fast, and after you make the purchase, you will be sent an eBook regarding its operation.
The operation is not so simple. Especially when you have to figure it out from reading from an eBook. But without any doubt, it is a good unlocking tool that works diligently to remove the iCloud lock.
Cons
The use is complicated
Not as fast as advertised
Price: WipeLockiCloud Unlock is one of the cheapest tools on this list. The price starts at $8.
Success Rate: WipeLockiCloud Unlock has an average success rate.
Top 5. IMEIUnlockSIM-SIM Card Unlock Serivce
The IMEIUnlockSIM is one of the popular iCloud unlock services near me. This is also a capable tool that removes the iCloud lock effectively from iOS devices.
The IMEIUnlockSIM removes the iCloud lock permanently. There is nothing to worry about. By its name, you have already guessed that this tool removes the iCloud lock using the IMEI procedure, which is true. Numerous user reviews verify its authenticity.
Cons
It has an average performance.
The unlocking can take a long time. Even 5 to 10 days.
Price is a bit stiff.
Price: If you are using iPhone X or any model below it, then you have to pay $18.95. But for iPhone XR or later you need to pay $28.95.
Success Rate: IMEIUnlockSIM has a mediocre success rate, and it also takes a long time to unlock the iOS device.
Conclusion
Overall, there are iCloud unlock tools available on the market. But it is hard to distinguish between the real ones and the fakes. But you don; need to take any tension at all. If you are looking for a real iCloud unlock service, check out the above article. The listed tools are all excellent but if you ask us for one recommendation, then get Tenorshare 4MeKey.