3uTools Reviews: Is It Really Good for iOS Devices?
by Jenefey Aaron Updated on 2020-03-15 / Update for Unlock iPhone
iPhone and iPad users know the struggle and annoyance of using a unit without logging in to an iCloud account. Say, you forgot your iCloud password and you cannot retrieve it. This leaves you with a device that tells you to log into the cloud storage service frequently. If you are planning to sell or pass down your phone to someone else, then you might need to delete remove iCloud and the best way to do this is through 3uTools.
Not familiar with this tool? Read on this 3uTools review to know more.
Part 1: What is 3uTools?
To fully familiarize yourself with 3uTools, you need to know what it exactly is. At its core, this software is an all-in-one tool designed for iOS devices such as iPhone and iPad. It lets users manage users' files and data in one click. It is also equipped with software modification and repair features, all within one program. Basically, every management-related thing you need to do with your iOS device can be done using this tool.
Part 2: What Can 3uTools Do?
Now that you know what exactly this software is, you might be interested in using it. After all, any iOS device owner, or any device for that matter, want to make sure that they can use their gadget to the fullest. Here is a list of the key functions of 3uTools: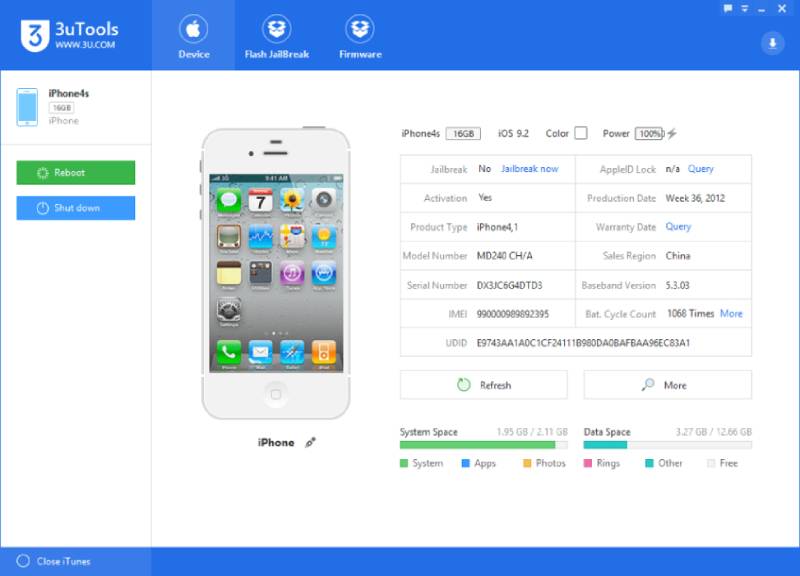 1. Manage Files
This all-in-one tool offers file management features for iOS users. It lets you access your files like normal using the program, without any hassle or Apple-issued software. From the most basic tasks such as creating, deleting, renaming and moving folders to organizing your files, you can rely on this program for efficiency and effectivity.
Moreover, you can delete junk files, create ringtones, convert video formats and perform other similar tasks using 3uTools. It also lets you add new files or delete unwanted ones.
2. Backup and Restore
Apple has its own backup and restore feature but it can offer limited benefits, especially if you are not in the Apple ecosystem. Those who are not immersed in and familiar with the company's services such as iCloud would have difficulty performing such important tasks such as backing up their data and restoring it. 3uTools offers an easy and effective alternative.
3. Flash Firmware and Jailbreak
Every update deployed by Apple has its purposes. However, the latest updates on old models can drastically decrease the performance of the device. You cannot roll back your firmware using built-in tools or official programs from Apple. The best thing to do is to flash your desired firmware using a third-party app and this program can be the best one for you.
iOS devices are designed to offer accessibility and simplicity to individuals who do not like tinkering with their gadgets. They are pretty straightforward and do not offer extensive customizability to limit the chances of messing up the software. If this is too restrictive for you, then you can jailbreak your device using 3uTools.
4. Use its Online Resources
You can download a lot of content using this tool. This lets you access apps, ringtones and wallpapers directly to your phone through this program. So, while managing your files through a PC, you do not need to disconnect your phone to download apps and wallpapers.
Part 3: Is 3uTools Free to Use?
The good news about this application is that you can use it for free. That's right it costs $0 when you download, runs this application and utilize its features. Take note that this is not a free trial, which later on charges you based on the company's licensing model. Instead, you will not pay anything to use all of the functions of this tool.
Part 4: Can 3uTools Remove iCloud Activation Lock?
The straight answer is that it cannot. You cannot use 3uTools to remove the iCloud or bypass its Activation Lock as is. However, what you can do using this tool is to jailbreak the device to disable the iCloud Activation Lock. If, say, you are selling your phone or giving it away, and you need to reset the device with a locked iCloud without a password, you will need to find another program to do it.
Part 5: What's the Online User Reviews of 3uTools?
To know more about how other users perceived this tool, here are some reviews that can give you an idea of what to expect with 3uTools:
From iMyFone:

According to this review, this program is indeed an all-in-one tool for iOS devices. With the various functions it offers, it is worthwhile to try it out. However, if you are expecting it to remove iCloud Activation Lock, then it is not the software you are looking for.

From a Cnet user:

This tool is extremely easy to use, as per this user. It is able to deliver the accessibility and convenience it promises. It does not contain spyware and is able to perform jailbreaks easily.

From various alternativeto.net users:

This program is useful and user-friendly. It is able to perform its functions very well. However, it uses strange English in some cases.
Part 6: The Best Alternative of 3uTools to Remove Apple ID without Password
When handing over your device to another user, you need to make sure that you have successfully removed your iCloud account from the phone or tablet. This way, you are sure that your files and data remain private. However, this can be difficult if you forgot your password. As 3uTools cannot perform this function, the best way to do this is to remove iCloud is using Tenorshare 4uKey.
Tenorshare 4uKey is a tool designed precisely for this purpose. Its main function is to unlock any iPhone Apple ID and locked screens. You do not need a password to do this. The only thing you need it a computer and this program and you are good to go. Here's how to use it:
Download the installer on your Windows or Mac PC. After downloading, run the installation and launch the program.

Once it launches, you will be given two options namely Unlock Lock Screen Passcode and Unlock Apple ID. Choose Unlock Apple ID.

Pic1.- Unlock Apple ID

Connect your phone to the PC. Make sure that the connection is secure. Unlock the screen and tap Trust to allow the connection.

Pic2.- Trust Device

The PC will detect your device once connected. Then, click Start to proceed.

Wait for the process to finish.

Pic3.- Unlocking

After removing iCloud, you can simply log into another account or create a new one.
Unlocking your device is easy. There is no need to worry even when your phone is off or if Find My iPhone is on, making the process smooth and extremely convenient. This way, you are sure that no matter the state of your device is, you can revert it back to a fresh condition, software-wise.
Conclusion
iOS devices are designed for ease and convenience. With the use of 3uTools, managing your phone or tablet becomes much easier. As this tool does not remove iCloud Activation Lock, Tenorshare 4uKey is your best bet. So, grab these programs now to make your iOS experience a lot more pleasant.