The Best 5 Move to iOS Alternative Apps in 2023
by Anna Sherry Updated on 2023-09-25 / Update for Transfer
So, you've purchased your new iPhone 15 — or got some other model from this year's lineup. You have been a long-term Android user and you have all your important data stored in your old Android device. You're trying to figure out how you can move your data from your Android device to the new iPhone, and you come across the application "Move to iOS".
What is it? How does it work? Are there any Move to iOS alternatives? This article has everything you need to know! Let's dive in.
Learn What is Move to iOS App and How to Use It
Move to iOS is an Android application you can install from the Google Play Store by clicking. It's Apple's proprietary solution for Android users to copy their data to their new Apple device. It can be used when you set up your new iPhone and need to transfer your data from Android to the New iPhone.
There are many Move to iOS alternatives reddit topics, which can prove that the use of Move to iOS is actually not smooth. To use Move to iOS, you need to install it in your old Android smartphone from the Google Play Store. Make sure that you've connected to a stable internet, and your Android and iPhone should be fully charged.
Turn on your new iPhone and select "Move Data from Android" on the Apps & Data interface.
Then open Move to iOS app on your Android. Then tap Continue and Agree.
Then tap continue on your iPhone and wait for the code.

Then you need to enter the code on your Android device.

Then you need to select your data on Android and tap continue. Then after a while, your Android data will be transferred to iPhone.
Part 2: Top 5 Move to iOS Alternative Apps
You see, the operation steps of the Move iOS application aren't so easy. Besides, many users complain the app doesn't copy all of the data over; it simply skips calendar events, messages, and contacts. Other users complain the app simply stops or crashes during the process.
If you've tried Move to iOS application and have a similar, terrible experience, you might want to look towards an alternative. Here are some of the best "alternative move to iOS" you can use right now. You can choose some alternatives to Move to iOS from the list.
1. iCareFone Transfer(iCareFone for WhatsApp Transfer)
Another solid Move to iOS alternative is Tenorshare iCareFone Transfer(iCareFone for WhatsApp Transfer). It's a handy tool that you can specifically use to copy your WhatsApp data from one device to another, including attachments, photos, videos, and documents. Besides, it can help you backup your social medias' data.
It works seamlessly for different device types. For instance, you can transfer WhatsApp data from your Android to iPhone, iPhone to iPhone, iPhone to iPad, and vice versa, which cannot be accomplished with Move to iOS.
Here's how to do it.
Download Tenorshare iCareFone Transfer(iCareFone for WhatsApp Transfer) from the. Install and open the application. Connect your Android and iPhone to your computer. Click Transfer after the software has detected the two devices.

On your Android device, you need to firstly backup your source data according the instruction on the software interface. Click Continue then.

You will need to verify your device to continue the process. Simply enter the 6-digit code sent to your mobile device when asked.

Log in to WhatsApp on your new iPhone and the restore process will continue automatically.

After a while, your data from Android device will be restored to the iPhone successfully.
iCareFone Transfer(iCareFone for WhatsApp Transfer) is a reliable application for seamlessly transferring your WhatsApp data across devices. Users haven't complained about any serious issues related to it; so it's safe to say there are almost no cons to using it.
2. Syncios Data Transfer
Syncios Data Transfer is another one of the widely available Move to iOS alternative apps. You can use it to transfer your data from the old Android device to your brand-new iPhone. Furthermore, you can use Syncios to create backups of your iPhone or other Apple devices to restore from later on.
However, users complain Syncios often has problems with detecting connected smartphones. Furthermore, you will need to install iTunes on your computer before you can use Syncios.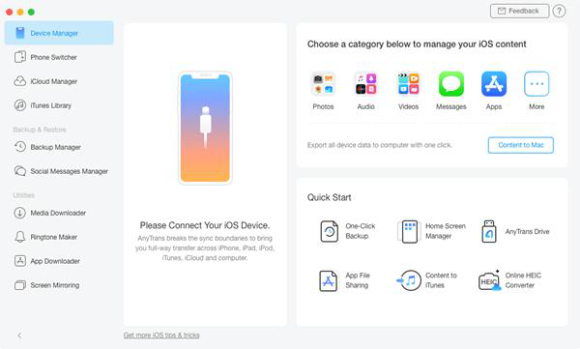 3. Dropbox
Even though Dropbox is not exactly a data transfer tool, it can still serve as a Move to iOS alternative. You can backup your data on the Dropbox cloud storage from the old device, then download it back onto your new iPhone.
However, this process is not pleasant as you manually have to upload and download the data between devices. Furthermore, it doesn't help you sync calendar events and contact lists.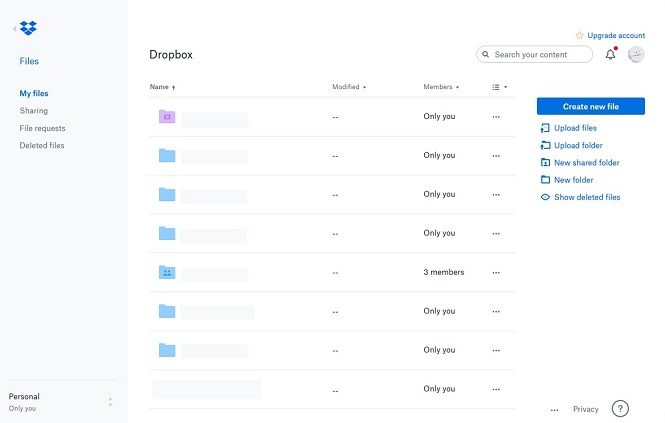 4. MobileSync
Another popular Move to iOS alternative is MobileSync — a handy application that lets you copy your data from an Android device and move it to your new iPhone. It uses your mobile device's WiFi and Bluetooth technology to connect to and share data with other devices. This feature lets MobileSync be a wireless solution among all the other wired options.
Even though the wireless aspect of MobileSync is seen as a plus point by the majority, some users may find it complex to connect with other devices wirelessly.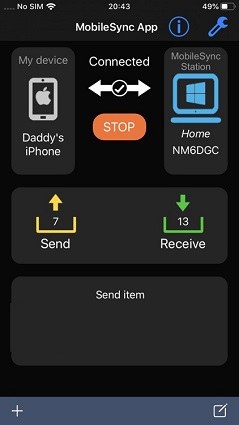 5. Phone Copier
Phone Copier does exactly what it sounds like: it copies data from one phone and pastes it to another. It's a compact application that can easily serve as a Move to iOS alternative — however, some users report they've had issues with cross-platform data transfers with Phone Copier.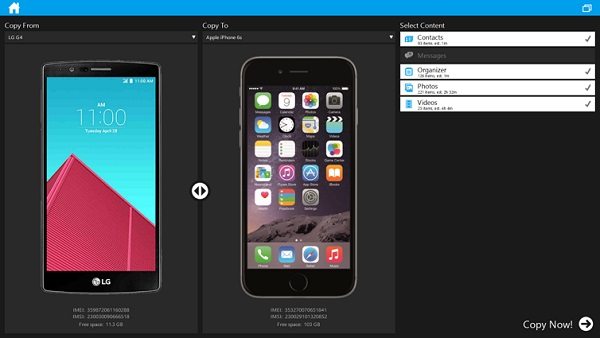 Conclusion
Moving your precious data from an old Android device to a new iPhone could be a tedious process if you don't have your hands on the best transfer tools.
Even though Move to iOS is Apple's proprietary solution to the problem, it doesn't always work properly. This article mentions some of the best Move to iOS alternatives that you can use to enhance your transfer experience, which concludes iCareFone Transfer(iCareFone for WhatsApp Transfer), MobileSync, etc.