Screen Mirroring Oppo to PC & TV in 5 Ways
by Anna Sherry Updated on 2022-03-09 / Update for Mirror Android
Have you ever thought of a more effective way to make your Oppo with better productivity and easy sharing? You can rely on screen mirroring Oppo to a larger screen. Most people prefer to screen mirror Oppo to PC or TV while working, reading, or streaming a movie. While screen mirroring may be not be easy, we will discuss it in different ways.
Part 1: Can Oppo Screen Mirroring
Yes, screen mirroring on Oppo is 100% feasible. And it's satisfying to know that you can enhance the usability of this feature with or without a 3rd party app. This guide will help you connect Oppo phone screen to a bigger screen like PC or TV.
Part 2: 5 Ways to Mirror Oppo to PC
1. Oppo Screen Mirroring to PC via PC Connect
Oppo just released a new feature for screen mirroring known as PC Connect. It can not only mirror Oppo phone to PC, but also help sync photos, transfer files and view notification directly from PC. But it is now only available for several devices like Oppo Reno 7/7 Pro, Realme GT and Realme Q3, and can be downloaded on Realme Book and Windows 10 PC.
Here is the basic guide of screen mirroring Oppo to PC via PC Connect: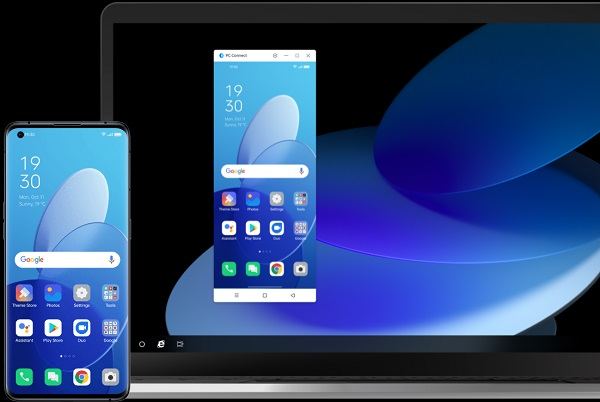 Download PC Connect on your PC. Connect the two devices to the same Wifi network and turn on Bluetooth.
On the Oppo phone that supports PC Connect, you can use Bluetooth or QR code to connect. Let's take Bluetooth as example.
PC Connect will finds your phone. Select "multi-screen collaboration" in your Oppo control center, then tap on "Connect".
Tap "Allow" on the computer. ANd then you will see the mobile screen on it.
2. Screen Mirroring Oppo to PC with Phone Mirror
Tenorshare Phone Mirror is a strategy that helps you mirror Android phone to PC. So you can easily manipulate your device with mouse and keyboard. Unlike PC Connect, screen mirroring Oppo to PC with Phone Mirror now supports all Oppo phones on Windows 7/8/8.1/10/11 and macOS 10.13 and above.
Mirror Android/iOS Screen to Your Computer!
Play Android games on PC and Mac with keyboard mapping
Screen Mirror Android & iOS to PC No Delay
Directly control Android devices from PC & Mac
Mirror up to 5 Android devices at the same time
Transfer files between Android and PC
Install Phone Mirror on your Windows PC or Mac.

Connect the USB cable to your Oppo device and to your PC while following the instructions displayed on your screen to enable the USB debugging.

Phone Mirror automatically finds your phone,  you click on the mirror button to start the mirror process.

Right away, You can see your Oppo screen on the PC.
3. Mirror Oppo to PC Windows 10
Mirroring your Oppo device to your Windows 10 shouldn't be a daunting task because it does not need any applications as long as Oppo supports Miracast. If you are working on a Windows 10 PC and wants to mirror Oppo to your laptop, here is what you should do:
Select the Start button On your laptop, go to Settings and find Projecting to this PC. Select the optional features beneath.

Add and install "Wireless Display" on your PC.
You can search "Connect" in the search box on the taskbar of your PC. And open the Connect app.
Then enable Oppo Screen Cast and select your PC to connect instantly.
4. Mirror Oppo to PC using AirDroid Cast
AirDroid Cast helps users mirror and control of their Android phone from their PC. You can experience the comfort of live streaming, online meetings, and online research when you mirror your Oppo to your PC with AirDroid Cast. Here is a guide for you!
Download and open AirDroid Cast on both PC and your Oppo phone. And use the same WIfi on the 2 devices.

Enter the cast code or scan the QR code that is displayed on the desktop app on your Android.

Follow the steps and you will be able to mirror Oppo to PC.
5. Mirror Oppo to PC using LetsView
The LetsView software comes with amazing features such as screen capturing, drawing tools, and screen recording when mirroring Oppo screencast to PC. With a steady internet, connection accessibility shouldn't be a hassle. Here is a guide for you to mirror screen Oppo with LetsView:
Download and then install the app on your Oppo device and PC and ensure both devices are connected to the same WiFi.

When the connection is successful, open the app, the name of your PC automatically appears.

Once the name of your PC appears, click it to begin Oppo phone screen mirroring on your PC.
Part 3: How to Mirror Oppo to TV
Streaming videos on a large screen is more appealing. Oppo mirroring to TV does not support HDMI but you can cast phone screen on TV wirelessly. Oppo has Screen Cast feature You can do with Oppo screen mirroring to Samsung TV, Sony, Xiaomi and etc. Learn how to mirror Oppo to TV here:
Connect both your Oppo and TV to the same wifi or internet connection to enhance accessibility.

Open control center and tap on Screen Cast. Or go to Settings > Connection & sharing > Wireless Transport, select Screencast and turn it on.

After they are connected, the Oppo mirror screen will automatically reflect on your TV; you can enjoy the view.
Conclusion
You've got no reason to worry about screen mirroring Oppo any more. These tips in the above content will help you mirror Oppo to both PC and TV. And what we recommend is Tenorshare Phone Mirror. Have anything else to say? Leave us a comment below.