Screen Mirroring iPhone to TV
by Jenefey Aaron Updated on 2021-10-13 / Update for Mirror iPhone
It will be great to see their iPhone screen directly on their TV for a large display. In this way, they can enjoy games at high resolution, watch TV shows, movies, or even pictures. To perform these actions, users can enjoy everything of iPhone on their TV screen and numerous tools and applications are available in the market. Still, we will discuss some of them that are very simple have a massive significance in screen mirroring iPhone to TV.
Method 1: Mirror iPhone to TV With Digital AV Adapters
Users can connect their iPhone with their TV display using cables if they have a suitable Digital AV or VGA Adapter. A HDMI or VGA cable is also required to establish a connection from the adapter to the corresponding plug at the back of their TV to mirror their iPhone. So, choose which looks more suitable according to specifications. Plus, it is not cheap to buy an adapter. To screen mirror iPhone to TV, just follow given guidelines.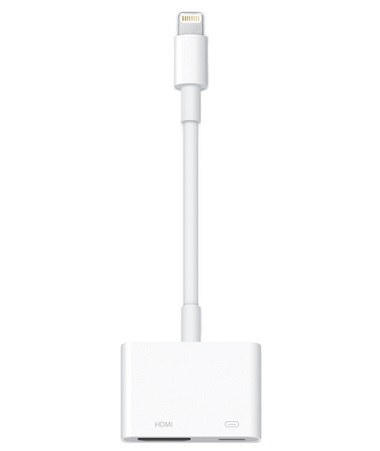 Plug in your VGA and AV adaptor in the charging port at the bottom of your iOS device.
Connect the VGA or HDMI cable with your adaptor.
Turn on your TV and connect the nother end to it.
If required, you may need to turn on the video source on your TV.
Now the screen has been mirrored from iPhone to your TV.
Method 2: Screen Mirroring iPhone to TV With Screen Mirroring
If you are interested in casting videos from iPhone to TV or watching YouTube videos on a large screen, AirPlay has the feature that help iPhone/iPad users do that. With screen mirroring, it allows users to wirelessly display their videos from their iPhone to an Apple TV or Airplay 2-compatible TV with the same internet connection. So, here is the discussion about how to use Airplay to screen mirroring iPhone to tv.
Connect your iPhone to the same Wi-Fi network with your Apple TV or airplay-compatible smart TV is connected.
Open the control center on iPhone X and tap on the screen mirroring.

Select your TV name from the list.

If an airplay passcode appears on your TV screen, enter this passcode on your iOS or iPadOS device.
To stop mirroring, tap on stop mirroring. Or press the menu button on your TV remote.
Related Read: More information about AirPlay iPhone to TV
Method 3: Other Apps to Mirror iPhone to TV
If not the above 2 ways, is there any other way to mirror iPhone to TV? Screen mirroring apps are here designed to letting the users share anything that they are playing on their iPhone. It is a beneficial technique used to mirror iPhone on your TV or bigger screen. So, following are the popular apps we will introduce today.
1.Screen Mirroring – Castto
Castto delivers an uninterrupted display and provides great video quality so this has become one of the best mirroring application for TVs. All that is required is to download the app and connect TV to the same wireless network with your iPhone. And then select the TV name displayed on your screen and start working.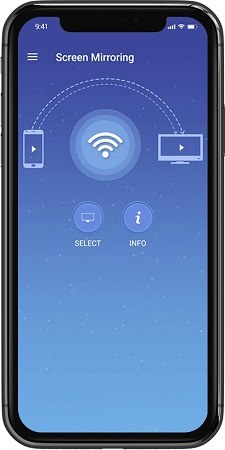 Here you can see all could be done on TV screen, like displaying videos, photos and photos, and playing games.
2.Google Home Chromecast
As we know, the AirPlay feature is limited to Apple TV or Airplay 2-compatible TVs. The Google Chromecast TV is used by many people, but it is currently not compatible with iPhone AirPlay. So if you have iPhone and Chromecast device, then you also need other applications to screen mirror your iPhone. One of the app is Google Home provided by Google itself. So let it help mirror iPhone screen to TV even when you don't have an apple tv.
Go to your Apple Store and Google Home application. This app will help you to establish the connection of your iPhone to your TV over Wi-Fi. Also connect your TV to the same Wi-Fi.
Then plug your chromecast to your TV and set it up on your mobile phone. Make sure you have followed every instruction relating to the device.

Now you have added the chromecast device on your iPhone. On the app interface, tap on the device icon and start casting. Videos, audio and photos are all supported.
Note: It is essential to consider that this app can only run one iOS 12 or newer, and the entire process is wireless.
Related Read: How to screen mirror iPhone to your PC
Conclusion
Screen mirroring techniques, tools, and applications are changing how anyone can enjoy their content. You do not need to hesitate to try screen mirroring applications for iPhone but first, go through instructions and never forget to check all the apps as mentioned above for iPhone, because each application have their own benefits and apply different procedure to mirror iPhone screen to tv. Select according to their own requirements and ease of use. I hope mentioned guidelines will help you and feel free to share your thoughts and feedback if any.
Mirror Android/iOS Screen to Your Computer!
Play Android games on PC and Mac with keyboard mapping
Screen Mirror Android & iOS to PC No Delay
Directly control Android devices from PC & Mac
Mirror up to 5 Android devices at the same time
Transfer files between Android and PC