4 Ways Listed to Screen Share PC to Android
by Jenefey Aaron Updated on 2022-03-09 / Update for Mirror Android
You might be wondering that screen sharing a PC to Android might be a very complicated procedure. But actually doing this has become a very simple task. For whatever reason, if you want to mirror PC to Android, we have listed some best ways in this detailed guide to help you out.
Is It Possible to Mirror PC to Android? Yes, as already discussed, it is quite possible to mirror PC screen to Android without following any complicated steps. Here we will talk about 4 most widely used and well popular methods.
Part 1: How to Mirror PC to Android - Chrome Remote Desktop
Chrome Remote Desktop by Google renders it quite simple to manage applications and files on any computer, Mac, Windows, Chrome OS, or Linux by using a mobile phone. As a matter of fact, it is one of the simplest and most effective methods of mirroring PC to Android. Below are the steps that you are needed to follow for using this app to screen share PC to Android.
First of all, visit Google Remote Desktop, and then click "Download" icon under "Set up Remote Access". After downloading Chrome Remote Desktop on your PC, launch and set it up.

Second, on your Android phone, also download Chrome Remote Desktop app from Google Play Store.

Run this application on your phone, select the computer name in the list. After enabling remote connections, you may need to enter the PIN to continue the process.

Then you can find your computer screen show on the Android phone and access to your computer. That is how to mirror PC to Android easily.
Pros
Cons

Totally free and simple to use.
Well secured and protected
Available easily with Chrome browser.

Unable to transfer files between PC and Android.
Chrome browser is neccessary.
Part 2: How to Mirror PC Screen to Android - Spacedesk
Spacedesk is another alternative approach that can be used to mirror PC to Android operating systems. The Android application automatically detects free Windows desktop apps making things quite easier. And network cable, USB tethering, and WiFi Hotspot connection can be used for achieving unparalleled display quality and performance.
Follow these steps for mirroring the PC screen to Android using Spacedesk.
First up, install the corresponding versions of the Spacedesk app for both Android and laptop.
You need to follow the instructions to launch the app.
Android application will automatically identify and connect with the windows app. if you connect them to the same Wi-Fi network.

After you connect to your Windows/PC, you can easily mirror PC to Android.
Pros
Cons

No need to sign up for using this app.
Easy to connect Android to computers

Not compatible with Mac.
More complex installing process.
Part 3: How to Mirror PC to Android - Anydesk for Android
Anydesk is a reliable and secure way of connecting and remotely accessing a computer using a smartphone. There are many reasons why Anydesk has earned a distinguished position among other mirroring apps such as outstanding performance, superior quality, being compatible with many platforms, and sophisticated user experience.
Following these steps is required for using Anydesk to mirror PC to Android.
First of all, download Anydesk for both computer and mobile. Anydesk can be installed with just one click.
After opening this application, you will see a personal ID. Enter this personal ID on your Android.
Accept the access request on your computer.

Done. You can then see your PC on your Android.
Pros
Cons

Reliable and easy-to-use application.
Ads-free.

First-time users may find problems while using different features.
Part 4: How to Mirror PC Screen to Android - Splashtop
Splashtop is another fastest, easiest, and very secure remote desktop applications to screen share PC to Android. Currently, this application is being used by million users which indicates its true popularity.
Download the Splashtop Personal app and install it on your Android device. Then also download and install the Splashtop Streamer on computers that you want to remotely control. With the app on the Android, you can connect it to your computer and control and view PC screen.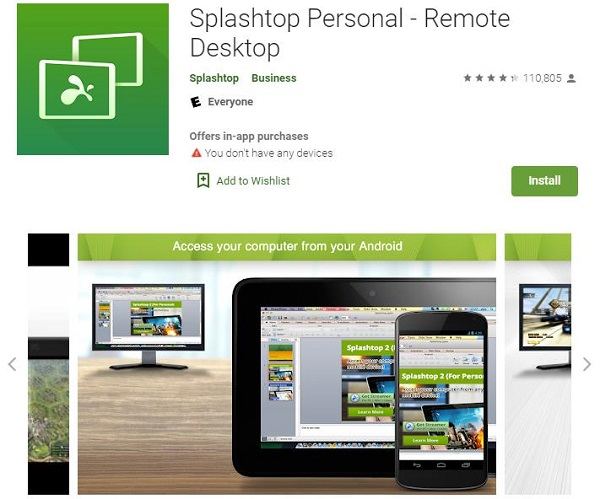 Pros
Cons

Deliver a consistent and reliable performance.
Offer many extensive features.

Have in-app paid features.
No support for Windows 10.
Bonus: How to Mirror Android to PC - Phone Mirror
Now you must have enough knowledge about mirroring PC screen to PC. And are you curious about how to mirror Android to PC in turn? Phone Mirror will give you the answer. It is a screen mirroring app for Android to PC in high quality. You can read below that it has very easy steps to use:
The first step, of course, is to download and run the program.

Then connect your Android phone with USB debugging enabled to the computer.

Click on the mirror icon to start mirroring Android to PC in real time.

Now you can use your phone on computer with no difference.
Conclusion
Screen share PC to Android is very advantageous like file sharing and remotely accessing your computer. We have mentioned some of the most effective applications to help you mirror PC to Andorid. Other than the features of these applications, we have also mentioned the required steps to follow and the pros & cons to better guide you. And if you are wondering how to mirror Android to PC, we are here to assist you with Tenorshare Phone Mirror too. Leave your comments if you have more queries.
Mirror Android/iOS Screen to Your Computer!
Play Android games on PC and Mac with keyboard mapping
Screen Mirror Android & iOS to PC No Delay
Directly control Android devices from PC & Mac
Mirror up to 5 Android devices at the same time
Transfer files between Android and PC